Diary of a lockdown: The cracked mirror
Kashmir is unbelieving; Kashmir is right to be so...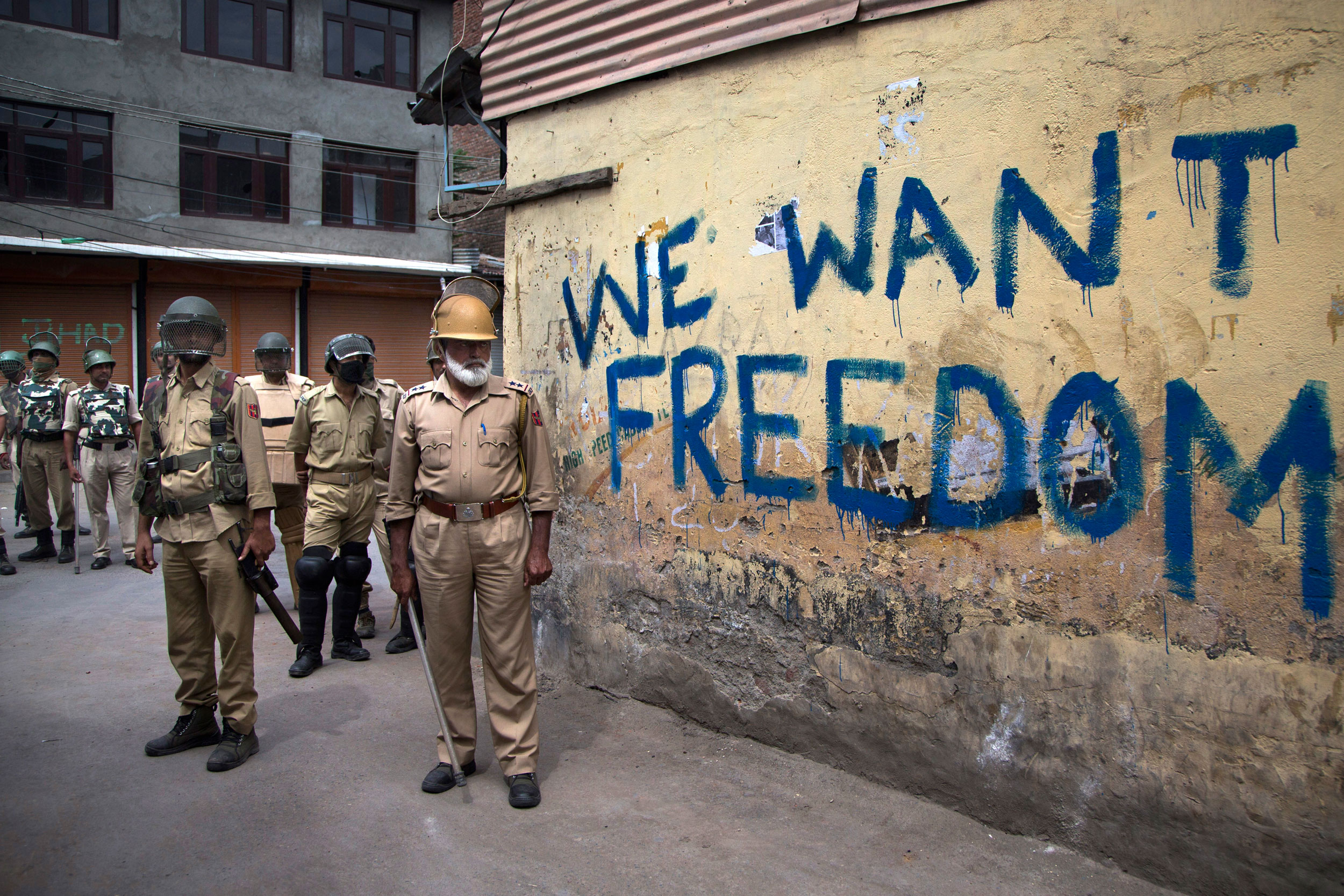 Indian policemen stand guard during a curfew in Srinagar, Indian-controlled Kashmir.
(AP)
---
Published 08.08.19, 08:58 PM
|
---
There's a line in Vishal Bhardwaj's Haider that describes the Kashmiri condition with a poignancy that's near profound: "Hamaara aasmaan kaale parindon se ghira hua hai (Our skies are besieged by ravens)."
It's not far to state that some of that melancholy has come to fall on my diary these past days. It is full of expunged things, notes on all that has been forbidden from happening. The notes themselves are expunged things.
I hear the muezzin's call needling the pre-dawn sky, and the prayer sounds like a dirge floating the pensive, unassuaged air. Something has flashed on my phone, but it's only that power is back and the handset has resumed to charge.
Tuesday, August 6 
What might a flock of sheep be doing this early on the road? Woolly, white sheep scudding along.
Everything is a pre-luminescent blueness. The sheep could have been a fallen bank of clouds, trailing the earth. I can hear whispered whistling, the shepherd's command. He's hurrying them along. They probably wouldn't let him later, once morning has broken and khaki bandobust reclaims the realm. We are a week short of Id al-Adha, these are lambs being shuffled to slaughter.
This is to be the day India's crown will be sundered, a state of the Indian union will become, for the first time, two Union Territories.
The scheme has been effected, every piece has fallen into place, everything lies revealed like in the lucid light of morning. Stealth, diversion, disinformation, propaganda, deception, deceit, design — the unsplendoured glossary of ruthless statecraft. Those are the elements, too, that today's piece de resistance has been marinating in.
The advisory to railway officials to stock up for several months, store fuel and roll their vehicles to the backs of the establishments were a "routine" measure, we were told.
Later, they were vacated of endorsement from above, a mistake of some sort.
The order directing all police districts in Srinagar to report on numbers of mosques in their jurisdictions with annotations on their managing clergy was dismissed as not worthy of note. Routine, don't you know it happens all the time?
The sudden abrogation of the "most attended" Amarnath Yatra yet, and the advisory to tourists to immediately leave the Valley was occasioned by "specific intelligence inputs" on a massive terror strike in the works.
The hoover run on students of technical institutions and polytechnics was first ordered, then denied, then projected variously as misunderstanding or misinformation — in truth, parents wanted their wards back home. Suddenly, mid-term.
A new improved narrative spews from hallowed portals of information and speculation in New Delhi, another shade of diversion — none of this has anything to do with anything internal or domestic.
There may be a new "Kargil" at play. Or, better still, a new chapter of the Great Game involving Afghanistan. Think geopolitical, folks, went the exhort, learn to widen your vision. There's nothing here that's about Kashmir.
Kashmiris are tuned in and confounded. What's afoot? Why is everybody being asked to vacate the Valley? Why is no advice coming our way? What about us? Is there someone here who would care to tell? Questions. Questions. Consternation. Spook sweeps the Valley.
There's alarm and consequences follow — anxious hoarding of essentials, a run on ATMs, stampedes around fuel stations. And yet, amid all of this, why? Why are we doing this?
But why are you doing this, governor Satya Pal Malik retorts, who told you? Nothing's happening. Calm down. I know nothing, nobody has told me anything, everything is fine. Go home, relax, carry on with your lives, get up in the mornings, dress your children up and send them to school.
Kashmir is unbelieving. Kashmir is right to be so.
Yesterday, the governor's deception gave. "I know nothing, I have not spoken to anyone in Delhi about any changes that people are talking about," he had said two nights ago.
Then home minister Amit Shah stood up in Parliament and pulled the curtain on the accumulated poverty of truth — in the absence of the Jammu and Kashmir Assembly, it is with the assent of the governor that all of this has been possible to achieve.
The television screen, our only window on the world, has become fancifully fractured. There's drumbeating and dancing in one corner, servings of jalebi in another, the bandannaed apparatchik of Bharat Mata are in raptures.
A part of that screen seems of have sprung some malfunction, it is in paralysis. These are shots from Kashmir, from where all the celebration is over. We see prickly fencing noodled on a bereft street. We see soldiers loping about, sentries of this barrenness. We see pigeons scattering about.
This image is what Shah, taken by the moment of victory and spurred by churning ovation around him, has decided to call "jubilation" — "ghaati ke yuva bhi hamare iss nirnay se bahut khush hain".
This must await verification. The "ghaati ke yuva" aren't able to present themselves to a camera near you quite yet because by some strange happenstance, they are currently shuttered behind elaborated arrangements home minister Shah himself may have decreed.
It's a sullen dusk, wrapped in the sameness of recent silence. The sky has begun to spit, it may be building up to rain. There arrives, too, a bolt of fortune — an old friend and a retired police officer who has come calling. He casually mentions he plans to travel to Delhi tomorrow. "This place has turned into a morgue, we had come for Id, but what Id might there be around here?"
I seek his indulgence and a seat on the flight. He's happy to do a friend's deed; he'd have me picked up early in the morning, my ticket would be my passage through the restrictions. My diary may eventually take wing, dark and raven-like though it is.
Meantime, in case you missed it, Kashmiris, because there was no way but, your dominion has been stamped sealed and delivered — here, this is what we've done to you, this is what you've deserved. You are no longer you, go look in the mirror. We've cracked it.
Concluded