Diabetes 'very high risk' alert in India, says study
Not all new patients get screened for cardiovascular disease risks — often the whole focus is on reducing sugar levels: Endocrinologist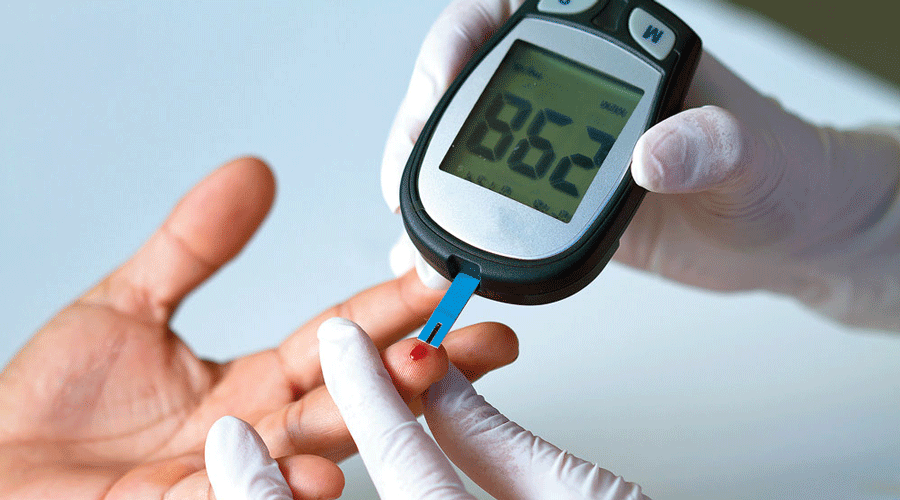 Representational image.
Shutterstock
---
New Delhi
|
Published 04.04.22, 02:58 AM
|
---
More than half of newly diagnosed diabetes patients in India have additional risk factors that place them under "very high risk" for major atherosclerotic cardiovascular disease, a nationwide study has suggested, underlining the need for early diagnosis and risk reduction.
The study, India's largest to probe what proportion of newly diagnosed diabetes patients also carry other risk factors, has found 60.5 per cent of a sample of 5,080 patients at very high risk and 39.5 per cent at "high risk" of cardiovascular disease.
Doctors have known for decades that diabetes itself is a risk factor for cardiovascular disease and many newly diagnosed diabetes patients also undergo screening and counselling for other risk factors such as smoking, high blood pressure, or high cholesterol levels.
"But not all new diabetes patients get screened for cardiovascular disease risks — often the whole focus is on reducing sugar levels," said Vijay Viswanathan, an endocrinologist in Chennai and co-author of the study. "The high proportion of patients at very high risk also points to delays in diabetes diagnosis."
Diabetes itself adds to the risk of coronary artery disease and ischaemic stroke, independently of the other risk factors that contribute to cardiovascular disease. Earlier reviews of medical studies had indicated that diabetes coupled with associated organ damage and three or more other major risk factors can mean a very high risk — defined as a higher than 10 per cent risk of death from cardiovascular disease within 10 years.
In the new study, the doctors screened 5,080 people diagnosed with diabetes between 2017 and 2020 at 928 medical centres in 121 cities across India and found that 4,192 (82.5 per cent) of them had at least one abnormal cholesterol reading.
The most prevalent abnormal cholesterol level was low high-density lipoprotein, or low "good" cholesterol, in 55 per cent of the patients, followed by high triglycerides (51 per cent), high total cholesterol (27 per cent) and high low-density lipoprotein, or bad cholesterol (26 per cent).
The diagnosis of diabetes places the patient under the high-risk category. The researchers have defined very-high-risk patients as those with diabetes along with two more major risk factors for atherosclerotic cardiovascular disease such as hypertension, smoking, age above 45 years for men and above 55 years for women, and HDL cholesterol levels below 40 for men and below 50 for women.
"It is possible that we're seeing the outcome of delayed diagnoses of diabetes, which in its early years is a silent disorder," said Vishwanathan. On an average, between 10 and 20 per cent of newly diagnosed patients already have some diabetes-associated complications in other organs.
The study, led by Willem Verberk at the school for cardiovascular diseases at Maastricht University in the Netherlands, was published earlier this week in the peer-reviewed research journal PLOS One.
Persistent uncontrolled high blood sugar levels in diabetes patients can cause damage to other organs such as the heart, kidneys, eyes, or blood vessels. The study's results point to the need for appropriate screening of newly diagnosed patients and intensive clinical management of other risk factors.