Detention centre manual
Detention Centre circular, cited in Parliament by the govt on at least two occasions, contradicts Modi's claim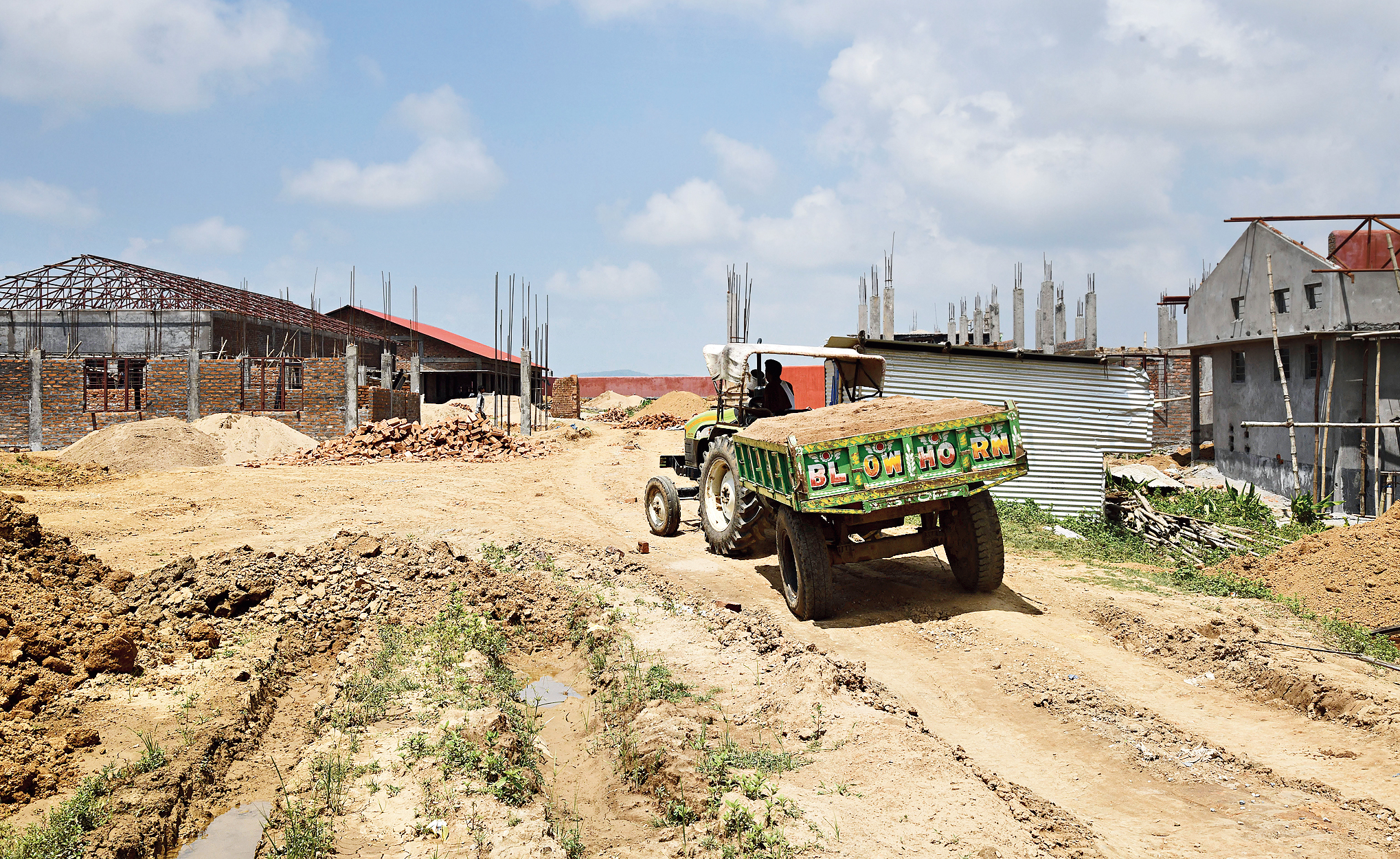 An under-construction detention centre, at Kadamtola Gopalpur village in Goalpara district of Assam on August 29, for those not included in the NRC.
(AP picture)
---
New Delhi
|
Published 23.12.19, 10:22 PM
|
---
The Narendra Modi government had in January this year sent a "Model Detention Centre/ Holding Centre Manual" to all state governments and Union Territories for implementation and compliance, government sources recalled on Monday.
On Sunday, the Prime Minister had denied that any detention centres existed in the country.
But the circular, which was cited in Parliament by his government at least on two occasions, contradicts Modi's claim.
While several detention camps already exist in Assam, the Union home ministry through the circular issued in January asked other states also to set up such facilities.
"The manual clearly said illegal immigrants who have entered the country through fake documents and also those who been declared foreigners by tribunals and are awaiting deportation can be kept in the detention centres," a home ministry official said.
"A new detention centre based on the ministry's 'model' centre has already been constructed on the outskirts of Bangalore and is all set to be inaugurated in a couple of months by the BJP-led Karnataka government," the ministry official said, adding that two such camps are planned in Bengal.
On July 10, responding to a question in Parliament from Congress MP Hussain Dalwai on detention centres in the country, the home ministry had said: "The central government has circulated a Model Detention Centre/ Holding Centre Manual to all the state governments/ Union Territories administrations on 9.1.2019 reiterating various instructions issued by the ministry from time to time with regard to setting up of detention centres. The Model Detention Centre Manual, inter alia, prescribes the amenities to be provided in the detention centres, including the medical facilities."
A week before that, in its reply to a question from TDP MP Ram Mohan Kinjarapu on whether there was any policy decision for ensuring humane conditions in detention centres, the ministry had said the "Model Manual" specified the amenities to be provided in such detention centres/camps.
"The guidelines, inter-alia, provide that such centres should be designed to provide all necessary facilities for the inmates to maintain standard of living in consonance with human dignity," the ministry said.
Silence on NRC
The home ministry, led by Amit Shah, has suddenly fallen silent on the proposed countrywide National Register of Citizens after Modi said on Sunday "there has been no discussion" on it. Shah has said several times in the past that the CAA would be followed by a nationwide NRC.
Senior officials in the home ministry refused to either confirm or deny whether the proposed exercise has been shelved. "No idea. Only the Prime Minister and home minister know about it," said a home ministry official.
A bureaucrat said: "We are as confused as you are… No comments."