Delhi women's panel chief on hunger strike
Maliwal demands death for all rape convicts within six months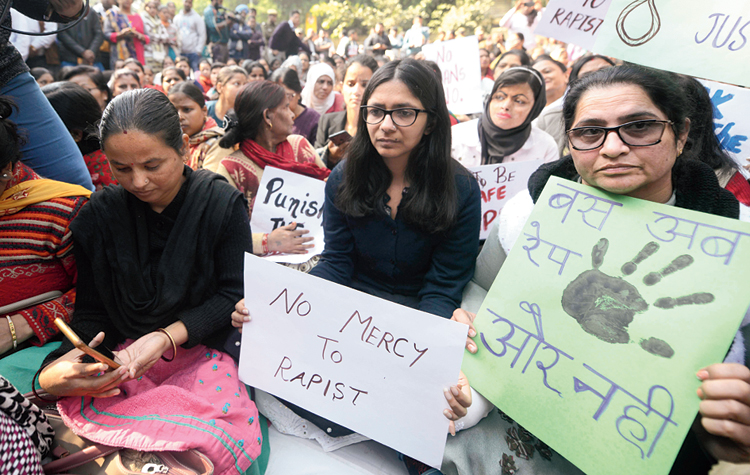 Swati Maliwal at the protest
(Photo by Prem Singh)
---
New Delhi
|
Published 03.12.19, 08:21 PM
|
---
Delhi Commission of Women chairperson Swati Maliwal began an indefinite hunger strike on Tuesday over issues of women's safety and swift punishment for perpetrators, including those accused of the gang rape and murder of the young Hyderabad veterinarian.
Last year, Maliwal, who has been appointed by the Aam Aadmi Party government, had ended a hunger strike over the same demands on the 10th day after the President issued an ordinance introducing the death penalty as the maximum punishment for those convicted of raping girls below 12 years.
During her fast, several feminist activists and academics had issued an open letter calling her demands "regressive" and citing data to prove that capital punishment would lower conviction rates for rape.
Maliwal's latest hunger strike came on a day Delhi's lieutenant governor Anil Baijal rejected the mercy plea of one of the four death-row convicts in the 2012 gang rape and murder of a paramedical student in the city. The plea is expected to be forwarded to the President with an opinion from the home ministry.
In an open letter to the Prime Minister on Tuesday, Maliwal listed six demands — execution of the convicts in the 2012 case, hanging of all rape convicts within six months of the offence, adding 66,000 police personnel to the 87,500-strong Delhi police that cater to 1.6 crore citizens, setting up 45 more fast-track courts in Delhi, utilisation of the Nirbhaya fund, from which states have spent only around 20 per cent of the grants for women's safety, and developing a tracking software so that accountability of investigators can be fixed.
Small yet vocal groups of women from different organisations joined Maliwal at her protest on Jantar Mantar Road. Hindutva groups held a separate protest nearby against the Telangana government, which was addressed by firebrand preacher-activist Sadhvi Prachi.The Delhi Assembly on Tuesday passed a resolution tabled by the AAP's Adarsh Shastri saying: "That the government of India should seriously think about its responsibility of law, order and police in the capital and ensure effective preventive and corrective measures to avoid recurrence of such heinous incidents; The government of India should immediately fill up all the vacant posts in the Delhi police and strengthen its working so that it can instill confidence in the people of Delhi which is lacking as on date."
Chief minister Arvind Kejriwal said: "Today, if a person goes to report a crime, the police do not help either out of corrupt intentions or out of ignorance. I believe that rather than ignoring that corruption is still prevalent, we must acknowledge this fact and act on it collectively…"
"Delhi is a crime capital, and I am sure no party, whether the BJP or the AAP, feels good about Delhi being called a crime capital. The Centre and the state governments must sit together to devise a solution to this issue."