DU teacher cries 'marks jihad' by Kerala school board students
The state has rejected as 'baseless' the allegation of Rakesh Kumar Pandey and said there was no leniency in the award of marks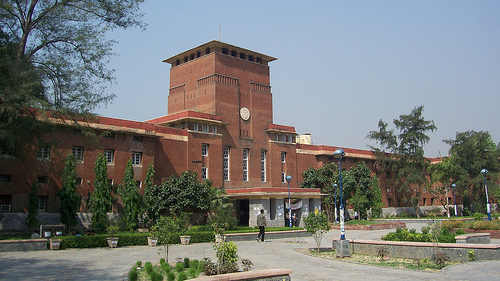 Delhi University (DU)
File picture
---
New Delhi
|
Published 09.10.21, 12:48 AM
|
---
A Delhi University teacher and former chief of a Right-wing organisation has described as "marks jihad" the increasing number of Kerala school board students securing admission in DU colleges with 100 per cent marks in the Class XII exams.
The Kerala government has rejected as "baseless" the allegation of Rakesh Kumar Pandey, associate professor of physics at Kirori Mal College, and said there was no leniency in the award of marks.
In a Facebook post on Wednesday, Pandey, former president of the Right-wing National Democratic Teachers' Front, said: "A college had to admit 26 students in a course having 20 seats only because they all had 100 per cent marks from Kerala board. For last few years, Kerala board is implementing #MarksJihad."
"If any board wants to control the admission in DU, it can do so by giving 100 per cent marks. I have been watching a trend for the last three years. There is an increase in the number of students from Kerala Board of Higher Secondary Education with 100 per cent marks. I feel there is a motif (sic) behind this. Some people want to send their volunteers into DU."
Students, teachers and lawmakers have criticised the use of the term "jihad" and the levelling of allegations against a particular state board without any evidence. In Islam, jihad means "struggle".
Pandey on Friday claimed he had not made any communal innuendo, but had referred to the communist ideology. Kerala has a communist government.
The teacher's comment is an extension of the Right-wing's propensity to project a fallacious interpretation of the idea of "jihad" and use the term to besmirch a particular religion and attribute sinister motives to everyday actions.
Pandey's comments also appeared to be born out of the warped view that envisioned a new course at Jawaharlal Nehru University (JNU) that links Islamist and communist terror and describes "jihadi terrorism" as the only form of "fundamentalist-religious inspired terrorism".
Pandey reinforced such a belief when he told The Telegraph on Friday: "The term love jihad is used when you manipulate love to spread a religion. Here I found the board is being manipulated (to award more) marks to spread an ideology. I saw a parallel, so I used the word jihad. I did not mean religion here. The Left ideology is declining at DU and JNU. This is a way to send volunteers to maintain their strength."
"Love jihad" is a Right-wing coinage to describe a relationship between a Muslim man and a Hindu woman. Recently, a Kerala bishop added another dimension to it by claiming that a "narcotics jihad" was leading the state's youths to addiction.
There has been an attempt in Kerala recently to drive a communal wedge in the state that has a Muslim population of over 25 per cent. Together, Muslims and Christians number close to Kerala's Hindu population, an unusual demographic mix in the country.
Pandey claimed that the students and teachers protesting his social media post were either from Left or Congress forums.
"No religious group has objected to my post. It was not meant for them," he said.
In his Facebook post, Pandey claimed that DU-affiliated colleges were having to take in students in excess of the number of seats because of alleged bloating of marks.
Pandey said that in terms of number of students securing 100 per cent marks in Class XII exams, the Kerala board was second only to the CBSE, which is a national board with many more students. He claimed that most students from the Kerala board were not able to communicate in Hindi or English.
One of the reasons Pandey has doubted foul play is that almost none of the Kerala school board students who had scored 100 per cent in the Class XII board exams had achieved the feat in Class XI.
Mohammad Hanish, principal secretary in the Kerala department of general education that oversees the functioning of the school board, said the board had conducted the exam in a fair manner and that there had been no leniency in the award of marks.
"The comments by the professor are baseless. There is no question of inflation of marks. No undeserving student has got 100 per cent marks," Hanish said.
Jeeban Babu K, director in the department of general education, said the state board had conducted the exams physically in schools this year unlike other boards, referring to the pandemic-time upward trend in marks due to the cancellation of physical exams by them and assessment on the basis of formulae that took previous exams and internal performance into consideration.
"Our students appeared in the exam and got marks. Because the schools were open for a few days for classes and practicals, certain relaxations were given. We identified certain chapters in each subject to be the focus areas from which most questions were set. Also, more question options were available," Babu said.
CPM Rajya Sabha MP John Brittas criticised Pandey for trying to create a communal divide in society. In a letter to Union education minister Dharmendra Pradhan, Brittas urged him to issue a strong condemnation of the academic's comments and ensure action was taken against Pandey.
"At no stretch of the imagination, those comments can be considered as accidental but are intended to defame Kerala and to create polarisation in the society," Brittas wrote.
"His comments are suspected as a part of a deliberate attempt to cause divide and suspicion among students from outside states who are studying in DU. What further aggravates the situation is that his comments of marks jihad are not only derogatory in nature but also… (aimed) to cause communal divide and tension between various religions," he wrote.
Student outfits such as the National Students Union of India (NSUI), Students Federation of India (SFI) and the All India Students Association (AISA) have disapproved of Pandey's comments and organised protests.
DU Teachers' Association president Rajib Ray said: "All the boards in the country are given the same preference by DU. The term 'marks jihad' should be resisted."
Rajesh Jha, a college teacher associated with Academics for Action and Development, said no particular board should be targeted as liberal marking was a common phenomenon now.
"Stereotyping a board of a state or a region is unacceptable. A researcher can point to the general trend of liberal marking and how students from across boards are scoring 100 per cent marks," Jha said.