Uniform beats Shah's face-reading tech
Clip shows tormentors but case against 'unknown people'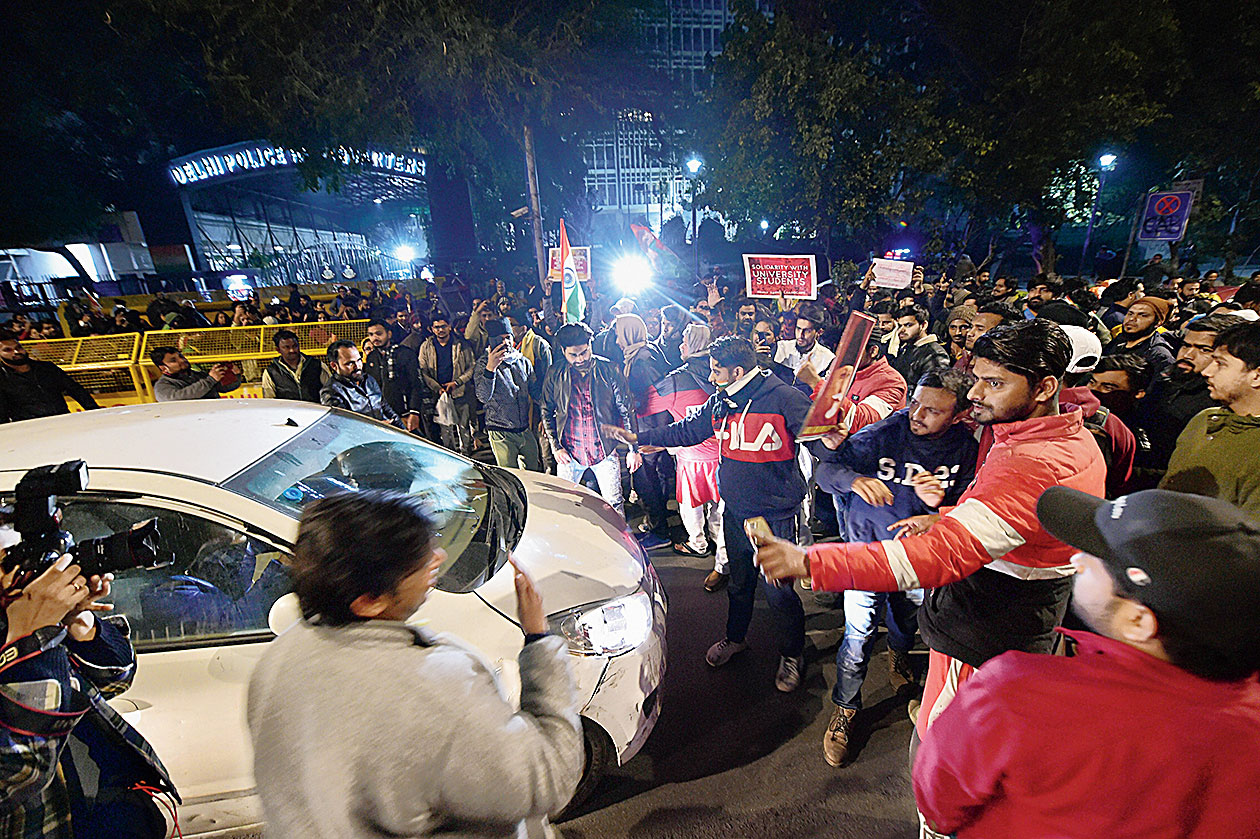 A protest outside the Delhi police headquarters after last month's riots.
(PTI)
---
New Delhi
|
Published 15.03.20, 10:16 PM
|
---
Police have registered a case accusing "unknown people" of killing Faizan, 23, who was seen in video clips being beaten by cops on a Delhi road and whose family says he was later tortured in custody before he was released and died in hospital.
The videos, authenticated by fact-checking portal Alt.News, shows Faizan and four other youths lying injured on a road during last month's riots while policemen beat and kick them, order them to sing the national anthem and taunt them with the word "azadi".
"Policemen brutally beat my son on the road and later in the lockup and killed him for no reason. He was bleeding and his entire body had turned blue," Faizan's mother Kismatoon told The Telegraph at the family home at Kardampuri.
"Now, after he has died of his injuries, the police are accusing unknown people of killing my son. Will I ever get justice?"
Faizan's elder brother Naeem had a question for Union home minister Amit Shah, who had said that face-recognition technology was being used to identify the rioters.
"There is clear evidence that Faizan was repeatedly assaulted by policemen. Why have the police failed to identify the guilty cops using the technology Amit Shah spoke about?" Naeem said.
"They are trying to protect the killers. When they released Faizan from custody at Jyoti Nagar police station, they told us he had been thrashed by a mob during the violence and that a probe was being conducted."
Contacted by this newspaper, joint commissioner of police Alok Kumar said a mob had assaulted Faizan and four others in Jaffrabad, the epicentre of the violence, and the police had taken them to hospital.
"In their police statements, the five said they had been attacked by a mob. This is why an FIR has been registered against unknown people and a probe is under way to identify them," he said.
Told that videos showed policemen beating the five youths with batons and kicking one of them, and that Faizan's family had alleged custody torture, Kumar said: "They were not beaten by cops. They were lying on the ground after being assaulted by the mob and were rushed to the hospital by policemen."
He added: "The only mistake they (the police) made is that they asked them to sing the national anthem, which is disturbing. An inquiry is on to identify these policemen."
Faizan's family alleges that the five youths were lying on the road because of a beating from the police, and that they were taken not to hospital but to a police lockup and brutalised again.
"My brother was beaten with iron rods and his legs and arms were broken. First, he was beaten on the road and then inside the police lockup," Naeem said.
He said it was the family that had taken Faizan to a local doctor after the police released him on February 26. The doctor had told the NDTV news channel that Faizan's blood pressure and pulse were low and that he appeared to have suffered head injuries and internal injuries.
Faizan died at the Guru Tegh Bahadur Hospital on February 27.
JCP Kumar denied that Faizan and the others had been taken to a police lockup at all.
Naeem said he suspected that the police had not recorded the detention of Faizan. He said that when the police released his brother, they neither asked the family to sign on a register nor issued a memo warning Faizan against repeating his alleged act, as is the usual practice.
Several videos have surfaced purportedly showing the police supporting the Delhi rioters, either standing and watching the mobs run amok or, in some instances, accompanying them as they raided Muslim neighbourhoods.
One close-shot video shows Faizan and the four other injured youths lying on the ground, one of them bleeding, trying to sing lines from the national anthem. A policeman is heard saying: "Achchhi tarah ga (Sing it properly)."
The police are seen prodding and beating the youths with their batons, and abusing them.
Alt.News said it had verified the video with the help of a second video — a view of the same incident from a rooftop. The second video at one point shows a policeman kick one of the men lying on the ground. A man's voice is heard in the background saying: "This is not Delhi police, they're RSS goondas."
The video also shows a policeman filming the incident on his mobile phone camera.
Shah had defended the Delhi police's role during a Parliament debate, claiming they had contained the violence within 36 hours.
Residents have asserted, and journalists witnessed, how the violence began on February 23 night after a provocative speech by BJP leader Kapil Mishra and continued for at least 60 hours till February 26 afternoon.