Delhi riots: India's name charred, says Rahul Gandhi
'This kind of divisive politics doesn't only burn down schools; India's reputation is burnt down'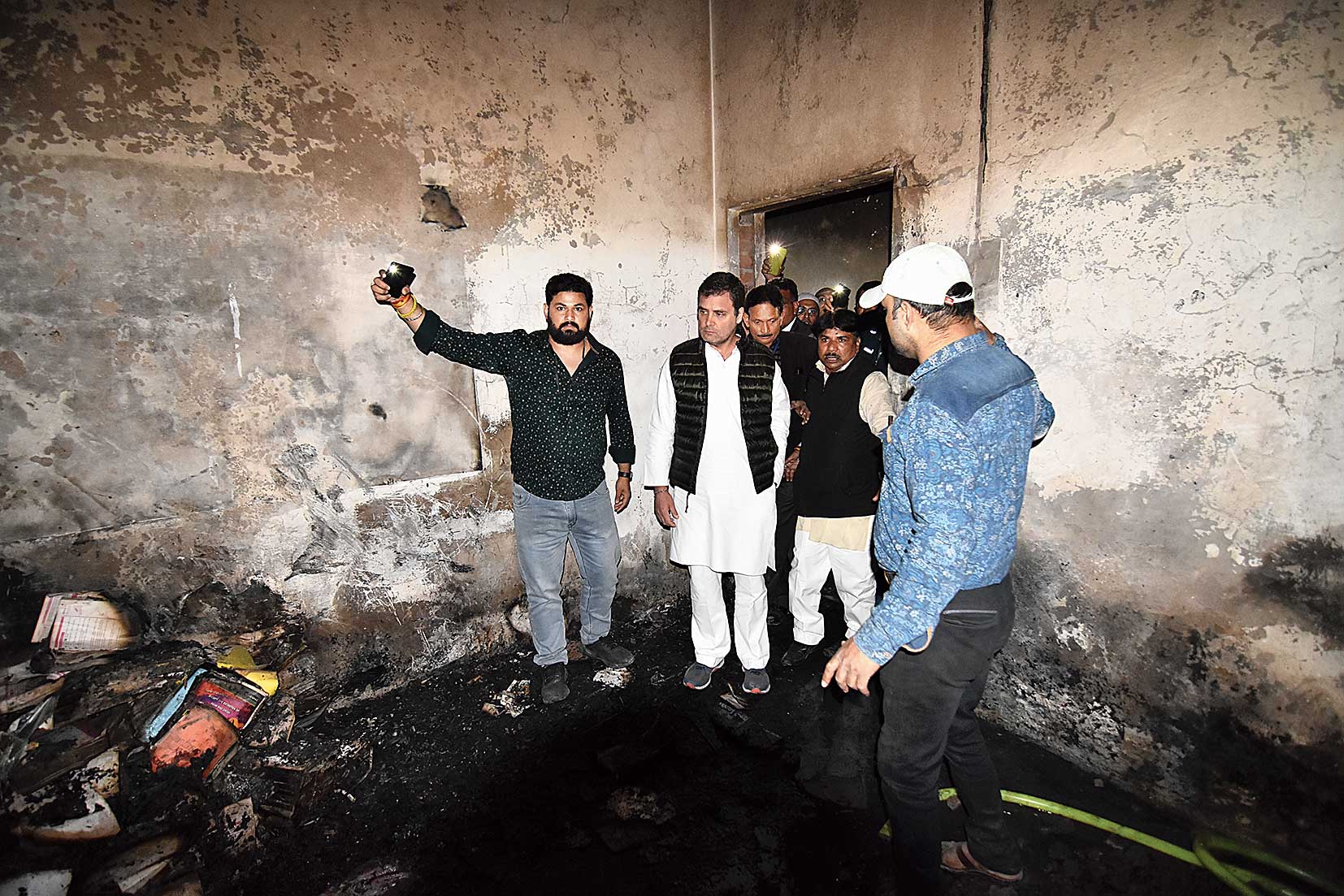 Congress leader Rahul Gandhi at Arun Modern Public School at Brijpuri, one of the riot-affected areas, in northeast Delhi, on Wednesday.
Picture by Prem Singh
---
New Delhi
|
Published 04.03.20, 09:01 PM
|
---
Rahul Gandhi said on Wednesday that the communal fire that engulfed Delhi burnt down India's reputation, insisting that the country cannot grow without unity and harmony.
Leading a delegation of Congress leaders to the riot-hit areas of Delhi, Rahul said after seeing a school that was set afire: "Schools are the future of India. Hate and violence destroyed it. This kind of divisive politics doesn't only burn down schools; India's reputation is burnt down."
He added: "What is happening here… the way India is being divided and burnt, this is not going to do any good to the country, to Bharat Mata. Violence and hate are enemies of development. Unity, brotherhood and love are India's strength. When rioting happens in India, in the national capital, India's reputation in the world gets hit. There is no other way. We have to unite and move together with love."
Rahul's visit was more symbolic than substantive as he could not have meaningful interactions with the victims and their families because of the huge crowd that had gathered. But the Congress succeeded in making a political point that it chose to stand with the people when the government stayed aloof. Rahul is the first national leader to reach out directly to the aggrieved people.
Rahul went to a school and a mosque where so many people jostled with one another and spoke collectively that a conversation became impossible.
The police were initially reluctant to allow the visit by Rahul who wanted to visit the areas with 25 to 30 MPs. Congress sources said the police feared a big crowd because of Rahul's presence.
Around 30 MPs started from Kerala Bhawan in a bus separately. They talked to the affected families and tried to gauge the extent of damage.
Rahul left in another bus with a smaller team and restricted himself to Brijpuri. Seeing a crowd there, the police, concerned about security, again asked Rahul to cut short his visit and return.
Congress leaders who accompanied Rahul said it was not possible to have longer conversations and move around to see the extent of damage but added that work was already being done by the team formed by Sonia Gandhi which visited all the affected areas and spoke to a large number of persons.
The party's primary purpose was to expose the attitude of the Narendra Modi government, and senior leaders believe they have managed to achieve it.
Rajya Sabha MP Kumari Selja who accompanied Rahul told The Telegraph: "Rahulji would have loved to visit every affected area and sit with the people to console them. But crowds gathered and security personnel were jittery. The need of the hour is to provide a healing touch and deliver justice. The Prime Minister and the home minister should have risen to the occasion. But they are not even expressing sympathy."
Congress Lok Sabha leader Adhir Chowdhury, who too was with Rahul, had earlier expressed shock at the government's attitude as it did not even want to discuss the people's problems till Holi is celebrated.
He said: "Delhi has seen the Holi of blood; the government should accept its failure and responsibility instead of demonstrating insensitivity. We will press for the debate and continue the agitation till the government relents."
Parliament failed to transact any business for the third consecutive day on Wednesday.