Delhi riots: How Kerala TV channel reporter 'sided' with a boy
Journalist chose to stop and help a 14-year-old riot victim who had suffered a gunshot wound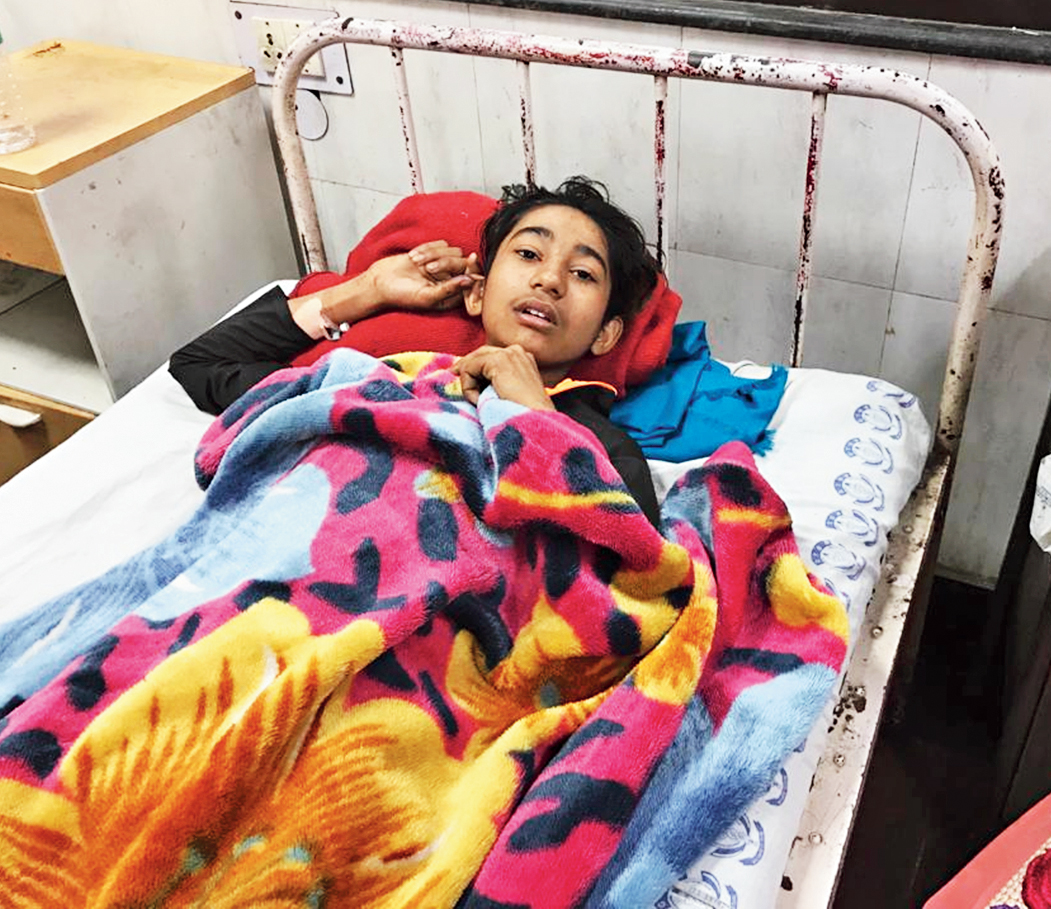 Faizan in his hospital bed, recovering from a gunshot wound
(Picture sourced by correspondent)
---
New Delhi
|
Published 07.03.20, 07:23 PM
|
---
A reporter from one of the two Kerala TV channels banned temporarily by the Centre for allegedly flouting the rules of riot reportage did indeed face a tricky question relating to journalistic ethics during the peak of the Delhi violence.
What P.R. Sunil, Delhi correspondent of Asianet News TV, had to decide was: should a journalist help a victim who needs aid or should he stick to his tribe's role of "impartial observer", reluctant to become "part of the story" by offering succour rather than spotlight?
Sunil and the photojournalist accompanying him, Deepu M, chose to stop and help a 14-year-old riot victim who had suffered a gunshot wound. The cab they had hired for the day drove off, unwilling to linger at a trouble spot, thus leaving the two journalists stranded and hamstrung in their pursuit of further riot coverage.
Faizan, the wounded boy, has been operated on at the Guru Tegh Bahadur Hospital in Delhi and is on the path to recovery.
On Friday, the Centre ordered Asianet News and Media One TV off the air for 48 hours for highlighting, among other things, "attack on places of worship", "siding towards a particular community" and alleging "police inaction". Both channels were back on air on Saturday morning after the ban was lifted.
Sunil and Deepu had run into Faizan at Kardampuri on February 25 while travelling through Delhi's worst-hit areas.
"The road was peppered with stones thrown by the rioters. Suddenly I saw someone waving at our car," Sunil told The Telegraph on Saturday.
As they pulled over, a woman came running and told them that a child, shot in the lower back near the spine, had been desperately waiting for medical care for more than five hours. No vehicles were available to take him to the GTB Hospital, about 5km away.
"From 11am (when he was shot at) to 4.30pm (when Sunil reached the spot) Faizan was waiting for someone to take him to hospital. The woman asked me if I could," Sunil said.
The route lay through Maujpur, which was burning. "But we hadn't the heart to leave the child there. My cab driver, who had been hired for the day, drove off when I asked the woman to bring the child to us," Sunil said.
"Some local people brought Faizan to us on a tricycle goods carrier."
Faizan, wrapped in a blue bed sheet and lying prone, was conscious. But without a conveyance, Sunil felt helpless.
Luckily, a police patrol van appeared in the distance after a few minutes. "Two women photojournalists and two reporters from some online publications who had for some time been working at the spot ran towards the van and guided it towards us," Sunil said.
The van picked up Faizan and left for the hospital. Sunil and Deepu went their way. Asianet ran the story about Faizan the same evening.
Asked if he had felt a conflict between his professional and humanitarian commitments, Sunil was clear: "I didn't drop the story; I broadcast it and did my bit to help the boy. I don't see helping a person in need as an infringement on my duty as a reporter."
Two days later, though, a news portal reported that "14-year-old" Faizan had died in hospital.
"I was shocked since I had thought he would be fine," Sunil said. "So, the next morning I went to GTB Hospital and searched for nearly three hours till I found him alive around noon."
A youth named Faizan had died on Thursday after having been filmed on Tuesday lying injured on a road with four others and being forced by the police to sing the national anthem.
Sunil found that the young Faizan had undergone surgery and was recovering but could not move.
"I learnt that he had lost his mother sometime ago and that his father had abandoned him. He was staying with a relative, had dropped out of school in Class VII and had been doing odd jobs," he said.
"He told me he had stepped out to buy food when he saw a mob running in his direction. He got knocked down. When he got up he found himself standing alone on the road. That was when someone shot him."
Like his channel, Sunil soon found out that not everyone was happy with his efforts. He became a target of social media trolls who called him a "jihadi" and a "supporter of Muslims".
"I was never active on social media although I had a Twitter account. But trolls started calling me 'communist' and 'jihadi' and rained all kinds of accusations on me for helping Faizan," he said.
Some trolls alleged the rescue never happened, that it was all a fabrication for publicity.
This prompted Shani T. Mathew, a male Keralite nurse at the GTB Hospital, to defend Sunil in a Facebook post.
"Faizan was admitted to my ward. The reason to write this is the concern P.R. Sunil showed when he came to visit Faizan," Shani wrote.