Delhi riots: Court dismisses Umar Khalid's bail plea
Activist's lawyer Pais had argued that police had relied on truncated videos of his Feb 17, 2020, speech in Amravati, and chargesheet was a fabrication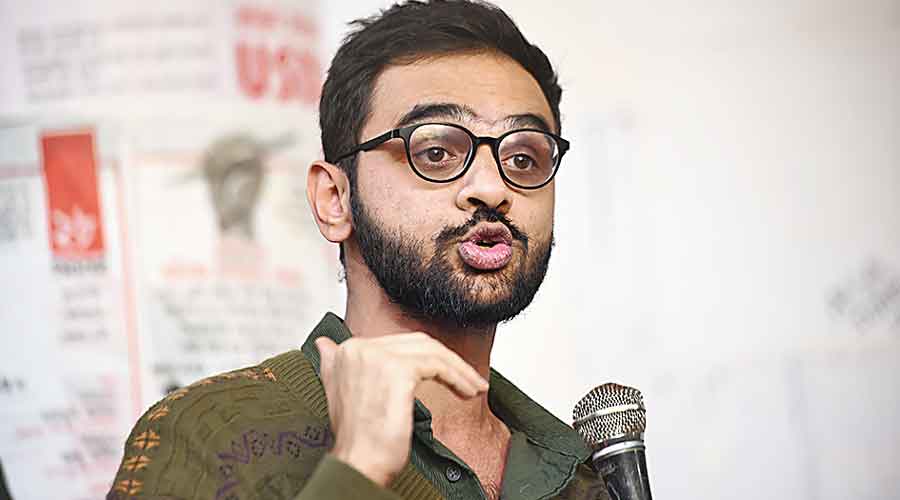 ---
New Delhi
|
Published 25.03.22, 03:08 AM
|
---
After eight months of arguments, a court here has dismissed the bail plea of human rights activist Umar Khalid who has been in jail since September 13, 2020, in a terrorism case related to the Delhi riots of February that year.
"I agree with the Ld. Senior Advocate (defence lawyer Trideep Pais) that there are some inconsistencies in the statements of some protected witnesses; however, a finding has to be given on a cumulative reading of statements of all the witnesses and other events presented in the chargesheet," additional sessions judge Amitabh Rawat of the Karkardooma Courts said in his order.
The order said: "In view of the above discussion, since there are reasonable grounds for believing that the accusation(s) against the accused Umar Khalid are prima facie true, hence, embargo created by Section 43D of UAPA applies for grant of bail to the accused and also, the embargo contained in Section 437 CrPC."
Section 43D(5) of the anti-terror Unlawful Activities Prevention Act (UAPA) says: "Notwithstanding anything contained in the code, no person accused of an offence punishable under Chapters IV and VI of this act shall, if in custody, be released on bail or on his own bond unless the public prosecutor has been given an opportunity of being heard on the application for such release: provided that such accused person shall not be released on bail or on his own bond if the court, on a perusal of the case diary or the report made under section 173 of the code, is of the opinion that there are reasonable grounds for believing that the accusation against such person is prima facie true."
Section 437(1)(i) of the Criminal Procedure Code says: "…Such person shall not be so released if there appear reasonable grounds for believing that he has been guilty of an offence punishable with death or imprisonment for life."
Last week, former Congress municipal councillor Ishrat Jahan was the first accused to get bail from a sessions court in this UAPA case. Others, including students Natasha Narwal, Devangana Kalita, Asif Iqbal Tanha and Safoora Zargar, and shopkeeper Faizan Khan, had earlier been granted bail by Delhi High Court.
Judge Rawat had granted bail to Jahan on the ground that her site of protests against the new citizenship regime was not located in the area where the riots took place, nor was she a member of any of the WhatsApp groups that police have claimed were used to organise the agitation.
Umar is accused of delivering a speech in Amravati, Maharashtra, urging people to protest against the new citizenship law during an India visit by then US President Donald Trump. It was during Trump's visit that the riots began.
Senior advocate and activist Prashant Bhushan tweeted: "Very unfortunate & unjust that the trial court prolonged the bail hearing for months & then finally denied bail to Umar, despite clear video evidence that the charge against him of instigating riots is bogus & fabricated."
Umar's lawyer Pais had argued that the police had relied on truncated videos of Umar's February 17, 2020, speech in Amravati, and the chargesheet was a fabrication. Special public prosecutor Amit Prasad had countered that Umar was involved in meticulously selecting the protest sites with the intention of inciting the riots.
The trial is yet to begin. More than 17,000 pages of chargesheets were filed in two instalments in September and October 2020. The police took another six months to give the accused copies of the chargesheets, for which the latter had to move court.
Umar's lawyers have had to move court even to ensure he is not brought to court handcuffed, receives dental treatment and can meet his parents.
Trinamul spokesperson Saket Gokhale alleged "a clear abdication by judiciary of its responsibility" and added: "While we protest & fight several issues in the country, Umar must not be forgotten!"
Umar's father S.Q.R. Ilyas, activist and columnist, tweeted: "#FreeUmarKhalid #ReleaseAllPoliticalPrisoners #Court #Bail."
#FreeUmarKhalid#ReleaseAllPoliticalPrisoners#Court #Bail pic.twitter.com/87X3S98G1J

— Ilyas SQR (@Dr_SQRIlyas) March 24, 2022