Delhi riot victims flock to rescue camp
The displaced share tales of horror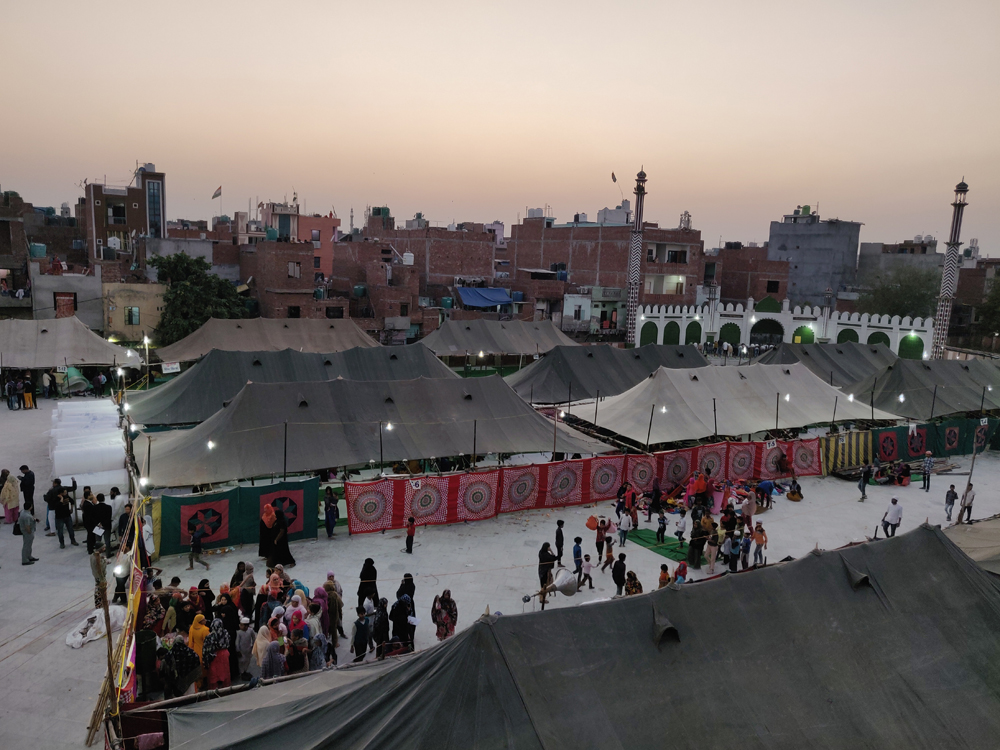 The relief camp at Mustafabad in New Delhi
(Furquan Ameen)
---
New Delhi
|
Published 03.03.20, 06:41 PM
|
---
As many as 20,000 people may have been displaced in last week's communal flare-up in northeast of the capital, Delhi Wakf Board officials have said.
A majority of the displaced are Muslims who are now living with their relatives or have left for their native places.
Around 1,500 displaced people have reached a relief camp in violence-scarred Mustafabad.
The camp was set up in the neighbourhood Eidgah at the heart of the Muslim ghetto at the direction of Wakf board chairperson and Okhla MLA Amanatullah Khan.
The MLA of Mustafabad, Haji Yunus, was at the camp on Tuesday evening to take stock of the situation and hear the victims.
"We had estimated that not many people would move here, but they have. Local residents have come out to help and meet the displaced," said Zaheer Chaudhary, a Wakf committee member managing the camp.
Chaudhary said many had escaped localities including Shiv Vihar, Karawal Nagar, Bhagirathi Vihar and Khazoori Khas.
Most of the displaced in the camp were from Shiv Vihar, a Hindu-dominated area where Muslim houses were targeted. The Telegraph Online reported earlier how Muslim neighbourhoods were vandalised and set ablaze.
Several families shared their stories of horror. Mubeen, 43, a push-cart owner, on February 24 saw a violent mob — with faces covered or wearing helmets and holding rods, sticks and Molotov Cocktails — go on a rampage in the lane abutting the drain that crosses Shiv Vihar.
"I saw it from the rooftop. They were pelting stones and petrol bombs on the houses and destroying anything that came in their way. They also burnt a bus," Mubeen recalled. He left with his family of seven later that night when the situation quietened down a bit.
In the women's section of the relief camp, Saira, about 45, told her story. She moved to Shiv Vihar about nine months ago and started living in Gali No. 18. Her husband worked in a cloth factory.
On the night of February 25, she also saw the mob pelting stones and petrol bombs. She had sent her two daughters to neighbouring Chaman Park earlier in the evening. That night, she and her husband with their two sons took refuge in Chaman Park.
A few lanes ahead, Nazneen Begum lived with her husband and two children. They escaped the same morning, locking their home hoping to return once the violence stopped. Now, she says she can't return to her home of 17 years, where her mother-in-law lived for 35 years. Her family did embroidery work for a living.
"I went home three days later. They took whatever little gold and silver we had. They stole our TV, our inverter, cylinder and whatever they couldn't take was destroyed," said Begum.
Apart from the Eidgah relief camp, the displaced were taking refuge in Muslim localities of Chaman Park, Babu Nagar and Chandu Nagar. The relief camp committee believes that gradually people will move to the Eidgah camp.