Delhi protests after victim death
AAP's social media handles maintained a nervous silence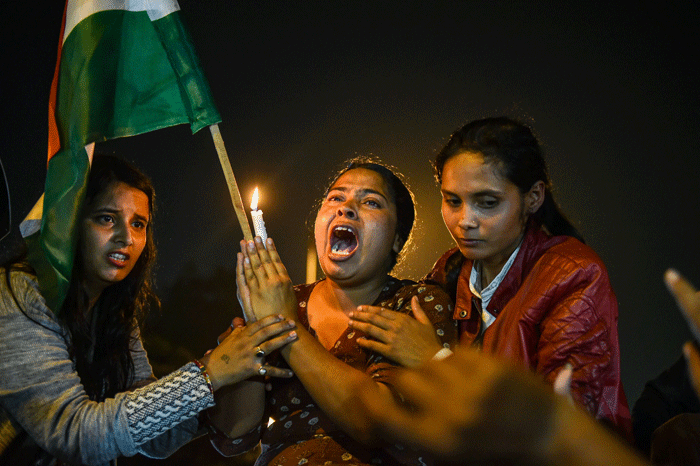 Activists during a candlelight march in solidarity with rape victims and to highlight the issue of violence against women in the country, in New Delhi, on Saturday
PTI
---
New Delhi
|
Published 07.12.19, 09:25 PM
|
---
Several protests took place in Delhi on Saturday after the Unnao rape victim died at Safdarjung Hospital of burn injuries inflicted on her allegedly by her tormentors.
The biggest rally took place from Rajghat, where Delhi Commission for Women chairperson Swati Maliwal, an Aam Aadmi Party government appointee, has been on hunger strike for the past five days demanding that rapists be hanged within six months of their crimes.
Student groups held candlelight vigils opposite Uttar Pradesh Bhavan, at Jawaharlal Nehru University and Delhi University for the Unnao victim.
The silence of the Twitter-savvy AAP leadership while their cadres were being countered by police on the streets exposed the uneasiness within the party over the alleged Hyderabad encounter.
After the alleged encounter on Friday PTI had quoted Maliwal as saying: "Now if the rapists were trying to run away, the police obviously will have to do an encounter….
"Whether they were actually trying to run away or the police were so fed up thinking that while we have caught the culprits, it would take several years to punish them… Maybe they were angry and they did not want them to live off taxpayers' money….
"At the end of the day, there will be a strong message and people will feel justice was done. We want this country to run through a system."
This was at variance with Delhi chief minister and AAP convenor Arvind Kejriwal's remarks: "It is a matter of concern that people's trust in the law and order of the country is broken. We all have to strengthen our law and order system so that people start believing in this system and every victim can get justice soon."
Earlier on Saturday, party MP Sanjay Singh and spokesman Dilip Pandey unsuccessfully tried to convince Maliwal to end her hunger strike. In the evening, supporters at her protest spot took out a candlelight march towards India Gate.
AAP sources said that although the leadership had asked its cadres to join, they had been asked to do so without any party paraphernalia as they did not want to encroach on the Delhi Commission of Women's turf.
The marchers — mostly women — found their way blocked by barricades near the Feroz Shah Kotla Grounds and they began climbing them only to be pushed back by a water cannon, and police and paramilitary personnel.
Even as visuals of Tricolour-waving women being pushed back beamed on TV screens, AAP's social media handles maintained a nervous silence.
Kejriwal, deputy chief minister Manish Sisodia and AAP's official Twitter handle only shared videos of Kejriwal's speech at an event.
AAP's main woman leader — Atishi Marlena — did not tweet anything at all.
A senior party leader told The Telegraph: "Her (Maliwal's) stand is what is appropriate for the DCW. The party supports her struggle and our workers were sent to the march, but we do not want to be seen as synonymous with the DCW."
After coming to power, AAP had promoted a two-line struggle on women's issues with Maliwal taking the hardline on capital punishment and the party pursuing steps such as installing CCTVs and deploying marshals in buses.
The Delhi government has drawn flak from the Centre for going slow on setting up more fast-track courts to hear crimes against women — one of Maliwal's demands.
Up until the Hyderabad shooting, the two lines of the party have not crossed. AAP leaders insisted that Maliwal was not following the footsteps of dissident leader Kumar Vishwas, or rebel MLA turned BJP member Kapil Mishra — who pushed for an ultra-nationalist line within the party.