Delhi cops speak in two voices on AAP leader Tahir Hussain
Hussain is being probed for instigating violence, particularly the murder of IB employee Ankit Sharma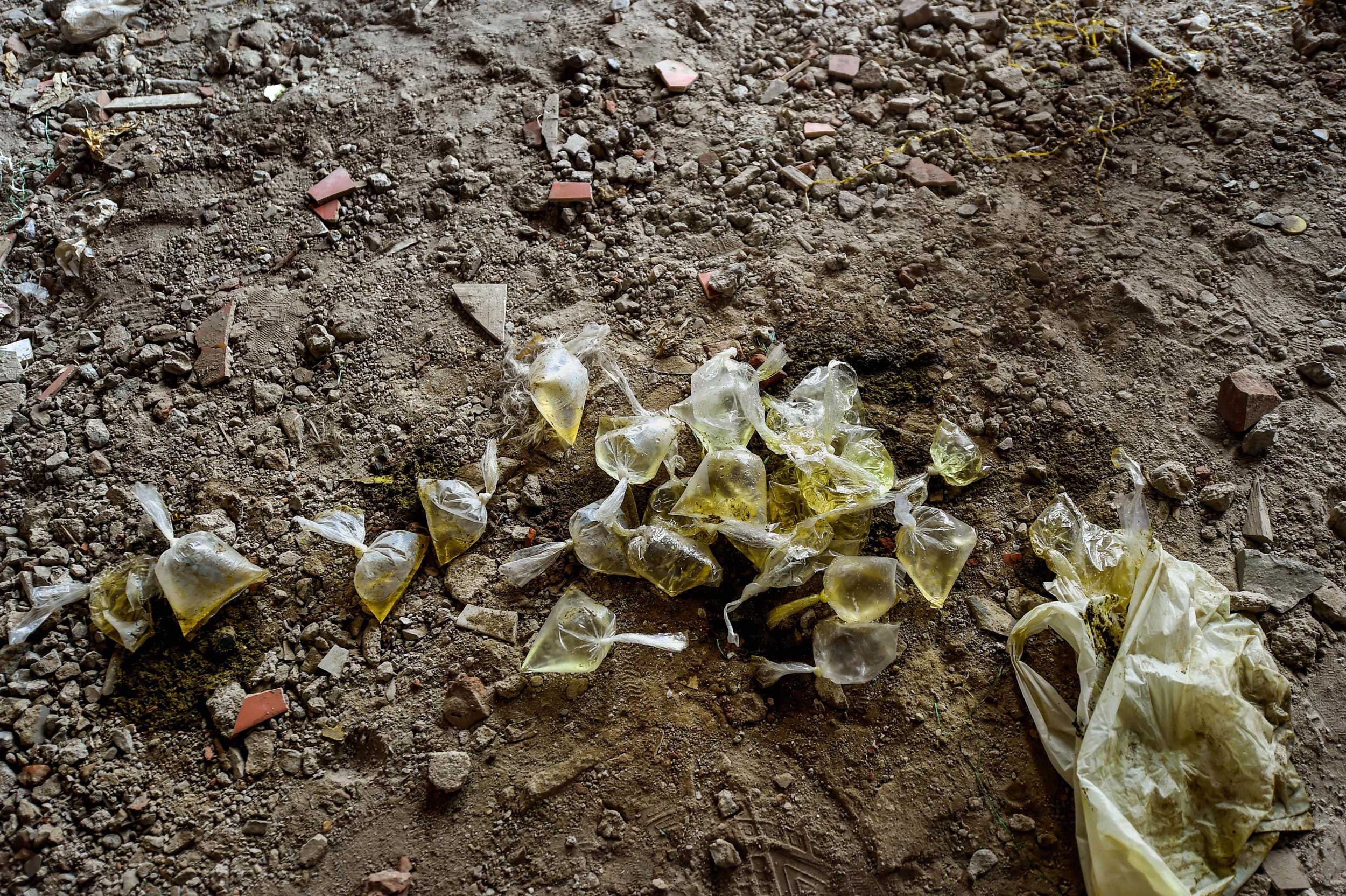 Plastic bags filled with acid on the premises of Hussain's house.
(PTI)
---
New Delhi
|
Published 04.03.20, 09:01 PM
|
---
Delhi police have made contradictory claims on a suspended Aam Aadmi Party councillor accused of participation in the riots, prompting some to suggest that anything that might help portray him as a target of violence would be suppressed.
Tahir Hussain is being probed for instigating violence, particularly the murder of Intelligence Bureau employee Ankit Sharma whose body was found on February 26 in a drain in Chandbagh, northeast Delhi, bearing multiple stab wounds. Hussain was last seen in public on February 27.
At a news briefing on March 3 evening, additional commissioner of police (crime branch) Ajit Singla confirmed to reporters that the police had indeed "rescued" Hussain from his Chandbagh home on February 24 night, as the councillor had himself claimed last week.
"Around 11.30pm-12 (midnight) on February 24-25, some people informed us a councillor was stuck…. Our personnel went into his house and he came out of the house. Members of both the communities had gathered there," Singla said.
Within hours, however, police spokesperson M.S. Randhawa denied the police had "rescued" Hussain at any time.
"A section of the media reported that Hussain was rescued by Delhi police. The facts are that on the intervening night of February 24-25, some men informed police at Chandbagh that Hussain was trapped as a crowd had
surrounded his house. Police verified the same to be incorrect.... Hussain was found available in his house," he said.
Randhawa did not mention Singla's statement at all.
A police officer, speaking on the condition of anonymity, said: "Singla's statement corroborated Hussain's claim that the police had rescued him after a mob had gathered in front of his house and could have strengthened the councillor's claims of innocence."
He added: "Only a thorough probe will establish Hussain's role but it seems to have already been decided that he masterminded the violence."
Hussain has denied involvement in Ankit's death and insisted that he and his family had "moved to a safe place in the presence of the police on February 24 night" and never returned home after that. Ankit was last seen alive on February 25 evening.
Hussain's last acts in public were to meet reporters at his sister's home in Mustafabad on February 26 and 27 and protest his innocence.
Police sources said a murder case had been registered against Hussain on the basis of a complaint from Ankit's father Ravinder Sharma.
Ravinder has alleged that Hussain had assembled goons at his home who were firing and throwing firebombs from the rooftop, and that his supporters had killed Ankit.
Hussain has applied for anticipatory bail.
Told that videos show him on his terrace on February 24 with his supporters who are seen hurling missiles at crowds gathered below, Hussain had told reporters he had been the target and was merely defending himself and his family.
The police claim to have recovered a stash of Molotov cocktails, acid pouches, stones and slingshots from the terrace.
The AAP has said that Hussain would remain suspended until the charges against him are investigated and he is cleared.
The officer who spoke on the condition of anonymity expressed surprise that the police were not probing the role of BJP politician Kapil Mishra.
The rioting broke out on February 23 night shortly after Mishra led a pro-CAA rally in Jaffrabad, near Chandbagh, and allegedly made provocative speeches. At least 48 people have been killed and 300 injured.
The officer said a video showed Sharma inciting his supporters and threatening the anti-CAA protesters while Ved Prakash Surya, DCP (northeast), stood beside him. "It seemed as though the threats had the tacit support of the police," the officer said.