Delhi can never forget Sheila Dikshit
Moderniser of the capital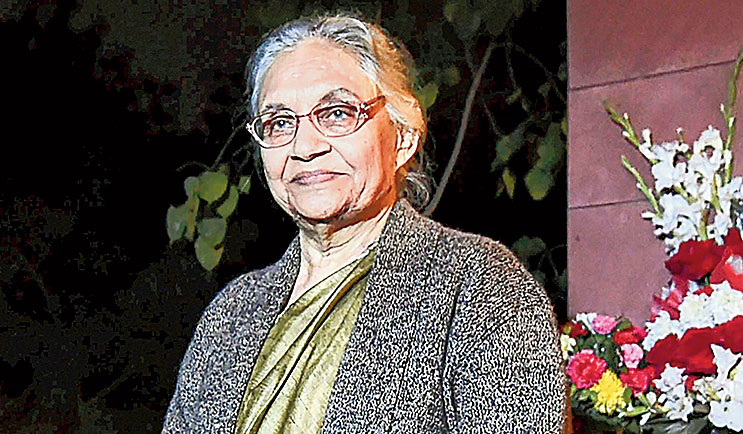 ---
New Delhi
|
Published 20.07.19, 09:01 PM
|
---
Sheila Dikshit is no more. But it will be difficult for Delhi to erase her legacy from the national capital's collective memory as well as its everyday life.
If Dikshit does not flit through the mind when your car zooms through the maze of Delhi's flyovers and a less-polluting CNG bus pulls up next to you at a traffic signal, she will do so when you ride the Metro in air-conditioned comfort.
Dikshit, the three-time Delhi chief minister and a Congress leader who became a symbol of grace rarely seen in power politics, died on Saturday at a hospital here after suffering a cardiac arrest. She was 81.
She was the sculptor who changed the face of India's capital. Anybody who has lived in Delhi has seen the city's infrastructure grow dramatically under her leadership.
Her footprints can be spotted in almost every sphere that touches the lives of the people, ranging from hospitals, colleges, slum management and power reforms that ensured better supply.
Even her critics acknowledge she was a chief minister who delivered.
Prime Minister Narendra Modi, who visited Dikshit's residence to condole her demise, acknowledged in a tweet: "Blessed with a warm and affable personality, she made a noteworthy contribution to Delhi's development." BJP veteran L.K. Advani was effusive. "An able administrator, she made immense contribution to the development of Delhi," Advani said in a statement.
President Ram Nath Kovind, too, laid stress on the same point. "Her term in office was a period of momentous transformation for the capital for which she will be remembered."
In his tribute, former Prime Minister Manmohan Singh said: "People of Delhi will always remember her contribution to development during her three tenures as chief minister of Delhi."
Sonia Gandhi wrote in a letter to Dikshit's son and daughter: "She worked with such vision and dedication to transform Delhi, to make it a much better place to live in for all its citizens, including the poorest, and that tremendous achievement remains her lasting legacy."
Such was the near-universal consensus on her contributions to Delhi that the Congress was hoping to encash the goodwill in the Assembly election next year. At 81, she was heading the party's Delhi unit. Rahul Gandhi had fallen back on her leadership at a time younger leaders failed to deliver.
Affable and soft-spoken, Dikshit not only won three successive terms for the Congress since 1998, she also survived several conspiracies by powerful lobbies in the party to unseat her from the chief minister's Close to Sonia, Dikshit established a rapport with both Priyanka and Rahul since their childhood. Rahul received only two veterans in the party — Dikshit and Mohsina Kidwai — with warm hugs always.
The affection came through in Rahul's condolence message. "I'm devastated to hear about the passing away of Sheila Dikshit Ji, a beloved daughter of the Congress Party, with whom I shared a close personal bond. My condolences to her family & the citizens of Delhi, whom she served selflessly as a three-term chief minister, in this time of great grief."
Priyanka, who along with her brother always got a chocolate from her "aunt", said: "Sheilaji will always be remembered for her years of exemplary governance and immense contribution to the development of Delhi. I will miss her wise counsel, her sweet smile and the warmth with which she would hug me whenever we met."
Sonia wrote in her letter: "She brought grace, humanity, wisdom and excellence to everything she did. And with what courage and loyalty she served the Congress Party, till the end!"
Tracing her roots to Punjab, Dikshit was married to Vinod Dikshit, an IAS officer and son of Congress veteran Uma Shankar Dikshit. Vinod died young during a train journey.
Uma Shankar, a former governor of Bengal, mentored his daughter-in-law during her early years in politics.
A woman of multiple interests, she could discuss films, art, music and food with connoisseurs even while addressing political complexities with admirable calm. She was attacked by the media, vilified by the opponents — with one chief minister calling her a thief — but she never acted with vengeance.
Perhaps one of the few politicians who personally took calls on her landline every morning — before 10am when she left for office — even when she was the chief minister, Dikshit had made deep inroads into every section of Delhi's society, dealing with the elite and the poor with equal ease.
She met hundreds of people daily, maintaining direct connect with the voters even after she lost power. So confident was she of her work that she refused to believe when friends and well-wishers warned her against an impending defeat against Arvind Kejriwal.
Her administrative skills and political maturity can be gauged by her success in managing complicated issues with the Centre — she also worked without rancour with the Atal Bihari Vajpayee government for five years — while her successor Kejriwal went into a confrontation mode from the very outset.
Kejriwal has created an impression that Delhi cannot be developed without full statehood whereas Dikshit's tenure is a model of development under the same restrictions.
In a career spanning five decades, she served as member of Parliament, chief minister and governor. She is also probably the only leader who was projected as chief minister candidate of two states — the Congress had presented her as the panacea for the development crisis in Uttar Pradesh in the 2017 Assembly elections before finalising the alliance with the Samajwadi Party.