Tug-of-war for credit for cleaner air
The environment ministry's notes on actions taken follow a campaign launched by the Delhi government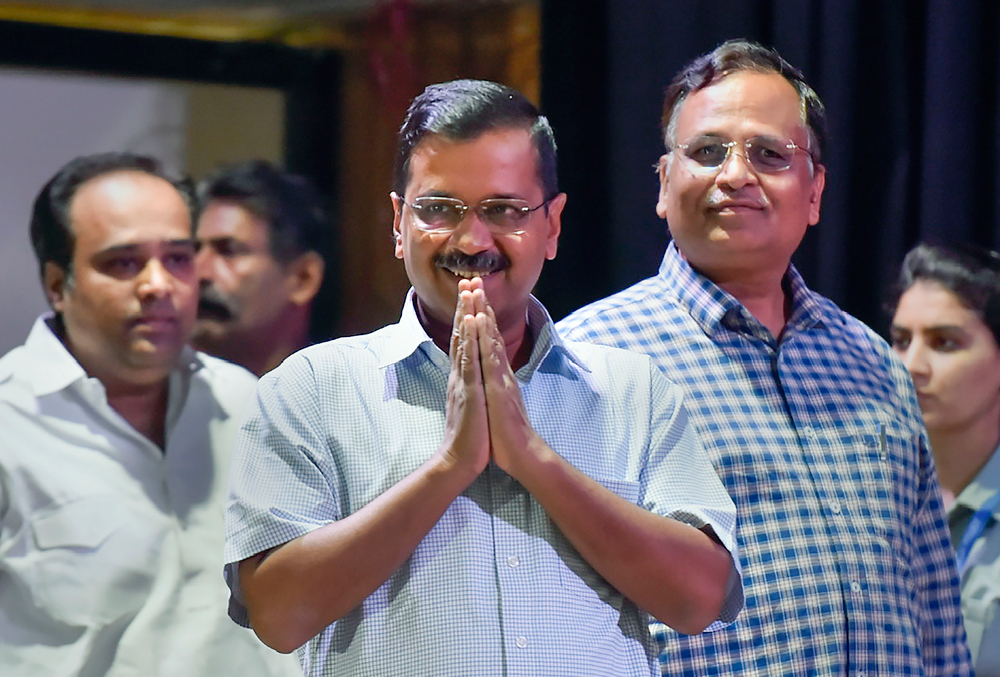 Delhi Chief Minister Arvind Kejriwal and Health Minister Satyendra Kumar Jain during the launch of a campaign Farishte Dilli Ke at Maulana Azad Medical College, in New Delhi, Monday, October 7, 2019.
(PTI)
---
New Delhi
|
Published 07.10.19, 08:23 PM
|
---
Ahead of the anticipated Delhi Assembly polls, the Centre and the Delhi government have independently tabulated their multiple initiatives to curb air pollution over the National Capital Region (NCR), a tug-of-war for credit for the improved air quality.
The Union environment ministry on Monday released a list of central initiatives over the past four years to curb air pollution from traffic, industries, solid waste and crop stubble over the NCR and elsewhere after a Delhi government campaign claiming credit for cleaner air.
The ministry also announced that the Central Pollution Control Board (CPCB) would starting Monday dispatch 46 teams across the NCR to monitor potential sources of pollution.
The Centre's "focused actions" have already yielded positive impacts, the ministry said. The CPCB's datasets show that the number of days when air quality was labelled as "good," "satisfactory," or "moderate" increased from 108 in 2016 to 159 in 2018. The number of "poor", "very poor," or "severe" days fell from 246 in 2016 to 206 in 2018.
"Recognition of a problem is the beginning of a solution," the Union environment minister Prakash Javadekar told reporters, outlining the Centre's initiatives. "Air pollution over the NCR had been worsening since 2006," the minister said, adding that the Narendra Modi government acknowledged the problem and looked for solutions.
The launch of the air quality index — synthesising several parameters to generate an easy-to-understand air quality result — in 2015 contributed to public awareness and actions to curb air pollution, he said.
Since then, Javadekar said, the Centre has spent Rs 60,000 crore to help the auto fuel industry switch to cleaner BS VI standards, amended the Motor Vehicle Act to encourage emission compliant vehicles, provided Rs 1,150 crore to northern states for machinery to curb crop residue stubble burning.
"For the first time, we've introduced construction and demolition waste management rules," said Javadekar.
The environment ministry's notes on actions taken follow a campaign launched by the Delhi government that says Delhi's air has become cleaner as pollution is "down by 25 per cent."
The Delhi government's advertisement campaign says pollution has fallen because 24x7 electricity supply has "brought generator use to near zero," old thermal power plants in Badarpur and Rajghat have been shut down, and heavy fines have been imposed on construction sites that violate dust control norms.
Javadekar pointed out that the air pollution doesn't recognise state borders and the environment ministry has worked with the NCR's neighbouring states to curb air pollution.
He also cited the development of firecrackers that release up to 35 per cent lower soot and gases by researchers working under the Union science and technology ministry. "Those who want to burst crackers should look for these green crackers," he said.
The environment ministry has also identified "challenges," saying earlier CPCB teams sent out for inspections had reported poor management of waste, inadequate sweeping of roads, and a shortfall in public transport buses in Delhi.
Delhi Assembly polls are due by February 2020.