Defectors to be ministers
13 MLAs, including 10 who had joined the BJP will take oath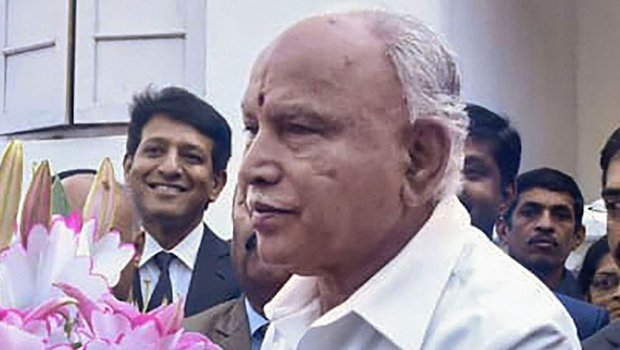 The cabinet expansion will take place on February 6 with the oath-taking ceremony at the Raj Bhavan at 10.30am: B.S. Yediyurappa
File picture
---
Bangalore
|
Published 02.02.20, 07:05 PM
|
---
Karnataka chief minister B.S. Yediyurappa is scheduled to expand his cabinet on February 6, nearly two months after most of the defectors who had brought down the Congress-JDS coalition government got elected in the bypolls last December.
"The cabinet expansion will take place on February 6 with the oath-taking ceremony at the Raj Bhavan at 10.30am," the chief minister told reporters on Sunday.
Thirteen MLAs, including 10 who had joined the BJP from other parties, including the Congress and the Janata Dal Secular, will take oath, he said.
BJP president J.P. Nadda has cleared the list of probables that includes at least 10 of the defectors. A few ministers can be dropped to accommodate the new entrants.
The names of the defectors doing the rounds were Ramesh Jarkiholi, K. Sudhakar, B.C. Patil, S.T. Somashekar, Shivaram Hebbar, Byrathi Suresh, Srimanth Patil, Anand Singh, K.C. Narayana Gowda and K. Gopaliah.
Old-time Yediyurappa loyalists C.P. Yogeshwar, Umesh Katti and Aravind Limbavalli were also being touted for the cabinet.
Another defector, Mahesh Kumathalli, is likely to be sent to Delhi as a special representative of the state.
Of the sanctioned cabinet strength of 34, the BJP government has only 18 ministers since the party decided to keep sufficient vacancies to accommodate the defectors.
While 17 defectors from the Congress and the JDS had helped the BJP bring down the coalition government in July 2019, 14 were fielded in the bypolls. Of the 12 who won the bypolls held for 15 seats, 11 were defectors.
Elections could not be held for two seats because of pending court cases since the 2018 Assembly polls.
Jarkiholi, the chief architect of the rebellion, told reporters in Gokak he had insisted that all the 11 winners should be inducted.
"All 11 of us should be in the cabinet as we made all the sacrifices," Jarkiholi said.