Defectors bristle as Yedi waits
The chief minister had promised cabinet berths to all the winners "within 24 hours"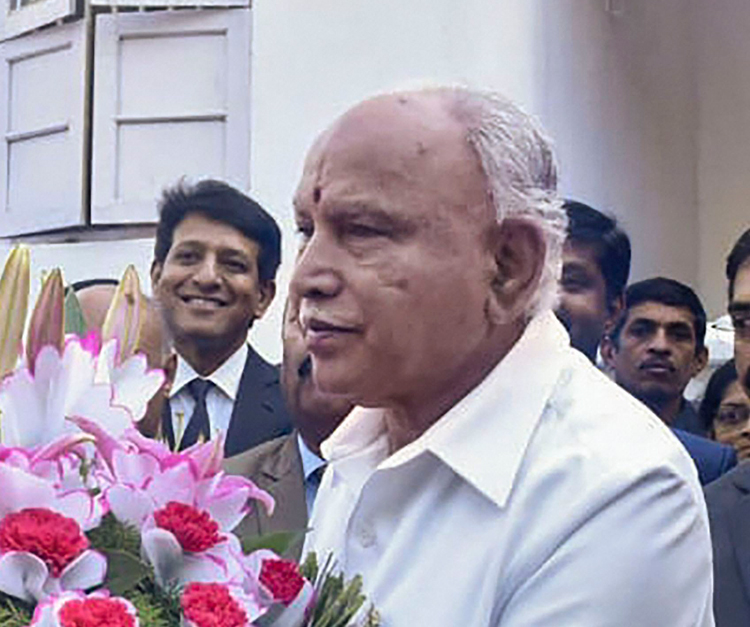 ---
---
The former Congress and Janata Dal Secular MLAs whose defection had allowed the BJP to form the Karnataka government last July have begun airing their impatience as they wait for chief minister B.S. Yediyurappa to honour his promise of inducting them into the cabinet.
Eleven of these 17 defectors got elected on BJP tickets in the December 5 by-elections, whose results were declared on December 9. Yediyurappa had promised cabinet berths to all the winners "within 24 hours".
Five weeks on, the chief minister is still to expand his cabinet to accommodate them because he hasn't been able to get party national president Amit Shah to clear the list of inductees.
A prominent defector, K. Sudhakar, on Monday said he was prepared to wait until "January 20", without saying what he would do after the deadline passed. "Our national president and our chief minister are known for keeping their word. I'm sure they will fulfil their commitment before January 20," Sudhakar told The Telegraph.
Another defector, who was with the Congress, told this newspaper: "The BJP had a very small vote share in my constituency before I joined them. Now it has a nearly 40 per cent vote share, all thanks to me. That's why people close to me are very worried."
He, however, added: "We have already waited five weeks; so let's wait one or two weeks more."
A BJP source said the intricacies of "caste and regional balance" were holding up the cabinet expansion. "Bangalore already has four ministers; another three or four would invite trouble from old-timers from other regions," he said.
Other theories are swirling too, one being that Shah is so busy fighting the citizenship fire as Union home minister that he has been unable to spare time for Karnataka.
Another is that the central leadership, worried at Yediyurappa's soaring stature following wins in 12 of the 15 by-election seats, wants to prolong his wait to show him who's the boss.
Yediyurappa, surprisingly, told reporters he had been asked to meet Shah in Delhi on Monday "but could not go because of other commitments".
"If possible, I shall go to Delhi tomorrow (Tuesday) and clear the cabinet list. If not, he (Shah) is anyway coming here this weekend; so I can have it cleared here," he said. Shah is to attend a pro-citizenship-act rally in Hubli.
Tourism minister C.T. Ravi told reporters the cabinet would be expanded "soon" and that "there are no issues at all" but cited no date or the reason for the delay.
Of the 17 defectors, 14 were fielded in the by-elections and two of them lost. Elections could not be held for two of the 17 seats because they are enmeshed in court cases. The BJP has dumped the lone Muslim defector, former Congress politician R. Roshan Baig, over some corruption cases.
A.H. Vishwanath, one of the two defectors who lost the by-elections, sounded a warning on Monday. "I hope the cabinet is expanded to fulfil the promise as the MLAs, who are already anxious, could get more impatient," he told reporters.
Vishwanath and M.T.B. Nagaraj, the other defector who lost the by-election, have been nursing hopes of a cabinet berth via the legislative council. Nagaraj has met Yediyurappa at least six times in recent weeks.