Debate over toxic debates
Spokesperson's death triggers questions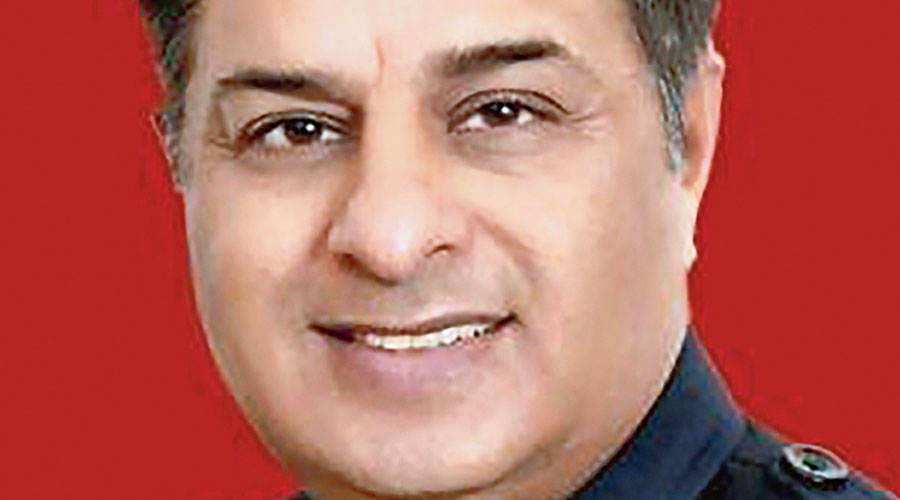 ---
---
The death of Congress spokesperson Rajiv Tyagi on Wednesday has triggered a discussion in the party on the perils of participating in TV news channel debates that it feels are designed to divert attention from matters of grave concern and camouflage the Narendra Modi government's failures.
Tyagi, 52, is said to have felt extreme unease during a debate on Wednesday afternoon on the Bangalore violence and fell unconscious soon after. He passed away within half an hour after suffering a cardiac arrest.
The Congress has launched an online campaign against the perceived agenda and conduct of a section of TV channels and BJP spokespersons. The Congress had for a while stopped sending representatives to TV debates, and Rahul Gandhi has begun addressing the public directly through social media because of the blatant bias of the news channels.
During Wednesday's debate, BJP spokesperson Sambit Patra had repeatedly called Tyagi "Jaichand", a medieval king whose name is synonymous with the word "traitor", and said that applying a tilak on the forehead did not make one a Hindu.
For several hours the hashtag "Arrest Sambit Patra" trended on Twitter after Tyagi's death. Although it is far-fetched to hold Patra or the anchor of the programme responsible for the tragedy, the Congress believes this should trigger a discussion on the quality and intent of talk shows telecast daily on most news channels.
Veteran Congress leader Ahmed Patel initiated the discourse with a blunt tweet: "It is high time TV channel owners, editors and anchors introspect on how some in the industry have reduced news debates to a meaningless, poisonous and potentially fatal activity. At times words can have the same impact as bullets."
Congress communications chief Randeep Surjewala tweeted: "Till when (will) toxic debates and poisonous spokespersons continue to kill the language of restraint and dignity? Till when (will) this business of TRP be sustained by such debates? Till when (will) the poison to divide Hindus and Muslims consume the soul of this nation?"
The party also posted several messages on its website, including one that said: "What a truly nationalist media should have normalised: Holding the government accountable. What did they normalise: Hate, lynchings, name-calling, personal attacks, sensationalism."
Many Congress spokespersons posted videos to bring on record the discriminatory attitude of some television anchors who make no effort to hide their intent of helping the Narendra Modi government.
Gourav Vallabh, a Congress spokesperson, said: "I can understand what pressure Tyagi felt during the debate. Our patience and grit are tested daily. To begin with, the title of the debates is chosen mischievously to send out a divisive message, to create animosity in society. The title declares the BJP victorious even before the debate."
Vallabh added: "The panel is carefully chosen — one BJP spokesperson, one RSS man, one expert with BJP links and one Congress spokesperson. When the debate starts, only the Congress spokesperson is questioned while the BJP spokespersons are protected by the anchors. We are abused and insulted, vulgar language is used against top leaders, baseless allegations are made. We hardly get time to respond; when we speak, we are either muted or the volume is reduced. Tricks like taking a break or technical disruption are also deployed."
Alleging that the topics of the debates are chosen also to fit into the larger agenda, Vallabh asked: "Have you heard any debate on the attempts to dilute environmental laws or the new education policy in the past 15 days?"
Another Congress spokesperson, Supriya Shrinate, said: "We cannot avoid discussing the nature of debates on TV channels anymore. The poison spread in the public sphere has to end. Most TV debates are abuses, personal attacks, meaningless talk and character assassination. The greatest responsibility lies on the anchors and editors to ensure vulgar language and irrelevant talk are avoided and discussions become meaningful and decent."
Party spokesperson Akhilesh Pratap Singh said: "TV studios have become dens of churning poison. Anchors habitually spit poison and execute the BJP's agenda instead of giving news. Creating disaffection among communities is their main purpose. Media owners should introspect and kick out anchors doing this on a regular basis."
Senior spokesperson Mohan Prakash weighed in: "I have seen two-three generations of BJP spokespersons and TV anchors but never experienced such toxic debates and vulgar language. In my view, the standard has been lowered because of the influence of the top leadership, the hostile language spoken by Narendra Modi and Amit Shah on political rivals. It is not that these spokespersons do not have an adequate vocabulary. The abusive and threatening tenor is by choice."
Former information and broadcasting minister Manish Tewari, also a Congress spokesperson for long, said: "Acerbic and obnoxious questions are thrown at the Congress by anchors and fellow panelists. What is happening is not structured discussion but looks like WWF (the American wrestling show now called WWE). Rajiv's death should be a trigger for revisiting the debate formats on TV. For how long will the public space be vitiated for TRPs? I request the I&B ministry to cancel the licences of channels that violate the licensing code and regulation acts."
Asked for the reasons behind the Congress's aggressive campaign, party media secretary Pranav Jha explained: "TV debates over the last seven-eight years or so have become unabashedly coloured, biased. Their aim appears to not inform but damn individuals, the Opposition, and polarise people by deliberately rousing baser, negative emotions. Is the vulgar tamasha done to enhance TRP or to further the BJP's divisive agenda? Are the vicious debates organised on the instructions of the powers that be? I have seen our spokespersons angry and frustrated so many times because of the naked bias of the anchors."
Jha added: "Have we, as the audience, become so frivolous and mean as to tolerate this toxicity? It's time that the people take the lead and boycott such TV shows! Look at the orchestrated plan — all the TV channels were discussing the Bangalore violence yesterday and asking 'why are the Gandhis silent'? Doesn't it clearly indicate the sinister agenda and how TV channels have become the ruling party's mouthpiece?"