Bipin Rawat suggests India is 'prepared for military actions'
Several military veterans questioned his decision to issue the hard-line statement at a time both sides have agreed to continue with their diplomatic and military talks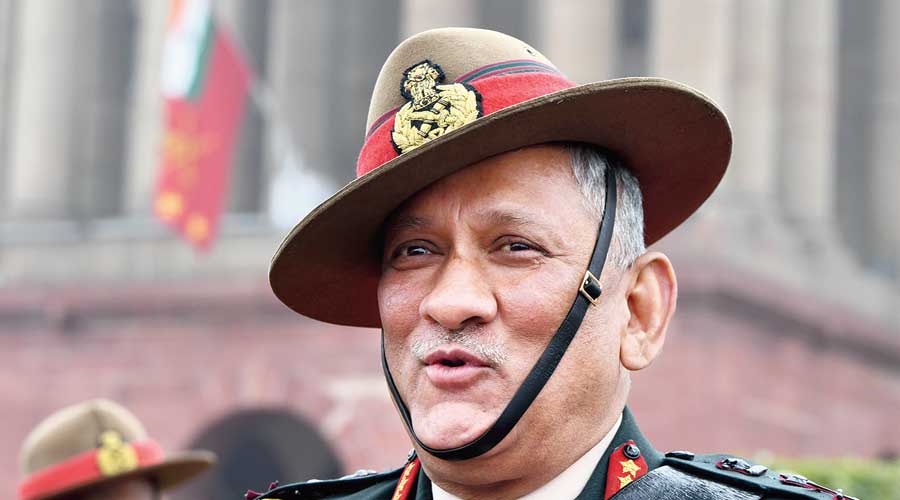 Chief of Defence Staff Bipin Rawat
File picture
---
New Delhi
|
Published 25.08.20, 01:57 AM
|
---
Chief of Defence Staff Bipin Rawat has appeared to suggest that India is "prepared for military actions" if the talks with China yield no results, triggering a debate whether this is a serious option and whether India is ready to face the cost.
Several military veterans questioned Gen. Rawat's decision to issue the hard-line statement at a time both sides have agreed to continue with their diplomatic and military talks to try and resolve the border standoff in eastern Ladakh.
Rawat's comments — especially his reference to efforts to "restore status quo ante" — also belie the un-retracted June 19 claim by Prime Minister Narendra Modi that no one had intruded into India or occupied its territory.
In an interview to the Hindustan Times that was published on Monday, Rawat said that defence minister Rajnath Singh, national security adviser Ajit Doval and all others responsible for national security were "reviewing all options with the objective that PLA (China's People's Liberation Army) restores status quo ante in Ladakh".
"Transgressions along the LAC occur due to differing perceptions about its alignment. Defence services are tasked to monitor and carry out surveillance and prevent such transgressions turning into intrusions," Rawat was quoted as saying.
"Whole of government approach is adopted to peacefully resolve any such activity and prevent intrusions. Defence services always remain prepared for military actions should all efforts to restore status quo along the LAC not succeed."
A retired lieutenant general questioned the wisdom of the statement. "In the middle of the diplomatic talks, such a statement from the top military brass is likely to present a considerable obstacle to further negotiations," he told The Telegraph.
Others quoted a foreign police advice often attributed to Theodore Roosevelt, the late US President: "Talk softly but carry a big stick. You will go far."
"It seems Gen. Rawat does not believe so. He should remember that he is not targeting a domestic audience but a formidable adversary," a veteran said.
Another veteran said: "Going to war with China will be a political call. The question is whether we are prepared for the economic cost of war and also the political consequences of a setback. Rawat must remember that China is not Pakistan."
He underlined that the belligerence with which the government had responded to the February 2019 Pulwama bombing — carrying out airstrikes on Balakot in Pakistan — was missing in its dealing with China.
"The chest-thumping is absent in the case of the Chinese intrusion. The political leadership has not even named China so far while talking about China's aggression," he said.
Serial talks have so far failed to break the stalemate along the Line of Actual Control in eastern Ladakh, where the Indian and Chinese armies have been locked in a standoff since May.
Indications are that Beijing has been resisting New Delhi's demand for a restoration of status quo ante, laying fresh claims to India-claimed territory, and setting conditions for disengagement.
A former Intelligence Bureau director underscored that the latest friction points -- the Galwan Valley, Pangong Lake, Hot Springs and the Depsang Plains - were also the theatres of the 1962 war in which India had received a drubbing.
"Some people have suggested, without realising its costs, that India should go in for a limited war with China. The Chinese have already surprised us by transgressing into our territory and are now holding on to it. They are building roads and camps at the multiple friction points," he said.
Another veteran said: "It's true that diplomacy is not working at the moment but India needs to continue pressing for the restoration of status quo ante during the forthcoming talks. War is never going to be an option."
He said India's best option would be to hold its ground, wait for the winter, and ensure there is no further transgression by the Chinese.
"The harsh winter is going to make a big difference as it would be difficult for them to stay put. Making a retreat from those areas would be the only option for them. In the meantime, diplomatic intervention from the top leadership is the need of the hour," he said.
He added: "What happened to Modi's bonhomie with Chinese President Xi Jinping? We need it more than anything else now to resolve the dispute."
Sources in the security establishment said that India and China should try to reach an agreement about the entire border during the ongoing diplomatic talks, as each side has its own perception of the LAC.
"There are over a dozen disputed sites along the LAC. Even if the Chinese agree to pull out from the India-claimed zones after diplomatic negotiations, the bigger issue of an unsettled border may remain unresolved," a security official said.