Death of Milind Teltumbde a huge blow to CPI Maoist
The 57-year-old, who carried a bounty of Rs 50 lakh on his head, had in the past 20 years given momentum to the Maoist movement and built it in Maharashtra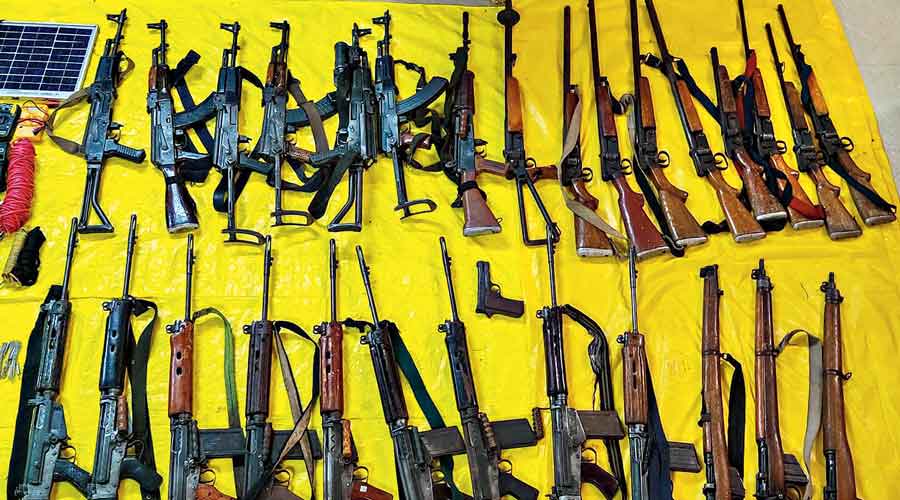 Weapons recovered from the Naxalites killed in the encounter at Gyarapatti-Kotgul forest near Dhanora in Gadchiroli district.
PTI Photo
---
Mumbai, Nagpur
|
Published 15.11.21, 02:09 AM
|
---
The death of Maoist leader Milind Teltumbde in Saturday's encounter with security forces that killed 25 rebels in Gadchiroli district of eastern Maharashtra is a huge blow to the banned CPI Maoist in the Maharashtra-Madhya Pradesh-Chhattisgarh zone, police said.
Teltumbde, 57, who carried a bounty of Rs 50 lakh on his head, had in the past 20 years given momentum to the Maoist movement and built it in Maharashtra, DIG (Gadchiroli Range) Sandip Patil said.
"He was the only future of that movement and there was no other leader in Maharashtra," the officer said.
"Considering his contribution to the Naxal movement and his influence among some parts of the Vidarbha region of Maharashtra and urban areas, he was a very important and key cadre. We were searching for him for a very long time."
Teltumbde was wanted in the Elgar Parishad-Maoist links case. He was the brother of activist and scholar Anand Teltumbde, arrested earlier in the case.
"The killing of Milind Teltumbde will affect the Naxal movement very badly not only in Maharashtra but across India," Gadchiroli superintendent of police Ankit Goyal said.
An official said Teltumbde, the rebels' Maharashtra-Madhya Pradesh-Chhattisgarh zone secretary and the only member from Maharashtra in the Maoists' central committee, had the assignment of diverting the Centre's attention from the hilly areas to the MMC zone.
He said Teltumbde had strong connections with both the urban and jungle-based Maoist movements. Teltumbde and his wife Angela Sontakke used to run an "urban network" (of rebels) in Maharashtra, he added.
Teltumbde, a former electrician who had gradually climbed the Maoist hierarchy, was a ruthless commander launching deadly operations against the security forces, police said.
He had been involved in 42 encounters apart from the murders of 7 civilians, arson, dacoity and other offences, they added. He was known by aliases such as Jiva, Deepak, Praveen, Sudhir, Sahyadri.
"He was involved in 63 major offences registered in Gadchiroli district. Key incidents among them are the Jambhulkheda blast on May 1, 2019, in which 15 police personnel were killed. In the Koparshi encounter on May 17, 2020, two police personnel were killed during the encounter in the forest," a police release said.
Teltumbde was from Rajur village in Yawatmal district. After clearing his Class X exams, he got admitted to an Industrial Training Institute. He later worked as an electrician in the Padmapur open-cast coal mines where he came into contact with labour leader Sujan Abraham. He gradually became influenced by the Maoist ideology, police said.
In 2004-2005, he became a member of the Maoists' Maharashtra state committee, and was elevated to the central committee in April 2013. When the MMC zone was formed in 2016-17, he was appointed its leader.