Day's pay as 'voluntary' contribution for Ram temple
Move angers PWD employees who said their permission had not been taken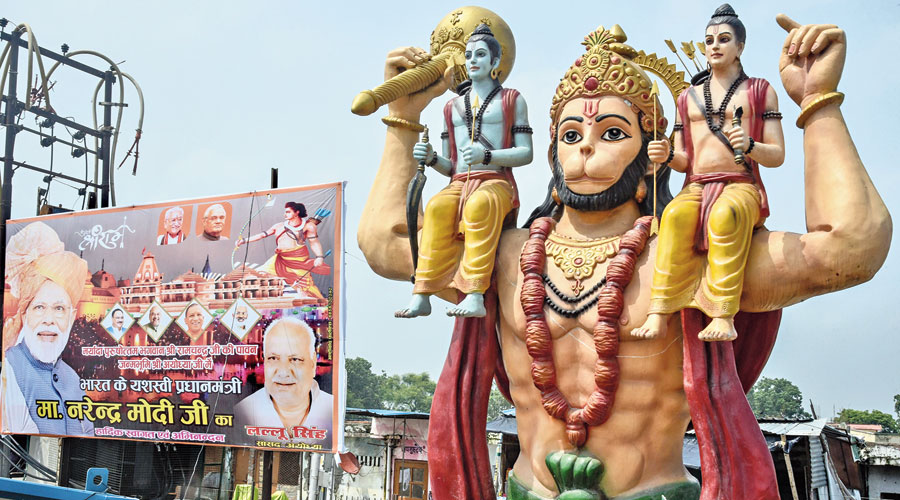 ---
|
Lucknow
|
Published 21.01.21, 01:47 AM
---
A senior official in the Uttar Pradesh public works department has begun the process of deducting a day's salary from PWD employees as "voluntary" contribution towards building a Ram temple in Ayodhya, angering staff who said their permission had not been taken.
Rajpal Singh, engineer-in-chief of the development section of the PWD, has purportedly written to a bank at Hazrathganj in Lucknow seeking to open an account in the name of "PWD Ram Mandir Welfare". The letter, dated January 9, 2021, mentions that a day's pay would be deducted from the salaries of PWD employees and the amount would be deposited in this account.
"With regard to opening of an account in the name of PWD Ram Mandir Welfare," the letter's subject line says.
The letter mentions that superintending engineer Munish Kumar and chief assistant Virendra Kumar would handle the account, where the "voluntarily" donations would be deposited. Several calls The Telegraph made to Singh and a text message on his mobile phone went unanswered.
An employee said on the condition of anonymity: "We came to know that a day's salary would be deducted. Nobody discussed with us before taking the decision. This is not a voluntary contribution."
"As far as I know, nobody in the government asked Singh to do this. He himself discussed it with some of his colleagues a few days ago and then informed some of the employees about the drive. The majority of the employees came to know about the decision on Wednesday when Singh's letter was circulated on social media," the employee said.
The employee pointed to Rule 10 of the Uttar Pradesh Government Servants' Conduct Rules, 1956, which prohibits employees from asking for and accepting contributions and associating himself or herself with the collection of funds without the sanction of the government.
PWD sources said that although there was no official order from the government, some senior officials of the department had on their own taken the initiative to collect funds for the construction of the temple. The sources said that although there was resentment among sections of employees, none was likely to protest given the sensitivity of the issue.
Subhash Chandra Kushwaha, a social scientist, told reporters: "This is forcible collection of money for a religious purpose. It could be that the government has approved this drive, albeit unofficially."
The Sri Ram Janmabhoomi Teerth Kshetra Trust, authorised to build the Ram temple in Ayodhya, began a funds collection drive on January 14 with President Ram Nath Kovind becoming the first person to contribute. The other initial donors are mostly politicians. Vishwa Hindu Parishad and BJP workers have been organising camps across the country to collect funds.
Mahant Paramahans Das, a sadhu in Ayodhya, said: "Some people are fraudulently collecting money in the name of the Ram temple. It is a crime and the trust must look into it."