Dare to Shah on Kanhaiya
Union home minister's challenge has found many takers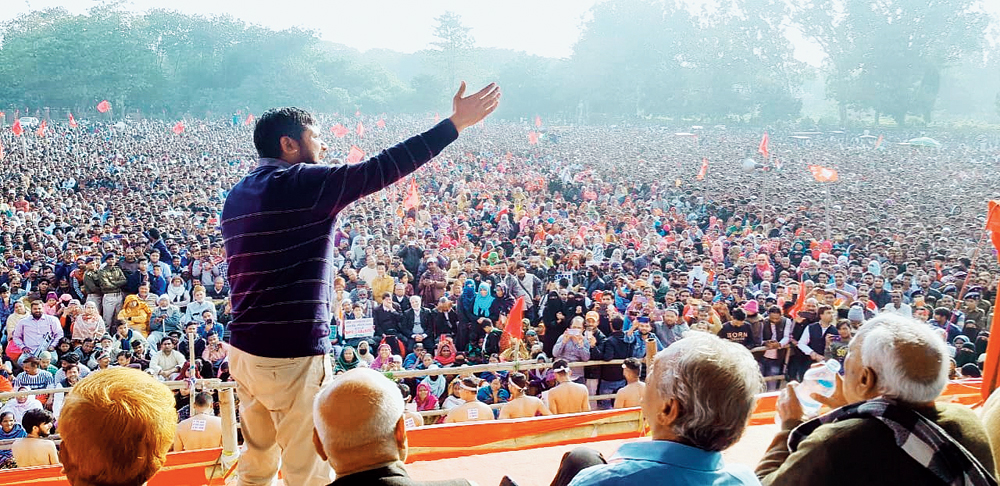 ---
---
Union home minister Amit Shah's challenge to Opposition leaders to debate the Citizenship Amendment Act has found many takers, including those he had not invited.
At a rally in Lucknow on Tuesday, Shah had dared Rahul Gandhi, Akhilesh, Mamata Banerjee, and Mayawati to a debate and said "our Swatantra Dev is ready for it". Swatantra is the state BJP president.
The Congress accepted promptly, holding a news conference on Tuesday where it asked Shah or Prime Minister Narendra Modi to decide the time and venue.
On Wednesday, Mayawati tweeted: "The central government, which is worried by the organised struggle and agitation all over the country, especially by youth and women, against the highly-disputed CAA / NRC / NPR, has challenged the Opposition for a debate on this issue, in a rally in Lucknow. The BSP is willing to accept the challenge for a debate at any forum."
Akhilesh told journalists: "I am ready for debate with the BJP anytime and anywhere. However, the topics would have to be development, unemployment and issues faced by farmers. The BJP is continuously distracting people from the core issues and dividing the country on the lines of religion and communalism."
RJD MP Manoj Jha tweeted: "Can anyone outside the list join in... Just asking!!!"
Stand-up comedian Kunal Kamra had a suggestion for Shah. "Will you debate Kanhaiya (Kumar), sir? Shall I arrange it?" he asked on Twitter.
Kanhaiya, CPI leader and former Jawaharlal Nehru University Students' Union president, has been addressing rallies against the CAA-NRC-NPR across the country.
IAS officer Kannan Gopinathan, who resigned last year following the abrogation of Jammu and Kashmir's special status and "suspension of Fundamental Rights", tweeted: "Dear @AmitShah, heard that you wanted a debate on CAA. I would suggest you try your hand at your level. Maybe with that Bagga guy? Whoever wins, a colouring book from my side." Tejinder Bagga is a BJP spokesperson.