Cyclonic storm Nivar kills 3 in Tamil Nadu, wrecks trees
Airport operations, Metro rail and bus transport resumed on Thursday as Nivar weakened into a deep depression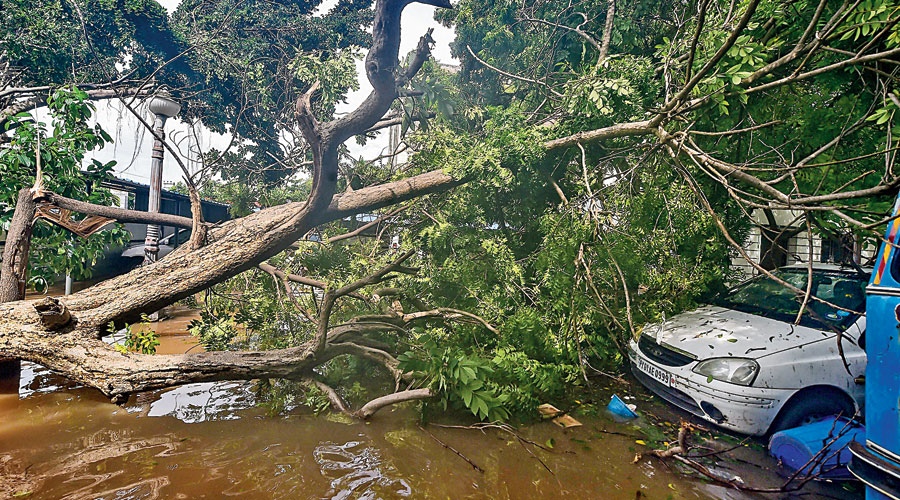 A car under an uprooted tree in Puducherry on Thursday.
(PTI)
---
Chennai, Amaravati (Andhra Pradesh)
|
Published 27.11.20, 02:12 AM
|
---
At least three persons were killed in Tamil Nadu, over 1,000 trees uprooted and some low-lying areas marooned due to waterlogging following heavy rain on Thursday as severe cyclonic storm Nivar made landfall near Puducherry. 
Subsequently, Nivar weakened into a cyclonic storm and further into a deep depression, centred about 50km west-southwest of Tirupati at 2.30pm, officials of the India Meteorological Department said. According to the IMD, it will weaken into a depression during the next six hours. 
Heavy rains lashed Tamil Nadu and Puducherry as Nivar made landfall in the early hours, leading to inundation and uprooting of trees. 
Union home minister Amit Shah tweeted, "We are closely monitoring the situation in Tamil Nadu and Puducherry in the wake of Cyclone Nivar. Have spoken to CM Shri @EPSTamilNadu and CM Shri @VNarayanasami and assured all possible help from the centre. NDRF teams already on ground to help people in need." 
In Tamil Nadu, three persons, including a woman, were killed in rain related incidents such as tree and wall collapses in Chennai, nearby Ponneri and Villupuram, authorities said. Officials said about 1,086 trees were uprooted in Tamil Nadu and almost all of them have been removed. In a few places, overhead electricity cables snapped as heavy trees fell over them and also some vehicles. In Chennai, citizens in many parts complained of disruption in Internet. 
Chief minister K. Palaniswami visited Cuddalore, close to Puducherry, and took stock of the damage in the district. 
Low-lying neighbourhoods in Chennai witnessed flooding and water entered the houses of many residents. Rescue personnel ferried cooked food to the people using inflatable boats and while some chose to shift to the homes of their relatives, others continued to stay put battling odds. In city areas, civic workers pumped out stagnant waters from several locations. 
Airport operations, Metro rail and bus transport resumed on Thursday. State-run bus transportation services, suspended in Villupuram, Cuddalore, Nagapattinam, Tiruvarur, Thanjavur and Pudukottai districts from November 24, resumed from noon on Thursday. 
In neighbouring Puducherry, which saw heavy rains and inundation in some parts, there were no reports of loss of life because of the cyclone. Chief minister V. Narayanasamy said there were no reports of loss of lives adding whether boats and nets were damaged or not would be known only later. 
In view of the cyclone, a prohibitory order that was in force in the Union Territory since November 24 to prevent movement of people and also gathering was lifted on Thursday.
In Andhra Pradesh, chief minister Y.S. Jagan Mohan Reddy asked SPS Nellore district collector to render all assistance to the family of the person who died of electrocution on Wednesday.
In Chittoor district, three farmers went to their fields to fetch electric motors but were suddenly caught in a swirling flood from the Mallemadugu reservoir on Thursday. 
While NDRF and state emergency response and fire services personnel rescued two farmers, another was washed away and efforts were on to trace him.