'Cruel joke' on democracy, responds Congress
Senior leader Ahmed Patel drew a parallel between Modi and the Roman emperor Nero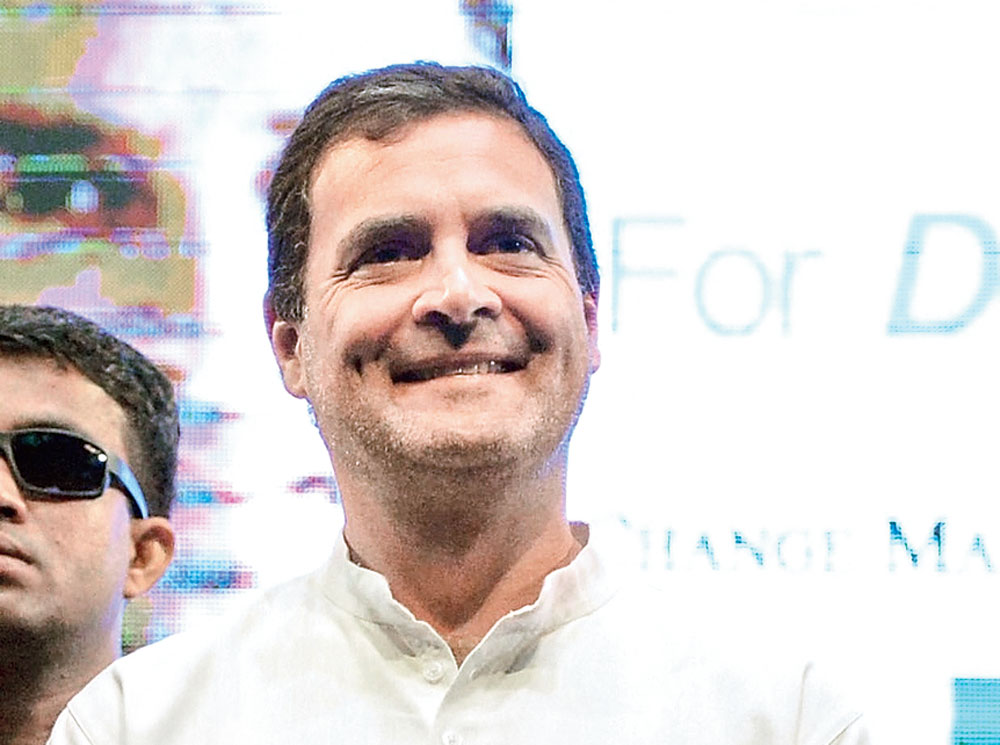 Rahul Gandhi at an event in Imphal on Wednesday
Picture by PTI
---
New Delhi
|
Published 20.03.19, 08:56 PM
|
---
The Congress on Wednesday described Prime Minister Narendra Modi's allegation that it had destroyed institutions when in power as a "cruel joke on India's democracy", accusing the current dispensation of levelling on opponents the same charges it was guilty of.
Congress communications chief Randeep Surjewala said, referring to Modi's blog in which he made the allegations: "As the Prime Minister has nothing to say on his achievements, he is back to the same old and oft-repeated charges of dynasty and Emergency. The person who destroyed every single institution is talking about the Constitution and weakening of institutions. What can be a worse and a more cruel joke on India's democracy?"
The Congress spokesperson drew attention to several instances to bolster his arguments.
"The country saw for the first time Delhi police taking over the CBI headquarters in the middle of the night after removing the (premier probe agency's) director. A pliable and discredited officer was appointed to head the CBI in violation of rules. Four Supreme Court judges had to come out and talk of a threat to democracy and the death of Judge (Brij Mohan) Loya. Two RBI governors and a chief economic adviser had to resign. Every institution, from Parliament to the Supreme Court, felt crippled," Surjewala said.
Senior leader and long-time aide of Sonia Gandhi, Ahmed Patel, drew a parallel between Modi and the Roman emperor Nero.
"Those who have undermined every single institution in the last five years are now lecturing others. This is like Nero asking who burnt Rome," Patel tweeted.
The Congress and the civil society have on many occasions flayed the Modi government for allegedly undermining institutions, making it the cornerstone of their attack on the dispensation.
The last Congress Working Committee meeting earlier this month had referred to the purported attack on institutions and democratic culture.
UPA chairperson Sonia had in her speech to party MPs after the end of the Parliament session said: "The very foundations of our democratic republic, of our secular republic, have come under systematic assault by the Modi government. The very values, principles and provisions of our Constitution have come under continued attack.
"Institutions have been subverted. Political opponents have been hounded. Freedom of speech has been sought to be curtailed and silenced. People with opinions different from the ruling establishment have been victimised."
The Emergency imposed by Indira Gandhi has been a dark chapter in Congress history, with its opponents, including Modi in his blog, tearing into it at every opportunity.
The Congress on Wednesday also attacked the Modi government for allegedly suppressing job data, referring to a report that suggested that the actual size of India's male workforce had shrunk for the first time in 2017-18 since 1993.
Data from the National Sample Survey Office's Periodic Labour Force Survey 2017-18, which has not been released, pointed to shrinking job opportunities.
Reacting to the report, Rahul tweeted: "I thought India was producing 450 jobs a day. Turns out Modi's policies destroyed 1 crore jobs in 2018. That's 27,000 jobs lost every single day of 2018. India's PM is a joke."
Congress communications chief Surjewala said: "Modiji calls himself chowkidar, but he gobbled up 4.7 crore jobs. He had promised in 2014 to create 2 crore jobs every year. But instead of giving 10 crore jobs in five years, he destroyed 470 lakh jobs. The youth should wake up and note that Modi is dangerous for them, he is creating unemployment."