Crouching 'sadhvi', sweating Digvijaya
The race is on to prove who is a better Hindu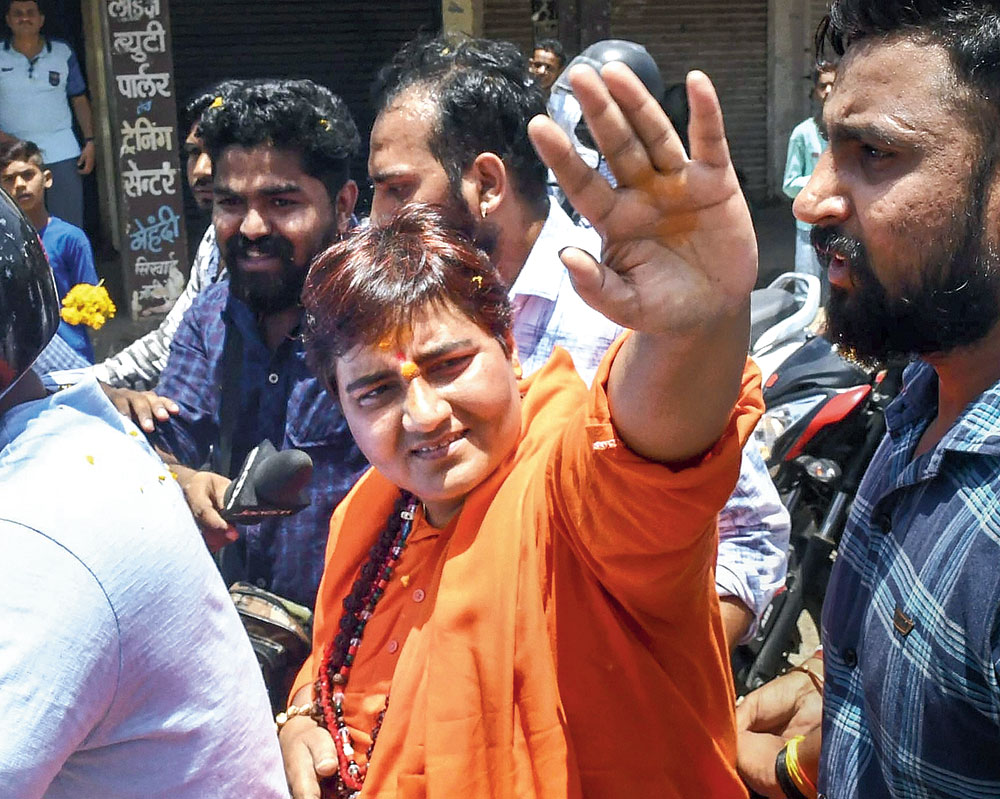 Pragya Singh Thakur during a rally in Bhopal on Wednesday
Picture by PTI
---
Bhopal
|
Published 09.05.19, 01:55 AM
|
---
Draped in saffron, terror-accused BJP candidate Pragya Singh Thakur arrives in a black Ford Endeavour near the stage in Anna Nagar lane of Bhopal. She steps out amid a shower of saffron strips of paper, puts her hands around two bulky men for support and they virtually lift her up the steps. Once on the stage, the 49-year-old, who uses the honorific "sadhvi", does not seem to need any assistance.
Behind her arrives former Madhya Pradesh chief minister Shivraj Singh Chouhan. Both stand on the stage amid deafening slogans of "Jai Shri Ram" and "Vande Mataram". Pragya speaks first but not much. "I am here for dharma (religion) and to make Narendra Modi PM again," she says.
Chouhan tells the crowd that the Congress got Pragya named in a false terrorism case and that she was tortured in jail for nine years.
"They used to lash her with belts. Tell me, should Bharat ki beti be tortured like this?" he asks the crowd. He blames Digvijaya Singh, the Congress candidate for the Bhopal Lok Sabha seat, for Pragya's ordeal and using the term "saffron terror" to malign Hindus.
Chouhan was believed to be unhappy with the fielding of terror accused Pragya and was reluctant to campaign for her. Sources said pressure from the top BJP leadership and the RSS has forced him to canvass for "guru behen", as he calls Pragya.
Cut to another jamboree, on the New Saifiya College grounds. Led by a certain Computer Baba, hundreds of Hindu seers have gathered to back Digvijaya, seeking to certify him as a better Hindu compared to Pragya.
Computer Baba is dressed in white — perhaps to differentiate from the BJP's saffron. Digvijaya, also in white, and his wife Amrita participate in an elaborate yagna and touch the feet of Computer Baba. "Modi bhagao," says Computer Baba, accusing the Prime Minister of betraying Hindus.
A day later, Computer Baba and Digvijaya, followed by hundreds of monks, march through Bhopal in a "sadhus against sadhvi" push, urging the voters to reject Pragya, a "terror accused".
"He (Chouhan) is saying that if he takes Digvijaya Singh's name then he has to bathe. Digvijaya Singh follows sanatan dharma," Digvijaya says in meetings and, to underline that he is a better Hindu, goes on to cite several things he and his family do. He mentions how he recently undertook a 3,100km parikrama on foot of the holy Narmada river.
The electoral battle for the Bhopal Lok Sabha seat has turned into a competition of who is a better Hindu.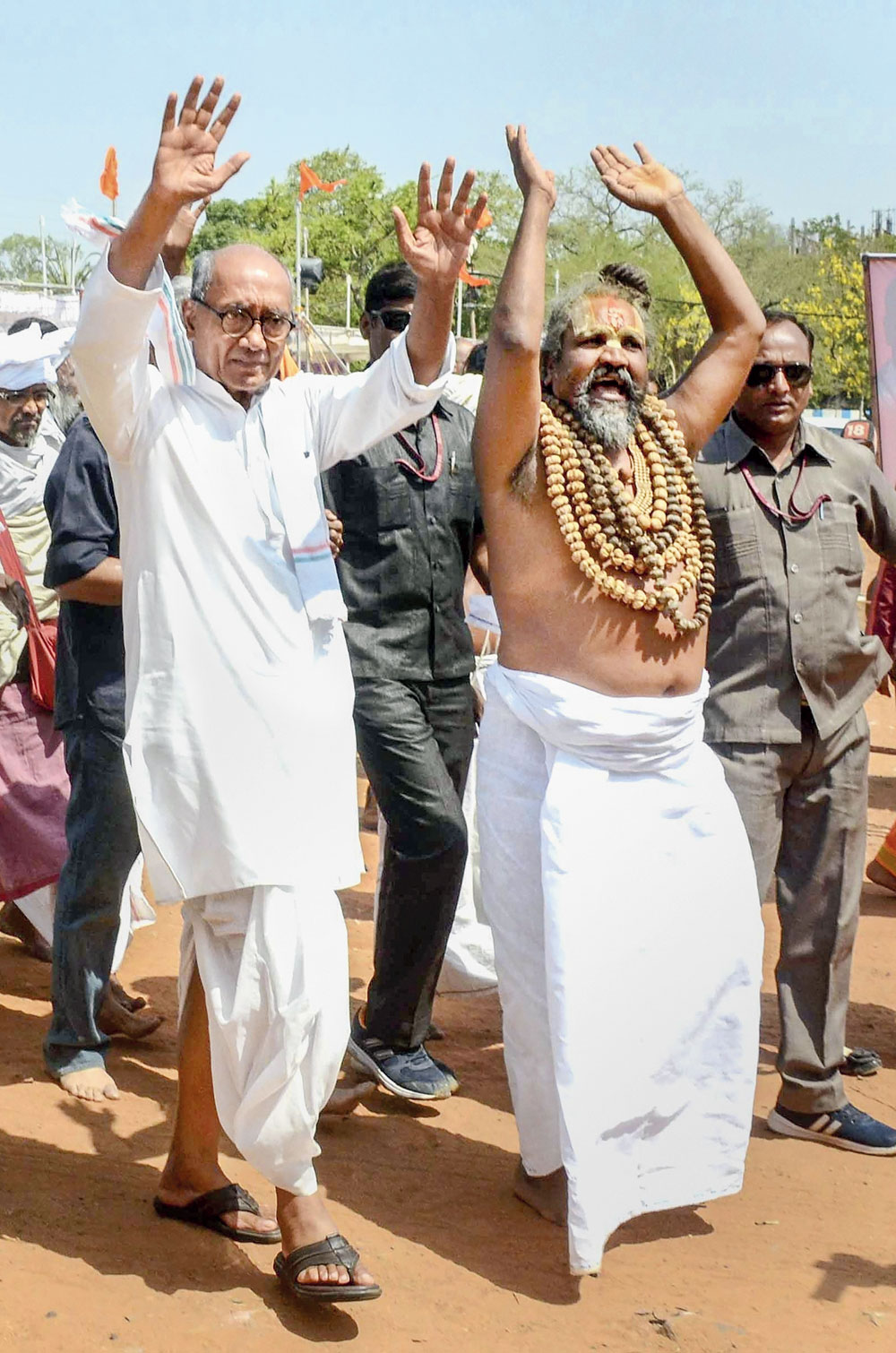 At a teashop on the outskirts of Bhopal city, Zubair Khan wonders where his community fits into this battle. "Now religion and not the Constitution will run this country," he says. He feels Pragya's nomination should have been cancelled because she is a terror accused. He also feels Digvijaya will find it tough to win.
"By fielding Pragya, the BJP has made this a Hindu-Muslim election. In a polarised poll how can Digvijaya win," he adds.
He says the 25 per cent Muslim population of the city feels cornered.
Just beside the tea shop, Yusuf Bhai's "Bharat Paan" shop displays a banner with the lotus symbol and a picture of Yusuf Bhai with the local BJP MLA, Vishwash Sarang. "Mazhab nahi sikhata aapas me bair rakhna. Saare jahan se achchha Hindustan hamara (The holy book doesn't teach animosity among ourselves. India is the best in the world)" is inscribed on the banner.
Others living near the shop say many Muslims here support the BJP. "We have to survive and do business," says one of them, Zafar. "But by fielding Pragya, the BJP wants to provoke us."
The BJP has not lost Bhopal since 1989. Even a low-profile candidate like the sitting MP Alok Sanjar won by a huge margin in 2014, bagging over 63 per cent of the votes.
While the BJP pitch seems that if Pragya loses it will be a defeat of Hindus, among the majority Hindu community many say they will vote for the BJP not because of Pragya. "We are not looking at Pragya. Modiji deserves another chance as Prime Minister so I will vote for the BJP," says Gajendra Sharma, a tea seller.
Digvijaya's past record as two-term chief minister is also an excuse for many majority community voters to oppose him.
"As chief minister he had destroyed MP. There was no power, no roads," says Deepak, a youth in Habibganj.
The Congress government led by Digvijaya was routed in 2003, and since then the BJP had been ruling the state till the Congress managed a wafer-thin majority last year.
Aware perhaps of people's anger with his past record and the fact that Bhopal has been a saffron stronghold for decades, Digvijaya is toiling hard. He has published a vision document for Bhopal's development that promises creating more jobs and all-round development of the state capital as well as the rural areas of the constituency.
He is cleverly avoiding Pragya, and pitting his battle against Modi — seeking answers for failed promises and assuring voters he'll keep his word. He is walking into lanes, bylanes, markets, trying to convince the voters of his new avatar as a good Hindu and a leader with a vision for development.
"Raja sahab ka pasina chhut raha hai (Raja Sahib is sweating)," says Jaynarayan Khatik, a Bhopal resident, as "Diggi Raja" (as Digvijaya is called because he belongs to the erstwhile Raghogarh royal family), walks into a city park — where a mass wedding of the Khatik community is taking place — to canvass.