'Coward' jab at Centre over BBC documentary block
Documentary criticises measures like new citizenship regime, adopted on Modi's watch as Prime Minister, as departures from constitutional secularism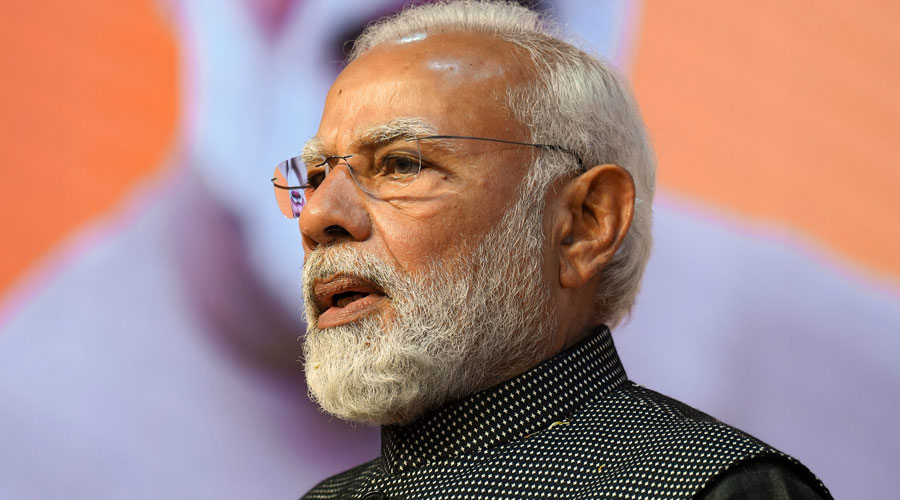 Narendra Modi.
File picture
---
New Delhi
|
Published 22.01.23, 03:48 AM
|
---
The Centre came under fire on Saturday after reports said it had ordered the blocking of Internet-based access to a BBC documentary that holds then chief minister Narendra Modi accountable for the 2002 Gujarat riots.
The two-part BBC documentary, India: The Modi Question, has not been telecast in India but clips and links to pirated versions of its first episode, which aired on BBC2 in the UK on January 15, have been widely circulated on social media.
Many such links on YouTube had already been barred by the platform itself for violating BBC's copyright. The possibility of Indian users accessing the BBC iPlayer website via commercial Virtual Private Networks remains.
The documentary also criticises measures like the new citizenship regime, adopted on Modi's watch as Prime Minister, as departures from constitutional secularism.
At 11am on Saturday, Trinamul Rajya Sabha leader Derek O'Brien tweeted screenshots of Twitter's email notifying him that his tweet with a YouTube link to the documentary was being blocked in India because of a "legal demand". No further details were given.
O'Brien tweeted: "Censorship@Twitter @TwitterIndia has taken down my tweet of the #BBCDocumentary, it received lakhs of views The 1 hr @BBC docu exposes how PM @narendramodi hates minorities Here's the mail I received. Also see flimsy reason given. Oppn will continue to fight the good fight."
CENSORSHIP@Twitter @TwitterIndia HAS TAKEN DOWN MY TWEET of the #BBCDocumentary, it received lakhs of views

The 1 hr @BBC docu exposes how PM @narendramodi HATES MINORITIES

Here'sthe mail I recieved. Also see flimsy reason given. Oppn will continue to fight the good fight pic.twitter.com/8lfR0XPViJ

— Derek O'Brien | ডেরেক ও'ব্রায়েন (@derekobrienmp) January 21, 2023
The Centre, YouTube and Twitter have not made any public statements on the subject.
The Congress tweeted a graphic showing a news flash on the Centre's move and wrote: "Darpok (Coward)!"
Audrey Truschke, associate professor of South Asian history at Rutgers University in the US, tweeted: "Far-right ideologies of hate can never stand up to scrutiny, and #Hindutva is no exception."
Journalist Rana Ayyub tweeted: "This is not a good look for India in the year it is hosting the G20 summit hailing India as the mother of democracy. The Indian government has asked to remove the BBC documentary critical of Prime Minister Modi from all platforms including twitter, youtube etc."
Mahila Congress acting president Netta D'Souza tweeted a clip of the documentary and said: "Do you think the internal affairs of a state is not a matter of public dialogue? Why should a state accused of condoning violence against a religious minority not be questioned on its human rights policies?"
The clips tweeted by Ayyub and D'Souza were still accessible late in the evening.
Several retired bureaucrats led by former RAW chief Sanjeev Tripathi and ex-ambassador Bhaswati Mukherjee, and others, issued a statement condemning the documentary. The 302 signatories included the former chief justice of Rajasthan High Court, Justice Anil Deo Singh, and former foreign secretary Shashank.
In a note titled "BBC's 'India: The Modi Question': Delusions of British Imperial Resurrection?", they wrote: "Not this time. Not with our leader. Not with India. Never on our watch! Yet again, the staple, dyed-in-the-wool negativity and unrelenting prejudice of the BBC toward India has resurfaced as a documentary....
"So now we have the archetype of British past imperialism in India setting itself up as both judge and jury, to resurrect Hindu-Muslim tensions that were overwhelmingly the creation of the British Raj policy of divide and rule."
The note upholds the new citizenship regime, abrogation of Jammu and Kashmir's special status and the Supreme Court's clean chit to Modi in a riot conspiracy case. It lauds the criminalisation of the instant triple talaq saying:
"The only Muslim-specific measure introduced by PM Modi is meant to protect and empower Muslim women."
The signatories have said: "This documentary is not a neutral critique, it is not about exercising creative freedom, it is not even about a divergent, anti-establishment point of view. It is in fact a visibly motivated chargesheet against our leader, a fellow Indian and a patriot."