Covid: test-and-treat prod to Calcutta
13 districts in 8 states collectively account for 9% of India's cases and 14 per cent of virus deaths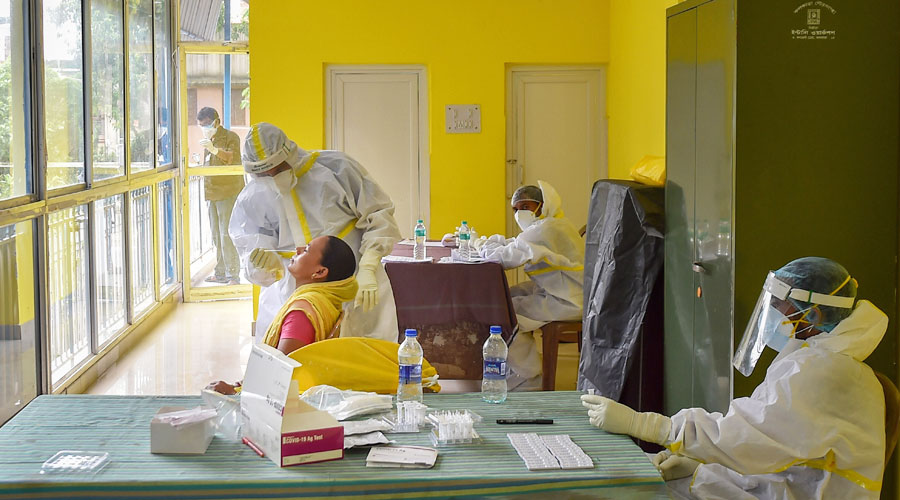 ---
---
The Union health ministry on Saturday asked authorities in 13 districts in eight states, including five in Bengal, to ramp up testing and improve monitoring and treatment of coronavirus disease patients after a similar exercise with 16 districts in four states on Friday.
The 13 districts, including Calcutta, North 24-Parganas, Hooghly, Howrah and Malda, collectively account for 9 per cent of India's Covid-19 cases and 14 per cent of virus deaths and report low tests per million population, the health ministry said.
Health authorities have also observed a surge in daily new Covid-19 cases in four of the 13 districts — Kamrup (metro) in Assam, Lucknow in Uttar Pradesh and Thiruvananthapuram and Alappuzha in Kerala. The other districts are Patna (Bihar), Ranchi (Jharkhand), Delhi and Ganjam (Odisha).
The health ministry, citing anecdotal reports of patients dying within 48 hours of admission into hospitals in some districts, has directed the district and state authorities to ensure availability of ambulances and "zero tolerance" for refusal of admission.
The online meeting, chaired by the Union health secretary Rajesh Bhushan, also underscored the need for states to monitor asymptomatic Covid-19 patients under home isolation through physical visits or telephone consultations daily to detect signs of the need for hospital care early.
The health ministry on Saturday recorded 61,537 new Covid-19 cases, raising the country's total cases to 2,088,611 of whom 619,088 patients are under medical supervision in hospitals or homes, 1,427,005 have recovered, and 42,518 have died.
India's case fatality rate (CFR) — the proportion of deaths among lab-confirmed infected cases — in Covid-19 patients has fallen to 2.04 per cent from around 3.36 per cent in mid-June. But Gujarat, Maharashtra, Delhi, Madhya Pradesh, Punjab and Bengal have CFRs higher than the national average.
The health ministry had called a similar meeting on Friday with authorities in Ahmedabad and Surat (Gujarat), four districts in Karnataka, eight districts in Tamil Nadu and two districts in Telangana that also have relatively high CFRs, high daily new cases and low testing rates. Ahmedabad, for instance, has recorded 1,625 deaths among 27,587 cases, a CFR of 5.8 per cent, while Calcutta with 907 deaths among 26,557 cases till Friday has a CFR of 3.4 per cent, and Delhi has a CFR of 2.9 per cent.
The states have been asked to anticipate demand for hospital beds based on prevailing case loads and make advance preparations for oxygen supply and intensive care unit beds.
The health ministry has also asked states to ensure that local hospitals join online video conferences organised by the All India Institute of Medical Sciences, New Delhi, on Tuesdays and Thursdays, to provide guidance on effective clinical management of Covid-19 patients in state hospitals.
Doctors estimate that around 85 per cent of Covid-19 patients do not require hospital care. Around 12 per cent will recover through oxygen therapy alone and only three to five per cent need ICU care, a critical care specialist at AIIMS, New Delhi, told The Telegraph.
"But the clinical management of patients with severe disease is tricky — over the weeks, we have learnt how to manage patients better. We're still learning," said the AIIMS doctor. "We have to start the right medications and the right interventions in a timely manner."