PM house can wait, spend on health: Son of late Rajan Mishra
The Hindustani classical singer and Padma Bhushan awardee died on April 25 at Delhi's St Stephen's Hospital where he had been admitted for three days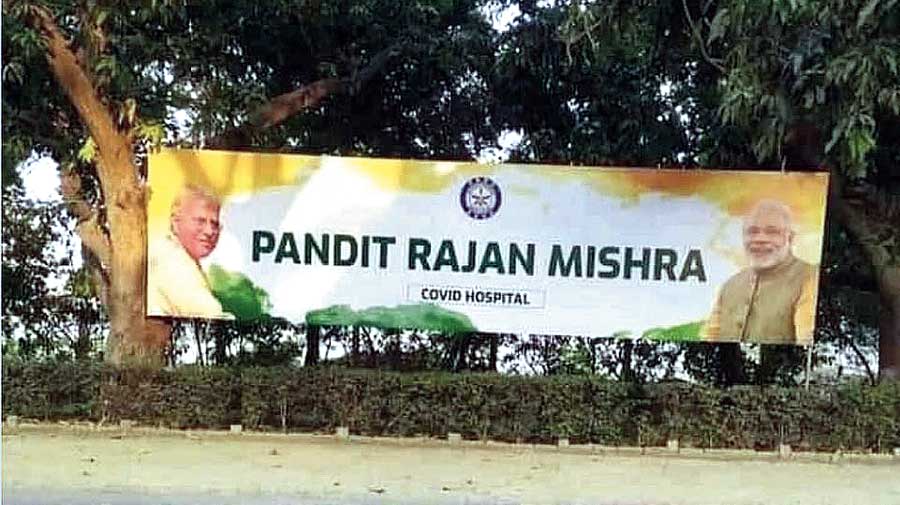 A board featuring the photographs of Pandit Rajan Mishra and Prime Minister Narendra Modi announces the naming of the hospital after the musician
Sourced by The Telegraph
---
Hosur
|
Published 13.05.21, 02:35 AM
|
---
The son of Hindustani classical singer Rajan Mishra, who died of Covid complications on April 25 after futile attempts to secure a ventilator in New Delhi, has said the construction of temples or the "PM's house" can wait and money should be invested in healthcare to save lives amid the pandemic.
Rajnish Mishra told The Telegraph on Wednesday: "If a person like Panditji, a Padma Bhushan awardee, who could have survived if he had got the facilities, did not get them, then what about the common man?
"There is no point in giving a person awards or build memorials after he has died. He is not here to enjoy that. Give these facilities to people when they are alive, whoever they are — VIP or not. We are all aware that the healthcare system of our country is completely shattered. If you have money to build temples or the PM's house or Rashtrapati Bhavan — these can wait. Right now, the money needs to be invested in the healthcare system so other people are not affected the way our family was."
The Centre has been pushing ahead with the Rs 20,000-crore Central Vista project, which envisages a new Parliament building and a fresh residence for the Prime Minister, despite mounting criticism and calls to use the money instead to fight the pandemic. Several scholars and museum professionals released a petition on Wednesday demanding that the work be stalled.
Rajnish Mishra, a Hindustani classical singer of the Banaras gharana like his father, was reacting to a question on a temporary hospital, set up by the Defence Research and Development Organisation in Varanasi, being named after Rajan Mishra. The signage of the hospital in Rajan Mishra's hometown and Narendra Modi's constituency bears pictures of the classical singer and the Prime Minister.
Rajnish Mishra told this newspaper: "We are neither happy nor sad, nor do we have anything to do with the hospital named after our father…. We do not want to blame the government or anyone else for his death."
Rajan Mishra passed away at Delhi's St Stephen's Hospital where he had been admitted for three days with Covid-19.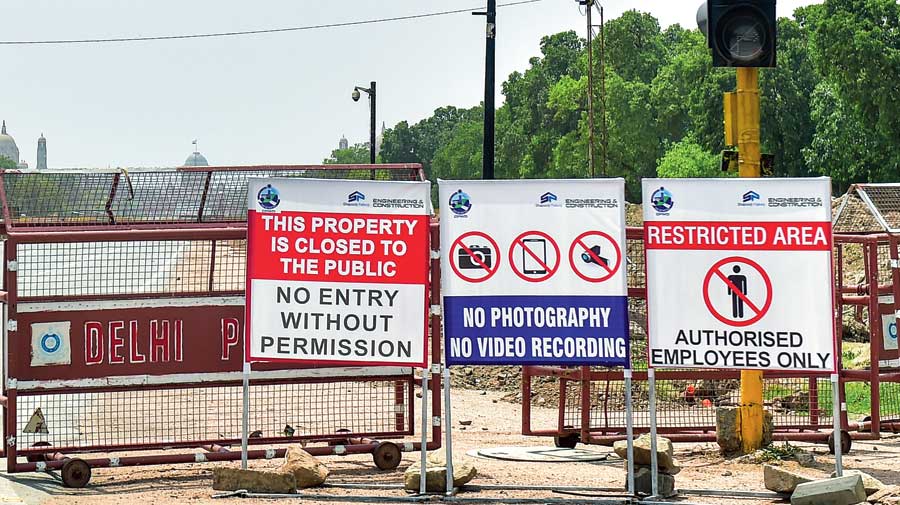 Padma Bhushan Pandit Rajan Mishra (Classical singer) urgently need Ventilator. At present he in St. Stephen hospital, Tees hazari, Delhi.. Please help immediately..

— Vishwa Mohan Bhatt (@VishwaMBhatt1) April 25, 2021
More than three hours before he was declared dead, Rajan Mishra's friend and mohan veena maestro Vishwa Mohan Bhatt had tweeted that he needed a ventilator.
"Padma Bhushan Pandit Rajan Mishra (classical singer) urgently needs Ventilator. At present, he is in St Stephen hospital, Tees Hazari, Delhi. Please help immediately," Bhatt had tweeted around 3pm on April 25.
Rajan Mishra's brother and singing partner Sajan Mishra told this correspondent on Wednesday that despite the family reaching out to top authorities, a ventilator could not be arranged immediately and Rajan Mishra was declared dead around 6.30pm that day after suffering two heart attacks.
Sajan Mishra said: "I am happy that people will be treated in my brother's name…. As soon as it (appeals to arrange a ventilator for Rajan Mishra) was made on Twitter, BJP spokesman Sambit Patra called me up and said that 95 per cent of the arrangements had been made to admit him at Gangaram (hospital), just bring him. Sanjay Singh (Aam Aadmi Party MP) had arranged an ambulance which was ready outside, but he had the (heart) attack so quickly."