Lives of 60 more at risk: Official
Covid-19: Oxygen runs low, 25 'sickest' patients die at Ganga Ram
More than 500 coronavirus victims, including around 150 on high-flow oxygen support, are admitted to the hospital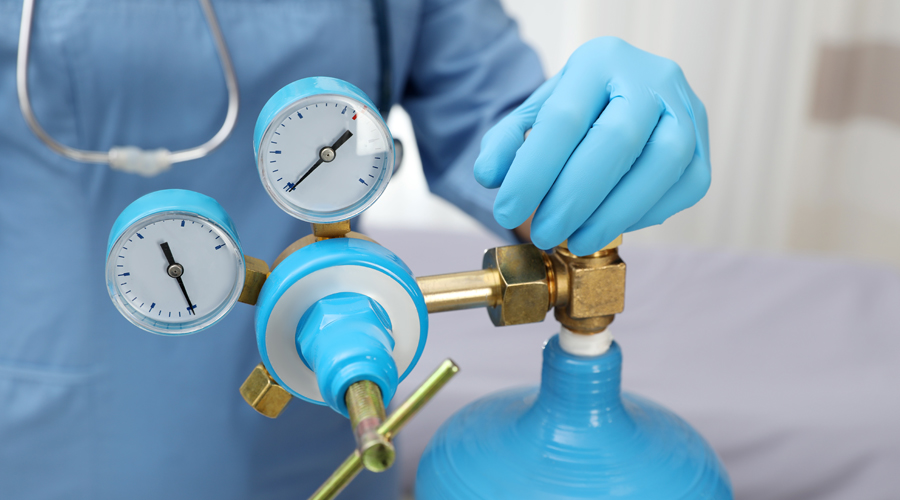 An oxygen tanker reached Ganga Ram at 9.20am with supply enough to last about five hours depending on consumption, a hospital official said.
Shutterstock
---
New Delhi
|
Published 24.04.21, 03:03 AM
|
---
Twenty-five Covid-19 patients at Sir Ganga Ram Hospital died over 24 hours and the lives of 60 more hang in balance, officials said on Friday as the scramble for oxygen got more frantic in hospitals across Delhi.
Sources said "low pressure oxygen" was the likely cause of the deaths in Ganga Ram, one of the city's biggest and most high-profile hospitals, where healthcare staff were reduced to manually ventilating patients in the intensive-care unit and emergency department.
The hospital announced the deaths shortly after 8am on Friday.
An oxygen tanker reached Ganga Ram at 9.20am with supply enough to last about five hours depending on consumption, a hospital official said.
"It is wrong to say the deaths occurred due to oxygen shortage. We provided oxygen to patients manually when the pressure dipped in the ICU," Ganga Ram chairman Dr Devinder S. Rana said. "All we need is uninterrupted and timely supply of oxygen," he said.
(Rana told The Telegraph that the 25 patients who had died were all severely ill. "On the previous day, we lost 22 Covid-19 patients," Rana said. "Many of the patients we receive are very, very ill. Some have died in the emergency department.")
More than 500 coronavirus patients, including around 150 on high-flow oxygen support, are admitted in the hospital.
"Ventilators and BiPAP machines are not working effectively. Lives of another 60 'sickest' patients at risk. Major crisis likely," a senior hospital official said.
(Two critical care specialists who do not work at Ganga Ram told this newspaper it was unclear why the hospital was using manual ventilation on Covid-19 patients in intensive care or the emergency department.)
("We use devices called ambubags for manual resuscitation for any emergency — it could be any respiratory emergency with or without low pressure oxygen lines," one of the specialists told The Telegraph.
(The other specialist in a leading government hospital said only the hospital could explain why they were using manual ventilation, or ambubags, on Covid-19 patients. "It appears to have been a desperate measure to save lives, but I'm speculating," said Dhruv Chaudhry, senior professor of critical care medicine at the Institute of Postgraduate Medical Sciences, Rohtak Haryana.
(Chaudhry and other doctors managing Covid-19 patients said unusually large proportions of deaths could be expected from hospitals that receive some of the sickest patients. "We lost 17 patients over the past one day," said Chaudhry.)
On Thursday night, Ganga Ram officials had sent an SOS to the government saying they had only five hours of oxygen left.
"At 8pm, oxygen in store is for five hours for peripheral use till 1am and less for high-flow use. Need urgent oxygen supplies," an official had said.
The hospital had received some oxygen around 12.30am, but the stock had to be supplemented later, the sources said.
Fresh supply
On Friday night, Sir Ganga Ram Hospital said it had managed to get an oxygen tanker in the nick of the time to save lives of a large number of patients admitted to its wards. 
Rana, the hospital chairman, told PTI that the hospital would make every possible effort to save every single patient who went to it and it was thankful for the efforts made by the central and the state governments for getting the much-required oxygen tanker to the hospital to meet the requirements needed to save the lives of patients admitted to its wards.
"We have received a fresh supply of oxygen and that will help our patients in a big way," Rana told PTI.
"We had a severe scarcity of oxygen, but the state and central governments worked hard to ensure the supply and our patients are grateful to them," he said.
Max SOS
The oxygen emergency was mirrored at the Max Hospitals. Max Healthcare sent out an SOS on Twitter at 7.43am to say that Max Smart and Max Hospital Saket had less than an hour of oxygen left for the about 700 patients admitted. 
"Awaiting promised fresh supplies from INOX since 1am… over 700 patients admitted, need immediate assistance," it said, tagging the Prime Minister's Office, the Union health minister and Delhi chief minister, among others.
About two hours later, at 9.35am, it put out an update that it had received emergency supplies that would last two hours and was waiting for more.
Outside the hospitals, too, despair escalated. Ambulances could be seen lined up, patients waited on stretchers, some visibly gasping for breath, and family members and friends desperately tried to get their loved ones a bed.