Covid: Migrants heading back home to Bihar from Delhi, by auto
Impelled by lessons learnt during the lockdown last year, drivers are fleeing with their families back to their native places as a second wave surges across the country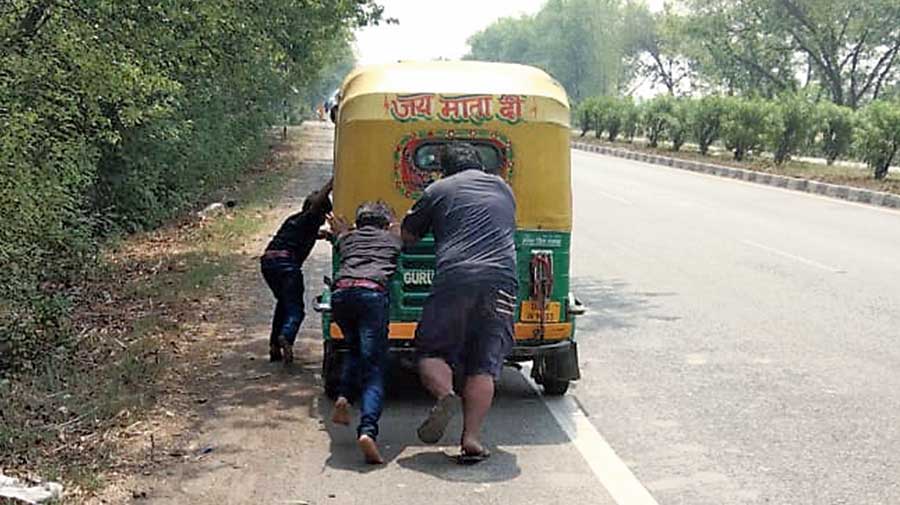 Autorickshaw driver Suresh Kumar Mahto and his family members push the vehicle after it developed a snag near Basti in Uttar Pradesh on Wednesday
Sanjay Choudhary
---
Patna
|
Published 22.04.21, 01:56 AM
|
---
The green and yellow autorickshaws bearing Delhi number plates have suddenly become a common sight on the highways entering Bihar from Uttar Pradesh.
Loaded with passengers, they zoom past, increasing their speed if you signal them to stop. The reason behind this is the lurking fear that the drivers would be stopped for Covid tests, or maybe quarantined. However, such restrictions are allegedly non-existent these days in Uttar Pradesh. 
A large number of auto drivers in Delhi hail from Bihar and Jharkhand. Impelled by the lessons learnt during the lockdown last year, the drivers are fleeing with their families back to their native places as a brutal second of the Covid-19 pandemic surges across the country.
However, their journeys have been far from smooth, and after traversing around 1,000km, worries about the future are nagging them.
Suresh Kumar Mahto, 36, a native of Barkagaon in Muzaffarpur district of Bihar, has been driving an autorickshaw in the national capital for over a decade. He also doubles as a tea seller when not driving. Suresh decided to return to his village in his auto the moment he came to know about the lockdown announced by the Delhi government from 10pm on April 19 (Monday) to 5am on April 26.
"Last year the lockdown kept getting extended as the coronavirus spread. We decided to return to my village after sitting idle for several weeks in Delhi, but faced horrendous situations on the way. People are not the focus of the government. It never paid any attention to our plight or hunger. So this time I decided to return to my native place on the very day the lockdown started," Suresh told The Telegraph on Wednesday, still on the way to his village. 
Suresh had left his auto in Delhi last year. The vehicle would not start when he returned after five months. He had to spend a small fortune to make it roadworthy again.
So this time he decided to take his auto all the way to his village. His wife, three children, a brother-in-law and another auto driver are accompanying him on the homebound journey.
"We started from Delhi at 10pm on Monday and have been travelling since then. We have to stop every 70-80km because the engine heats up. Moreover, to escape the scorching heat during the day, we prefer moving more at night. Our journey was okay till Moradabad in Uttar Pradesh, but then the CNG (compressed natural gas) stations are rare to find after that. The petrol tank of my vehicle can hold just two litres, so we have to fill it often," Suresh said.
Another problem that he and his family faced on the way was getting food. The restaurants dotting the roads are allegedly fleecing hapless travellers, charging exorbitantly for simple items like rice, dal and vegetables. As if all these were not enough, Suresh's auto developed some fault near Basti in Uttar Pradesh. It would not gain speed, sputter and finally stop. The family would push it again and again to start, jump in and travel a couple of kilometres, and then repeat the process.
"We pushed and drove the vehicle like this for around 70km to Gorakhpur, where a mechanic charged Rs 1,500 to repair it," Suresh said. The family entered Bihar around 6pm on Wednesday and they are expected to reach their native place late at night.
"We will reach our village for sure and stay there till the lockdown and Covid remain. But I am now worried about what I will do there. Maybe I will drive my autorickshaw for hire and lend a hand for farming on the patch of our land," Suresh added.
A few hundred kilometres away another auto driver Tarkeshwar Yadav, 28, entered Bihar via National Highway 2, also known as the Grand Trunk Road, while travelling to his native Masmohna village in Domchanch in Koderma district of Jharkhand.
"Corona(virus) is surging in Delhi and lockdown has also been imposed. So we set out for home on Monday night. Everybody there is afraid. My parents and elder brother are travelling with me," Tarkeshwar told this correspondent when he stopped his auto near Dehri-on-Sone in Rohtas district on Wednesday. Narrating his woes, Tarkeshwar said he and his brother have "not slept for around two nights. We have been resting under the trees during the day to escape the heat. We haven't bathed for two days. Finding a toilet is also a problem, especially for my mother. We don't even get water for several hundred kilometres on the way".
The expressways and highways they took have very few shops or eateries on the way. Luckily the family was carrying a portable cooking gas cylinder fitted with a stove on which they cooked some rice and dal at regular intervals.
Tarkeshwar had taken a train to his village just a few days before the lockdown was imposed in March last year. He chose not to stay back this time as well because he had heard and seen the plight of colleagues who stayed behind.
"Covid test in Delhi is free. But beyond that the government there has not provided us any support that would have kept us back. We need to earn daily to keep our kitchen running," he said.
Tarkeshwar lamented that he would not be able to drive his auto in Jharkhand because it bears a Delhi registration number and the police would keep fining or fleecing him on the roads there if he gets caught.
"But then, life is more important than work right now. We hope that things will improve in a few months. Till then we will manage somehow by doing odd jobs," the auto driver added before starting his vehicle again.