Odisha's urban labour woes mirror national crisis
Covid: For 5 months, daily wait in vain for work in Bhubaneswar
Urban labourers in Odisha are among those hardest hit by the pandemic and the resultant economic slowdown, with most of them pushed into breadlines because of lack of work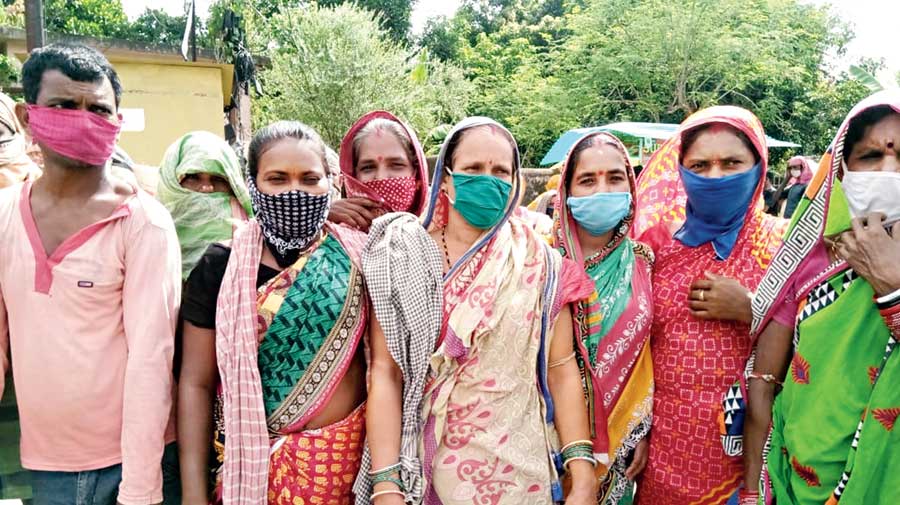 ---
Bhubaneswar
|
Published 21.09.20, 01:46 AM
|
---
Abhimanyu Nayak, 40, walks to the Delta Square labour congregation point in Bhubaneswar every morning, only to return empty-handed after waiting for several hours.
"I have been coming here every day since May, but I have got work on hardly 15 days in the past five months," said Abhimanyu, who has been living and working in the Odisha capital for the past 15 years.
Urban labourers in the state are among those hardest hit by the pandemic and the resultant economic slowdown, with most of them pushed into breadlines because of lack of work.
Odisha has an estimated 30 lakh urban labourers, employed mostly in real estate and other construction jobs, house painting and repair work. But these activities have come to a grinding halt in the lockdown. People wary of catching the coronavirus have been jittery about allowing workers into their homes even for sundry repairs.
Bhubaneswar has more than 10 labour congregation points where workers from slums across the city gather early every morning to be picked up by contractors and taken to work sites. But for the past few months, labourers have had to mostly return home after a futile wait for hours for work.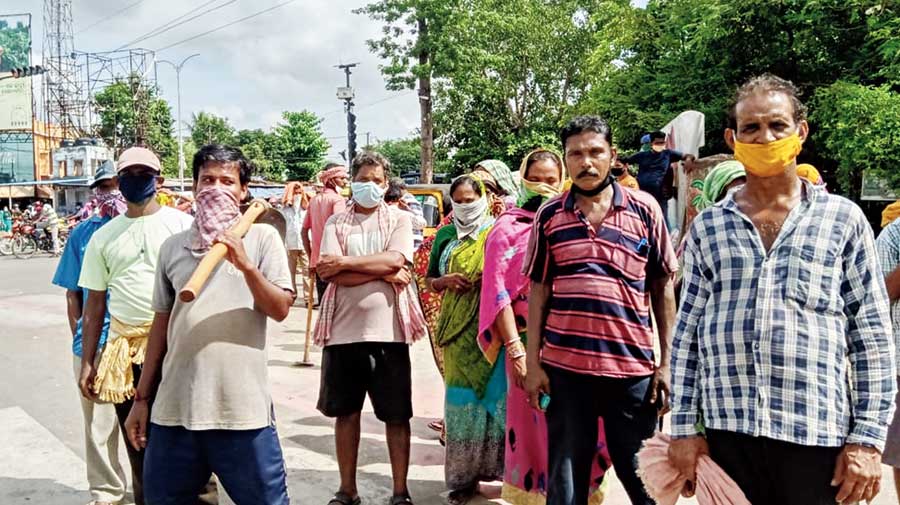 Abhimanyu, the daily wager, said: "During the lockdown I had travelled to my village in Ganajam (240km from Bhubaneswar). As the situation turned worse in the rural belt, I returned to Bhubaneswar."
But for Abhimanyu and countless others like him, it has been like jumping out of the frying pan into the fire.
"Those who have the expertise go to Surat (in Gujarat) to work in the textile industry. Many migrate to Chennai, where the income opportunities are much more. But people like us who neither have the skill to work in the textile industry nor the wherewithal or opportunity to settle in Chennai are suffering," Abhimanyu said.
Pratima Tudu, another labourer, said: "No one comes to take us for work. It seems all construction work has stopped." Pratima said the plight of women workers was worse as the handful of contractors who come prefer the male workers. The women have lost their financial independence, Pratima said.
Hunger is also gnawing at the labourers and their families because the pandemic has not allowed them to travel to their villagers to pick up rations. Most urban labourers have their ration cards registered in their native villages. But because of the pandemic restrictions, and refusal by city residents to allow those travelling to villages to return to their homes in slums and colonies for fear of contracting the virus, the urban labourers are running short of food.
"As I cannot go to my village, I am no longer getting rice at Rs 1 a kilo under the government scheme (from ration shops). We hardly have any income these days and it is difficult to buy food and other essential items at retail prices," said Dhurba Guada, a labourer in Bhubaneswar.
The workers also have to pay room rent. "My room rent is Rs 2,000 a month. I have no way of paying it. This is leading to daily fights with the landlord," said Mangal Behera, another labourer.
Labour minister Sushant Singh said labourers in rural areas were still better off. "They are getting work under the MGNREGA. But skilled workers in urban areas are struggling. We hope the situation will improve once normality returns in the private sector," he told The Telegraph.
Trade union leader Janardan Pati said a proper survey was needed to find out the true extent of joblessness among urban labourers.
"While there has been a survey on the loss of white collar jobs, there is no authentic data on joblessness among urban labourers on account of the corona pandemic. This is because most of them are unregistered workers. There are no government records on them," Pati said.
Odisha is grappling with an acute unemployment problem, according to data available with the government. Figures available with the Centre for Monitoring Indian Economy show that Odisha's unemployment rate had increased by 10.7 percentage points to reach 23.8 per cent in April, higher than the national rate of 23.5 per cent. "Now after the lockdown, the unemployment rate has multiplied, rendering lakhs of people helpless," Pati said.
The Odisha government had launched a Rs 100-crore urban employment wage initiative in April, aimed at providing work to the urban poor. However, the amount was inadequate, labour leaders said.
"Before Covid-19 too, unemployment was an issue. Now the situation has got aggravated. We demand that the central government introduce an urban job guarantee scheme on the lines of the MGNREGA. It should also introduce a national employment guarantee act," said Ramakrishna Panda, the national secretary of the Congress-affiliated Aituc.
Panda said what had compounded the problem was that around 10 lakh skilled labourers had returned to Odisha during the lockdown.
The principal secretary in the urban and housing development department, G. Mathivathanan, said the crisis was not unique to Odisha.
"This is a phenomenon visible across the country and not specific to Odisha. We are sincerely trying to give employment to the urban labourers. But until the economy returns to the pre-Covid situation, it would be tough to provide employment to all the labourers," he said.