Vaccines 95% effective against Delta and Alpha variants
Covid: International experts' panel rules out the need for booster dose
Vaccination had 95% efficacy against severe disease from the Delta and the Alpha variants and over 80% efficacy at protecting against any infection from these variants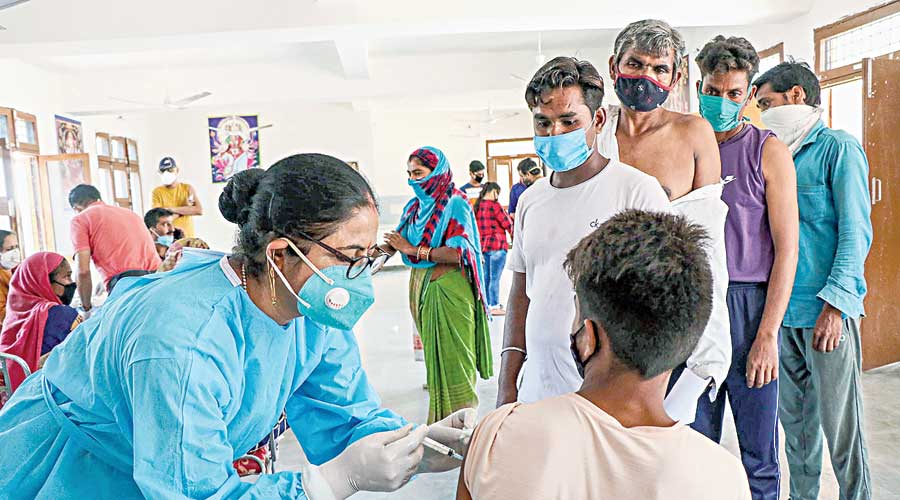 ---
New Delhi
|
Published 14.09.21, 01:44 AM
|
---
Vaccines remain highly effective against severe Covid-19 despite any waning of vaccine-generated antibodies, an international experts' panel said on Monday, underlining that the current evidence does not show the need for booster doses for the general population.
The 18-member expert panel has also said that vaccine efficacy against severe Covid-19 is so high even for the highly contagious Delta variant that booster doses for the general population are not appropriate at this stage of the pandemic.
Vaccination had 95 per cent efficacy against severe disease from the Delta and the Alpha variants and over 80 per cent efficacy at protecting against any infection from these variants, the panel said after reviewing available observational evidence. Both these variants are highly transmissible.
"Currently available studies do not provide credible evidence of substantially declining protection against severe disease, which is the primary goal of vaccination," said Ana-Maria Henao-Restrepo, a senior World Health Organisation official and panel member.
The current limited supply of Covid-19 vaccines will save most lives if made available to people who are at risk of serious disease and have not yet received any vaccine, she said. Any gain from booster doses will not outweigh the benefits of providing the initial protection to the unvaccinated.
The review comes amid findings that vaccine-generated antibodies wane over several months.
An Indian study to systematically measure antibodies in vaccine recipients has found a significant decline in antibodies that block the infection about six months after the second doses of Covaxin and Covishield, the main vaccines used in India's immunisation campaign.
Despite the decline, recipients of both vaccines showed detectable antibodies, indicating that their immune systems remained primed to fight the infection, the study by the Indian Council of Medical Research Regional Centre, Bhubaneswar, suggested.
"Our findings are on expected lines — antibodies have been seen to wane after full immunisation with other Covid-19 vaccines elsewhere in the world," said Sanghamitra Pati, a physician-epidemiologist and the director of public health at the ICMR Regional Centre.
But the 18-member panel has underlined that even if the levels of vaccine-generated antibodies wane over time, this does not necessarily predict reductions in efficacy of vaccines against severe disease.
This could be because protection against severe disease depends not only on antibodies, which might be short-lived for some vaccines, but also through other arms of the immune system called memory responses and cell-mediated immunity that are long-lived.
The panel included two Indian health researchers — Narendra Arora, a senior paediatrician and public health specialist who is currently advising the Centre on vaccination policy and Soumya Swaminathan, chief scientist at the WHO.
India's Covid-19 vaccination policy makers have said any decision on boosters will depend on the scientific evidence for their need, in line with the WHO's position that the introduction of boosters should be guided by evidence of waning vaccine effectiveness.
"We need to determine through research who would need a booster and when would a booster be needed, particularly in a country where over 70 per cent of the population has already been exposed to the natural infection," Arora told The Telegraph.
The ICMR Regional Centre's study has shown the impact of natural infections on even vaccine recipients. While antibody concentrations dropped significantly in 533 recipients of Covaxin or Covishield about 24 weeks after the second doses, 81 recipients who had developed post-vaccination infections showed spikes in their antibody concentrations.
The ICMR group is currently pursuing a larger two-year follow up of vaccine recipients, hoping to generate more data on the persistence or waning of immune responses to the vaccines and infection.
"A decision on booster doses requires evidence," said Debdutta Bhattacharya, a scientist at the ICMR Regional Centre. "Through this study and other planned follow-ups we'll look for evidence on whether and when booster doses are required."