India's research community on Thursday asked Prime Minister Narendra Modi to release data on the patterns and severity of the Covid-19 infections amid concerns that the Centre had withheld information that could guide effective responses to the epidemic.
A group of over 200 scientists and medical researchers, in an online appeal to Modi, cautioned that India's inability to adequately manage the spread of the infection had resulted largely from its epidemiological data being either not systematically collected or denied to the scientific community.
The researchers have also said the Centre's Atmanirbhar Bharat (Self-reliant India) policy had made the import of scientific equipment and reagents "extremely tedious and time-consuming" and reduced their ability to sequence coronavirus genomes for surveillance.
"Adequate encouragement and support by the government are required for our country to become Atmanirbhar in the future. Such restrictions at this time only serve to impede our ability to deal with Covid-19," they said, seeking the withdrawal of restrictions.
They have asked for "systematic collection and timely release" of data on testing for better predictions of the spread of the infection, data on clinical outcomes of hospitalised patients to improve treatment strategies, and data on the immune responses to the inoculation campaign in India to validate the vaccines' efficacy.
"The current situation demands rapid and systematic data collection and release so that data-driven mitigation measures can be implemented," the researchers said, underlining that India is now one of the "worst-affected countries" by the Covid-19 pandemic.
India on Thursday recorded more than 379,000 new Covid-19 infections and 3,645 deaths, raising the total of active patients to more than 3 million and the total dead to over 200,000.
The researchers have underlined that a patchwork of small epidemics in each state gives rise to those numbers and that the high-granularity testing data available with the Indian Council of Medical Research, the country's apex health research agency, remains inaccessible.
The ICMR database, established at the start of the epidemic last year, has testing data on all 18.3 million people who've tested positive so far but, the researchers said, it remains inaccessible to anyone outside the government and even to researchers in other government agencies.
"We can't do public health without data, we need multiple pairs of eyes looking at data, we need experts from academic institutions to be looking at data," said Gagandeep Kang, a senior clinical microbiologist at the Christian Medical College, Vellore, who's among the signatories to the appeal.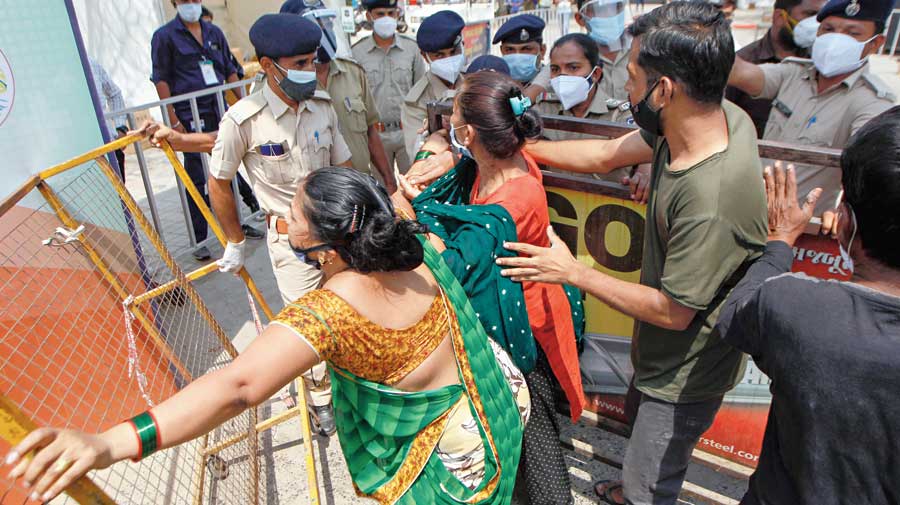 Relatives of a Covid patient breach barricades in an attempt to enter the Dhanvantri Covid-19 hospital in Ahmedabad for admission on Thursday. Gujarat High Court has directed the state government to make sure each and every patient reaching a designated Covid hospital is attended to and given preliminary treatment even if beds are not available. The bench expressed concern over government-run and designated Covid hospitals in Ahmedabad attending only to patients coming in the EMRI (Emergency Management and Research Institute)-run '108 ambulances' and ignoring those brought in private vehicles. "The state government and the Ahmedabad Municipal Corporation were aware that there is a shortage of 108 ambulances and if that was so, what justification can there be if patients reach the hospital in their privately arranged vehicles?" the court said. PTI
"The trend observed worldwide is for experts from academic institutions to be involved in data analysis," said Kang, who's also a fellow of the Royal Society.
The other researchers who have signed the appeal include biologist L.S. Shashidhara from the Indian Institute of Science Education and Research, Pune; the biostatistician and current president of the Indian Academy of Sciences, Partha Majumder; infectious disease modeller Gautam Menon from the Institute of Mathematical Sciences, Chennai; and Satyajit Mayor, director of the National Centre for Biological Sciences.
They have sought access to clinical data and said that many scientists have been trying unsuccessfully to get information on the prevalence of underlying chronic health disorders among Covid-19 patients and blood analysis reports of hospitalised patients.
A query sent by The Telegraph to the ICMR seeking a response to the concerns about the lack of access to data has remained unanswered.
"The ICMR is sitting on a mountain of data that it either isn't analysing itself or allowing others to analyse," Menon told this newspaper.
The data could help address many questions — for instance, how many people have tested positive twice over the past year, whether spikes in test positivity in a locality correlate with the start of an outbreak, and whether someone had tested positive after two vaccine doses.
"We certainly know that data is being collected; we don't know what happens with it," said a senior medical researcher who's among the signatories.
When the Union science ministry started a forecasting exercise last year, even its researchers were unable to access data from the ICMR, the researcher said.
The signatories have urged Modi to help researchers access — with appropriate safeguards to maintain patients' confidentiality — epidemiological and clinical data to help them forecast the requirements for oxygen, medical supplies, ventilators and intensive care beds.
"A network of academic researchers analysing data in parallel with the government's own exercises would have bolstered public confidence in management and decision-making," said Santanu Tripathi, another signatory and former professor of pharmacology at the Calcutta School of Tropical Medicine.
Tripathi is among researchers who have been arguing for real-world efficacy data on the Covid-19 vaccines that India is currently using in its nationwide vaccination campaign. More than 27 million people across the country have so far received the two doses of vaccines required for protection.
Tripathi said it was not difficult to design a study to determine what proportion of people who've already received two doses were developing infections or severe disease compared with the general population.