Covid: Ganga samples collected for virus test in Bihar
The move comes after the Centre initiated a study to assess the presence of SARS-CoV-2 in the river after bodies of suspected virus victims were found floating in it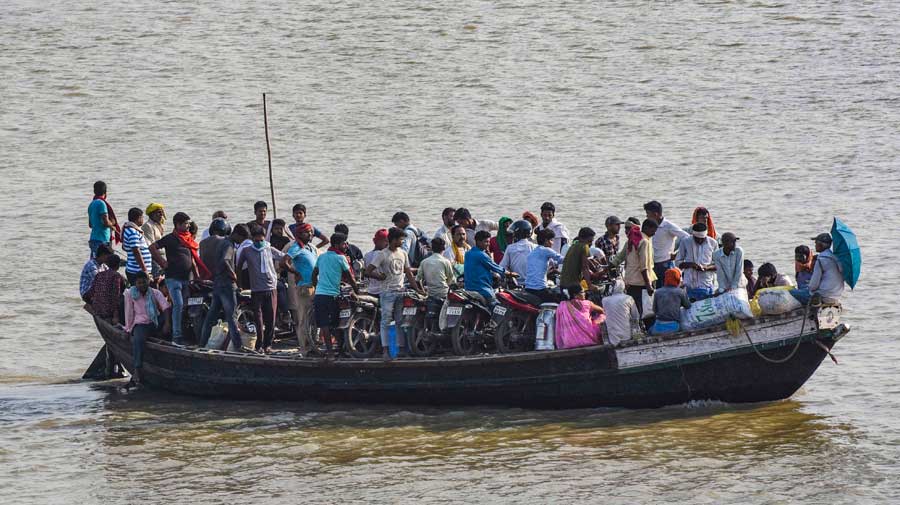 People along with their motorcycles travel by a boat to cross the river Ganga in Patna on Sunday.
PTI
---
Patna
|
Published 11.06.21, 04:19 AM
|
---
A team of scientists from various central institutions has started collecting samples from the Ganga in Bihar to test the presence of coronavirus in the water.
The move comes after the Centre initiated a study to assess the presence of SARS-CoV-2, the virus that causes Covid-19, in the Ganga after bodies of suspected coronavirus victims were found floating in the river.
The corpses were found floating in the Ganga at various places in Bihar and Uttar Pradesh in May, though it is not clear whether the kin of the deceased dumped them after being unable to carry out cremation or whether they were thrown by officials to allegedly escape the responsibility of cremating them or to hide the death count during the second wave of the pandemic. Around 40 bodies were found floating in the Ganga near Buxar in Bihar in May.
"Samples were collected from different places in the state by a team comprising experts from the Central Pollution Control Board (CPCB), Indian Institute of Toxicology Research (IITR) and the Jal Shakti ministry. They will conduct tests on the presence of coronavirus in water. Our officials assisted them in the collection of samples," Bihar State Pollution Control Board (BSPCB) member secretary S. Chandrasekar told The Telegraph.
BSPCB officials said that the team collected samples from Buxar, Patna, Saran and Bhojpur. "The samples from the Ganga were collected between June 1 and 5. We are now waiting for the test reports," BSPCB scientist Navin Kumar told mediapersons.
The central government had asked the Uttar Pradesh and Bihar governments last month to prevent dumping of bodies in the Ganga and its tributaries.
It had termed the reports on dumping of bodies in the rivers as "alarming".
BSPCB officials said the IITR, Lucknow, will conduct various tests to determine the presence of coronavirus in the Ganga since there is a worry that a large number of people living in villages and towns along the river may get infected as they bathe in it everyday and many also use its water for prayers and cooking.