Covid: Decline slows, surge in 2 states worrying
In Haryana, the average daily cases has increased from 1,200 in mid-October to over 1,800, while Telangana's counts have increased from 1,250 to 1,400, both over the past week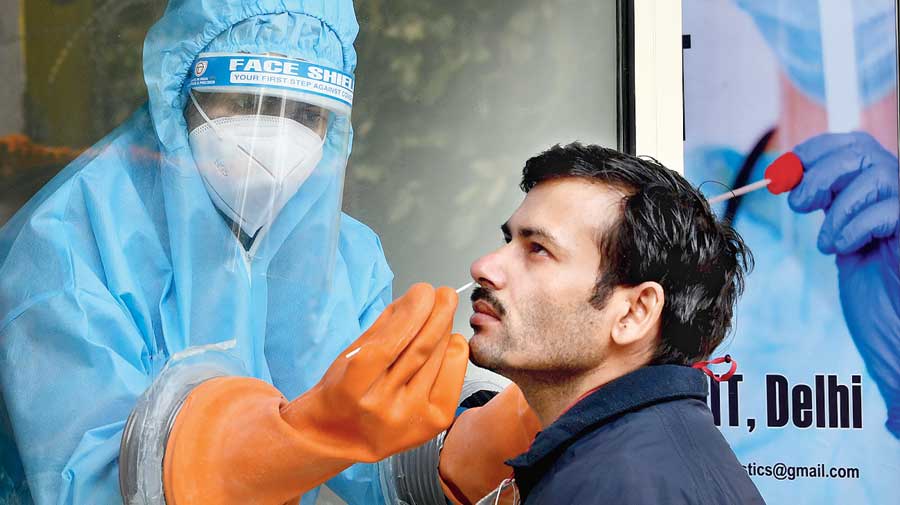 ---
---
After steadily shrinking for eight weeks, India's coronavirus disease epidemic is showing a slowdown in its pace of decline in multiple states, fresh surges in two states, and early deaths in at least one state, health experts said.
The seven-day average of new cases detected daily nationwide has remained stable over the past week, falling to 46,423 on November 6 from 46,610 a week ago on October 30, after a much sharper fall since a mid-September peak of 93,000 daily average cases.
Health experts have cautioned that a week's trend line is too short for inferences about the country's Covid-19 epidemic curve but said there are worrying signals of surges in Haryana and Telangana after Delhi's third epidemic peak.
Each successive peak in Delhi has been marked by higher number of daily cases detected — the seven-day average was around 3,400 daily new cases in mid-June, 4,400 in mid-September and 6,000 cases over the past week.
In Haryana, the average daily cases has increased from 1,200 in mid-October to over 1,800, while Telangana's counts have increased from 1,250 to 1,400, both over the past week. In Chhattisgarh, Gujarat, Madhya Pradesh, Maharashtra and Uttar Pradesh, the pace of decline has slowed down.
"The daily counts are still falling, but the rate of decline has slowed down in several states," said D.C.S. Reddy, a community medicine specialist in Lucknow and a member of an Indian Council of Medical Research expert group on Covid-19 surveillance.
"People have to realise that they have to protect themselves through their own behaviour," Reddy told The Telegraph. He emphasised the need for people to wear masks, adopt physical distancing norms and avoid crowds to minimise their risk of picking up the infection.
A senior health official had expressed concern on Friday that in parts of Chhattisgarh, 34 per cent, or nearly one in three Covid-19 patients, have died within 24 hours of hospital admission. Health officials have iterated the need for an early diagnosis and rigorous monitoring of patients with mild symptoms at home so that they are moved to hospital quickly if their symptoms turn moderate or severe.
India on Saturday recorded 50,356 new Covid-19 cases, raising the country's lab-confirmed cases to over 8.46 million, of whom 7.81 million patients have recovered and 125,562 have died. The country had over 516,000 active patients on Saturday, about half of a peak count of a million in mid-September.
Medical experts believe air pollution in northern India coupled with lower temperatures along with unprotected exposure to crowds are likely contributors to the spikes in Delhi and Haryana.
"What we're now witnessing in Delhi is the impact of people's behaviour — irresponsible behaviour comes with a cost," said Oommen John, a physician and senior research fellow at The George Institute for Global Health, New Delhi.
John said the reasons for the continued declining trend in large swathes across rural areas in Bihar and Uttar Pradesh amid the rise in Delhi, Haryana or Telangana should be probed through research. "Is there low-level transmission going on there that doesn't lead to surges? It is possible, but needs research."
An epidemiological analysis by Sitabhra Sinha, a senior scientist at the Institute of Mathematical Sciences, Chennai, has found that Delhi, Calcutta and Pune continue to have a high speed of spread of the infection.