Covid: Clot 'logic' for low fatality rate in India
Low predisposition to deep-vein clots could be one of the factors underlying the striking geographic differences in mortality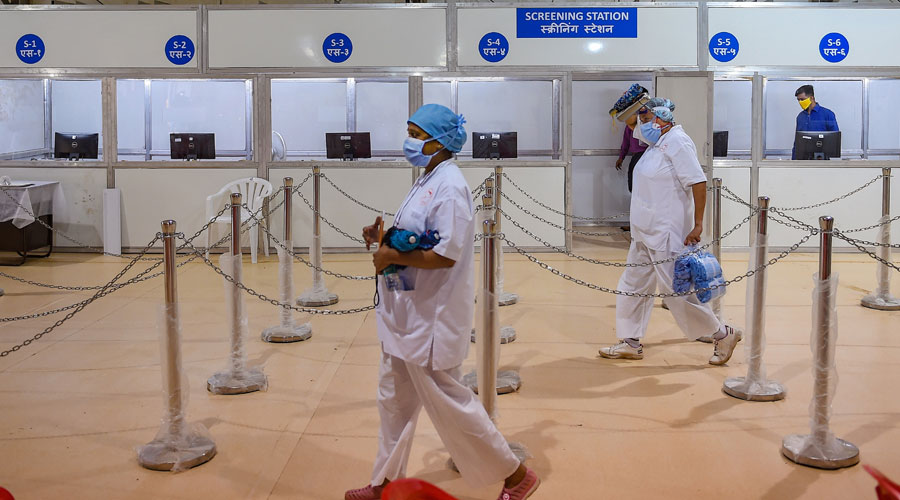 ---
---
Cancer specialists have proposed a physiological explanation for India's intriguingly low Covid-19 mortality rate, suggesting the lower risk of developing blood clots in deep veins in warm climates might be shielding the coronavirus-infected from death.
That people in tropical countries have a low predisposition to deep-vein clots has been documented for decades. This could be one of the factors underlying the striking geographic differences in Covid-19 mortality, doctors at the Tata Memorial Centre, Mumbai, said.
Studies in China, Europe and the US have shown that the formation of deep-vein clots, called venous thrombo-embolism (VTE), and the associated oxygen deprivation is a major cause of death in Covid-19 patients.
But Covid-19 mortality rates have shown wide differences across the world, from 677 deaths per million population in the UK and 469 in the US to 47 in Egypt, 26 in India, 19 in Bangladesh, 5 in Singapore and 0.01 in Vietnam.
Medical experts had earlier proposed multiple factors to explain these variations, such as age distributions in the affected populations, patterns of underlying health disorders such as diabetes or cardiovascular disease, and ease of access to tests or to effective treatment.
The older the affected population, the greater the incidence of chronic diseases and the higher the risk of death.
The Tata Memorial doctors have backed their conjecture by citing the authoritative textbook, Bailey and Love's Short Practice of Surgery, which says that VTE "is virtually unknown in Singapore and is believed to occur more frequently with the arrival of snow and ice".
"We already know from experience that clotting episodes are more frequent in winter," said Tata Memorial director Rajendra Badwe. "We also see relatively low incidence of clotting as a side-effect of certain anticancer drugs."
At the Tata Memorial, Badwe and his colleagues estimate, more than 20,000 women receive the breast cancer drug tamoxifen every year but less than 5 (0.025 per cent) of them develop clots as a side-effect. In western countries, the incidence of this side-effect is around 7 per cent.
Future studies should explore whether variations in molecules called anti-phospholipid antibodies, known to increase the risk of clots, are in line with high and low Covid-19 mortality in different countries, the cancer specialists said.
The proposition by Badwe, Pankaj Chaturvedi, Rajesh Dikshit and Sudeep Gupta was published on Friday in the Indian Journal of Medical Research.
The Tata Memorial doctors have suggested that the low population-level Covid-19 mortality in India could be highlighted to lower the popular anxiety over the infection. They have also advocated nuanced physical distancing and personal protective measures without enforcing strict lockdowns.
"We need to take all possible precautions for personal safety — face masks, physical distancing, hand hygiene," Badwe said. "But we shouldn't let unfounded fears take root and disrupt other healthcare services such as cancer diagnosis and treatment."
India on Friday recorded 55,108 new Covid-19 cases, a fresh highest-ever single-day rise, raising the total of lab-confirmed infections to over 1.6 million. More than 545,000 patients are under medical supervision, over a million have recovered, and 35,747 have died.