In Punjab, 81% infections linked to UK variant
Covid cases surging across several states at a staggering rate
Unlike the earlier waves, this time infections are rising in smaller cities like Nashik, Aurangabad, Nanded and Ahmednagar and even the surrounding rural areas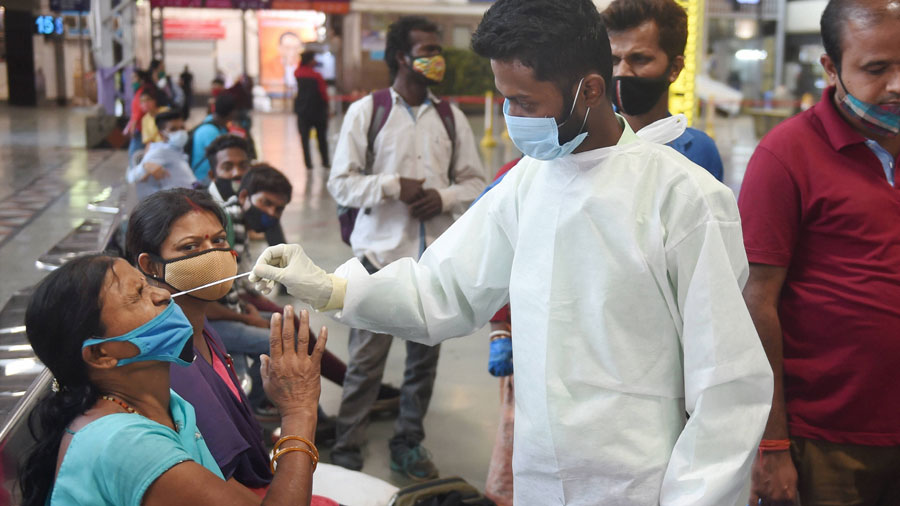 ---
---
The latest wave of Covid-19 is surging at an alarming rate across a swathe of states and the total number of cases could be on course to surpass last September's all-time peak as the virus spreads into Tier 2 and Tier 3 cities and towns and surrounding areas, experts say.
In the last 24 hours, at least 89,129 fresh cases were reported nationwide and numbers are soaring, particularly in Maharashtra which on Friday announced 47,827 new cases. This followed two days when the state reported more than 40,000 cases on one day, and 39,544 the next day.
What is particularly remarkable about this second Covid wave is the speed at which the number of cases is climbing. "The rate of increase is phenomenal," says virologist Shahid Jameel, director of the Trivedi School of Biosciences at Ashoka University. India has added nearly half a million cases in the last seven days.
Unlike the earlier waves that were largely confined to India's mega-cities, this time round the number of cases is also rising in smaller cities like Nashik, Aurangabad, Nanded and Ahmednagar and even the surrounding rural areas in the districts.
In Punjab, too, there has been a spate of cases in smaller towns and rural areas like the thinly populated Shaheed Bhagat Singh Nagar in the Doaba region. Even a smaller state such as Chhattisgarh has been hard hit during the latest wave.
Chief Minister Uddhav Thackeray has ordered a dusk-to-dawn curfew in Pune and has warned that he may be forced to declare a full-scale lockdown if the cases continue to rise in the next two days. He addressed the public late Friday about the need for everyone to take "extreme precautions" and also tough measures the government aims to take. The infection is spreading even though 6.5 million people in the state have received at least one round of vaccination. Still, that's only a fraction of the state's 126 million population.
Thackeray, who asked for state officials to prepare a lockdown plan late last month as people were not heeding masking and distancing rules, said public complacency about the risks of the virus was partly to blame for the rising cases. "We lowered the guard of late. Crowding was witnessed at wedding ceremonies and public places," he said.
The number of cases reported nationally Friday was the highest since September 20. The number of cases nationwide has been rising sharply for 23 straight days. Maharashtra is the state that has alarmed authorities the most. Maharashtra, Kerala, Chattisgarh, Chandigarh, Gujarat, Madhya Pradesh, Tamil Nadu, Delhi and Haryana have surpassed or are close to surpassing their last year peaks.
Despite the surge, experts say a full-scale national lockdown is unlikely to tackle this wave, especially in view of the economic consequences of such a move. Last year's total lockdown served a purpose because it slowed the pandemic spread and thereby won time for hospitals and doctors to prepare for its onslaught. This time the hospitals in most states are already fully prepared and doctors have also established fixed procedures for handling patients. The number of new daily cases peaked nationally last September 16 at 97,894.
Punjab reported 2,903 new cases and 57 deaths Friday. Worryingly, the cases are spread out over a string of middle-sized cities including Jalandhar, Patiala, Amritsar, Ludhiana and Mohali, which wasn't a feature of the last surge. Genomic studies have shown 81 per cent of the Punjab cases are caused by the fast-spreading UK variant. In the Doaba region, particularly, almost every other household has relatives in the UK. Punjab is facing an additional problem because it doesn't have enough beds in the smaller towns and rural areas.
Chhattisgarh, which has also been hard-hit by the pandemic, has announced a complete lockdown in Durg district between April 6 and April 14 with only essential services exempted and night curfews have been imposed in 22 other districts. Chhattisgarh recorded 4,174 new cases on Friday. The two most severely hit districts in the state are Durg and Raipur which recorded 996 cases and 1,327 cases respectively on Thursday.
Experts suggest that a special effort should be made to step up vaccinations in hard-hit states like Maharashtra, Punjab and Kerala. Delhi's Chief Minister Arvind Kejriwal has appealed to the Centre to open up vaccination centres for everyone instead of restricting it to certain age groups. If the centre allows mass vaccinations, the Delhi government could use community centres, schools and other public sites to administer the injections, Kejriwal said. So far, close to 74 million anti-Covid jabs have been given nationwide, an impressive total by itself, but still representing only 5.2 per cent of the 1.4 billion population.
Besides these measures, the central government might need to rethink its tough stand on vaccines made by companies like Johnson & Johnson and also the Russian Sputnik V. The government allowed Bharat Biotech to go ahead with giving its vaccine to the public even though the Phase III clinical trials had not been completed. However, on Thursday it informed Sputnik V it would have to provide further information and might have to perform local bridging trials.
Sputnik V has an advantage it is a freeze-dried vaccine and only needs to be reconstituted by adding water. Hyderabad-based Dr Reddy's Labs has signed a contract to produce 250 million Sputnik V doses with RDIF, a Russian sovereign fund.
One more positive aspect is that experts believe the infections emerging in the latest wave are milder than in the earlier ones. This could also be because this time many of the people who are being struck by the virus are younger and their bodies are able to cope with the infection more robustly.
Some doctors also note an apparent preponderance of the newer cases emerging in more affluent parts of Mumbai. This has resulted in private hospitals having fewer beds free than the city's government hospitals. Currently, apartment blocks and certain colonies are facing limited lockdowns. Night curfews are being imposed to prevent youngsters and others from meeting in bars and restaurants where infections can spread rapidly.
India's health ministry last week announced it has identified various new coronavirus variants circulating in the country, including one it described as a "double mutant," but said it was too early to conclude which factors were driving the latest case upsurge nationally.
India could face even severe risks in the coming weeks. Already, large crowds have gathered for election rallies in states like West Bengal, Assam, Kerala and Tamil Nadu which are in the midst of intense campaigning. Even more seriously, enormous crowds of possibly up to 10 million on certain days will be turning up for the Kumbh Mela that is already underway in Haridwar and which will continue till April 30.
The government has been looking at the pros and cons of vaccinating children. However, this appears to have been put on the backburner for the moment.
Meantime, Bangladesh is reported to have decided to impose a seven-day lockdown starting Monday amid surging cases and deaths that have reversed the previous declining pattern. Pakistan on Friday reported more than 5,000 new coronavirus cases in 24 hours, the highest single-day spike since last June, officials said.