Covid: Allahabad HC raps Yogi govt for hiding facts about treatment facilities and death toll
The UP govt has also failed to comply with earlier orders on furnishing hospitals with life-saving equipment and drugs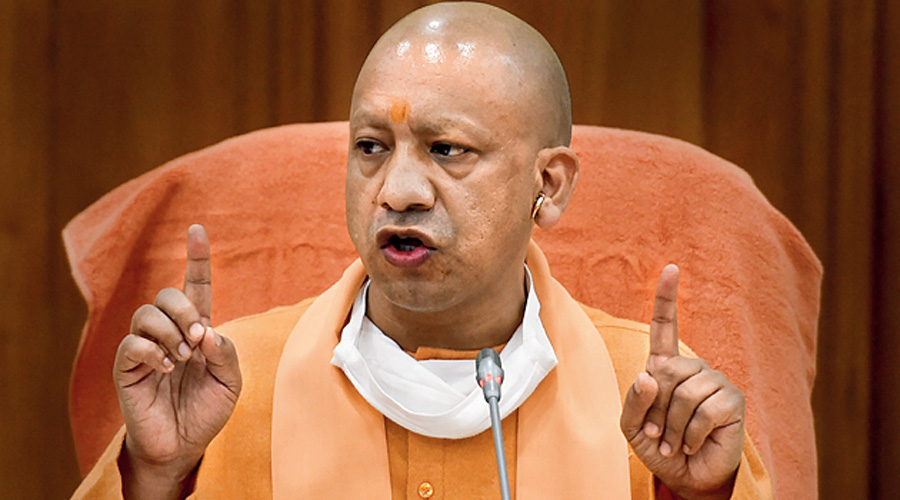 ---
Lucknow
|
Published 13.05.21, 12:56 AM
|
---
Allahabad High Court has rapped the Yogi Adityanath government for hiding key facts about Covid treatment facilities and the number of deaths, and failing to comply with earlier orders on furnishing hospitals with life-saving equipment and drugs.
"Neither required information as mandated by our order has been given nor, otherwise, compliance has been made (with) our various directions," the bench of Justices Siddharth Varma and Ajit Kumar observed on Tuesday, reacting to an affidavit filed by Uttar Pradesh home secretary Badugu Deva Paulson.
The observations, uploaded on the court website on Wednesday, came during the hearing of a public interest plea. Some of the court's observations:
‣ Portals: The district portals "seem not to have been updated" with the latest bulletins from government and private Covid hospitals on matters such as bed and oxygen availability.
‣ Drugs, equipment: "The proper procurement and supply of life-savings drugs (and) life support systems like BiPaP machines and high-flow nasal cannula masks have not been made available to the various hospitals.
"It is strange that (Lala Lajpat Rai Memorial) Medical College, Meerut, does not have any TrueNat machine (for Covid testing) whereas (the) government claimed to have made it available in all government hospitals and directed all private hospitals to have it compulsorily."
‣ Testing: "Even the statistics given in the affidavit qua testing in (the) state surprisingly disclose that (the) number of testing has been reduced gradually."
‣ Ambulances: "The availability of ambulances with advance life support system is also very less."
Hospital diet: "No details have been given regarding food supplied to hospitals of Level-1 (Covid care centres for mild cases), Level-2 (moderate cases requiring oxygen, for instance) and Level-3 (full-fledged hospitals) category. Only fact stated is that Rs 100 is allocated per patient in Level-1 category hospital. It is well known that (a) Covid patient needs highly nutritious food that should include fruits and milk in (the) daily diet and we fail to understand as to how with Rs 100 per capita budget the government is managing three times meal in Level-1 category hospital with 2,100 required calories. No details have been given regarding Level-2 and Level-3 hospitals."
‣ Death toll: The court castigated the Uttar Pradesh government for failing to provide the state-wide death figures the bench had sought, and suggested that its lawyers may have orally underreported the toll during the hearings.
"We further find that (state-wide) figures of death have not been shown date-wise between 19th April, 2021, and 2nd May, 2021. If we consider the report(s) of nodal officers of Gorakhpur, Lucknow, Prayagraj, Gautam Budh Nagar and Kanpur, the scene emerges otherwise than the picture shown (about) figures of deaths," the court said.