FM announces Rs 1.63 lakh crore package for agriculture and allied sectors
Schemes for diary, fisheries and cattle vaccination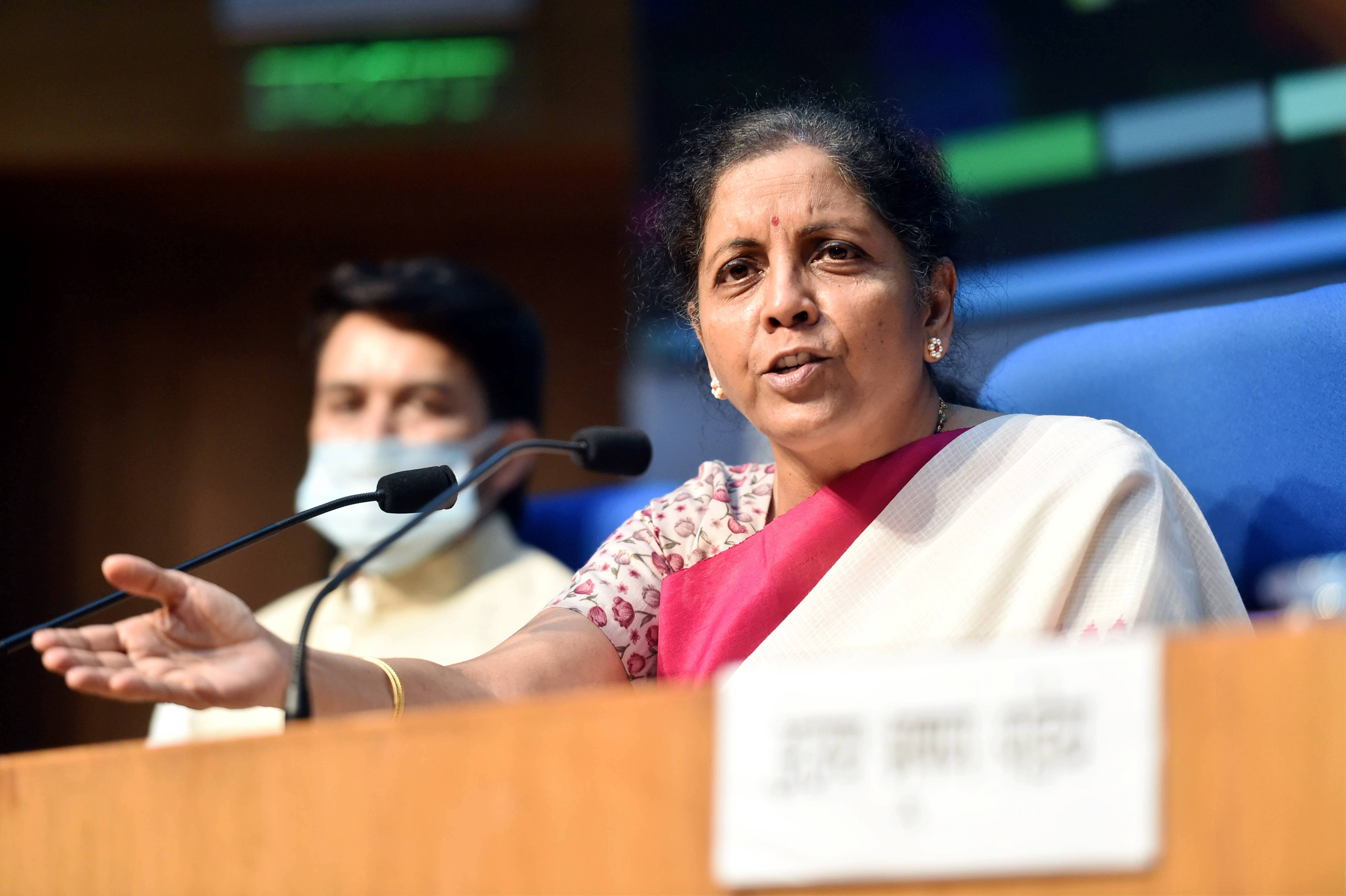 Union Finance Minister Nirmala Sitharaman addresses a press conference as MoS for Finance Anurag Thakur looks on, in New Delhi, Friday, May 15, 2020.
PTI
---
New Delhi
|
Published 15.05.20, 12:00 PM
|
---
The government on Friday announced a Rs 1.63 lakh crore package for agriculture and allied sectors aimed at strengthening infrastructure, logistics and capacity building at farmgate.
Announcing the third tranche of an overall package of Rs 20 lakh crore to deal with the economic fallout of COVID-19 pandemic, Finance Minister Nirmala Sitharaman announced a Rs 1 lakh crore Agri Infrastructure Fund that will finance projects at farmgate and aggregation point for efficient post-harvest management of crops.
Besides, she also announced schemes for micro food enterprises, cattle vaccination, dairy sector, herbal plantation, beekeeping, and fruits and vegetables.
She said the government will provide Rs 1 lakh crore for aggregators, farmers producers organisations (FPOs), primary agri cooperative societies, agri entrepreneurs and start-ups under the agri infrastructure fund.
The fund will be created at the earliest, she said.
Lack of adequate cold chain facilities and post-harvest management infrastructure in the vicinity of farm gates is causing gaps in the value chain, she said.
Sitharaman also announced Rs 10,000 crore fund to support 2 lakh micro food enterprises (MFEs) for promoting health and wellness, herbal, organic and nutritional products.
The government will also launch a Rs 20,000 crore Pradhan Mantri Matsya Sampada Yojana for the development of marine and inland fisheries.
Of this, Rs 11,000 crore will be earmarked for activities in marine, inland fisheries and aquaculture while Rs 9,000 crore for infrastructure creation such as fishing harbours, cold chain and markets.
This, she said, will provide employment to over 55 lakh people and double exports to Rs 1 lakh crore.
The Finance Minister said the ongoing National Animal Disease Control Programme for Foot and Mouth Disease (FMD) and Brucellosis will look at 100 per cent vaccination of cattle, buffalo, sheep, goats, and pigs against FMD at an outlay of Rs 13,343 crore.
Also, a Rs 15,000 crore Animal Husbandry Infrastructure Development Fund was announced to support private investment in dairy processing, value addition and cattle feed infrastructure.
The government has launched a Rs 4,000 crore fund to promote herbal cultivation in about 10 lakh hectares of area, she said, adding that the scheme will help generate Rs 5,000 crore income for farmers. Along the bank of Ganga, a corridor of medicinal plants will be developed over 800 hectares area.
Another Rs 500 crore has been earmarked for beekeeping initiatives, helping 2 lakh beekeepers.
The government extended Operation Greens from tomato, onion and potato to all fruits and vegetables by providing an additional fund of Rs 500 crore. This money would go into providing subsidy on transportation from surplus to deficient markets as well as on storages including cold storages.
The scheme prevents any distress sale by farmers, she said.
Details of economic measures
Infrastructure and capacity building
Infrastructure boost: Rs 1 lakh crore fund to be provided for strengthening farmgate infrastructure - cold storage facilities, foodgrain storage centres, etc. This will benefit primary agricultural societies, cooperatives, aggregators, start-ups etc and facilitate and rise in export goods. The FM said that funds will be processed with immediate effect.
Support for MFEs: A Rs 10,000 crores scheme will be introduced via a cluster-based approach to help 2 lakh Micro Food Enterprises (MFEs). Health and wellness, nutritional, herbal, organic products and vana sampada (forestry produce) will constitute this corpus. This will help in achieving PM's call for 'Vocal for Local', Sitharaman observed.
Fisheries and fishermen: Logistics and other facilities under the PM Matsya Sampada Yojana (introduced during the last budget will be developed. Marine, inland fisheries, aquaculture will benefit from the total sum of Rs 20,000 crore allocated for this purpose. This will help in improving value chain, provide seed funds for infrastructure, marketing, insurance for boats, harbour and market management. An additional 70 lakh tonnes of fish are expected to be produced because of this. Of the Rs 20,000 crore, 9,000 crore will be for the vessels, local markets, harbours and marketing. THe FM claimed that the project will ensure employment to 55 lakh people.
Vaccination for animals: Since January 2020, the FM said the government has been spending on inoculating livestock for foot and mouth disease. To ensure 100% vaccination of cattle - 53 crore animals, Rs 13,343 crore will be provisioned. Since January, 1.5 crore buffaloes and cows have been tagged for vaccination, Sitharaman informed.
Dairy: A Rs 15,000 crore Animal Husbandry Infrastructure Development Fund will be created for the dairy sector. The government will provide incentives for private investment for niche products, cattle feed plants etc.
Go herbal: Herbal and medicinal plants cultivation will receive Rs 4000 crore for cultivating 10 lakh hectares of land. Also, plantation drives will be carried on the banks of the Ganga.
Beekeeping: An amount of Rs 500 crore for will be provisioned for beekeeping initiatives. Apart from honey production, this will also check India's large import of wax. Global dwindling bee numbers will also improve because of this. The FM claimed the scheme will benefit 2 lakh rural beekeepers.
Top to Total: Rs 500 crore will be spent on bettering supply chains, which have been disrupted during the lockdown. There will be 50% on transportation of produce and 50% subsidy on storage, including cold storage.
Governance and administrative reforms
Amendment to Essential Commodities Act, 1955: This will be done to ensure better price realisation for farmers. The amendment will be largely towards de-regulating certain crops, like potatoes, cereals, onions, etc. No stock limit shall apply for food processing units, value-addition corporations, exporters, etc. This will not hamper food processing and exports when the Essential Commodities Act is applicable.
Opening the market for farmers: A central law so that farmers have the choice to sell produce at an attractive price. Intra state trade will be allowed, along with e trade. Farmers will not have to sell to a certain set of licence holders any more.
Agricultural Produce Price Support Program: A legal framework for farmers to do business with aggregators, processors, large retailers, exporters so that the farmer gets an assured return on produce.