Centre a scrooge with cash transfers
For the wretched and the damned of the earth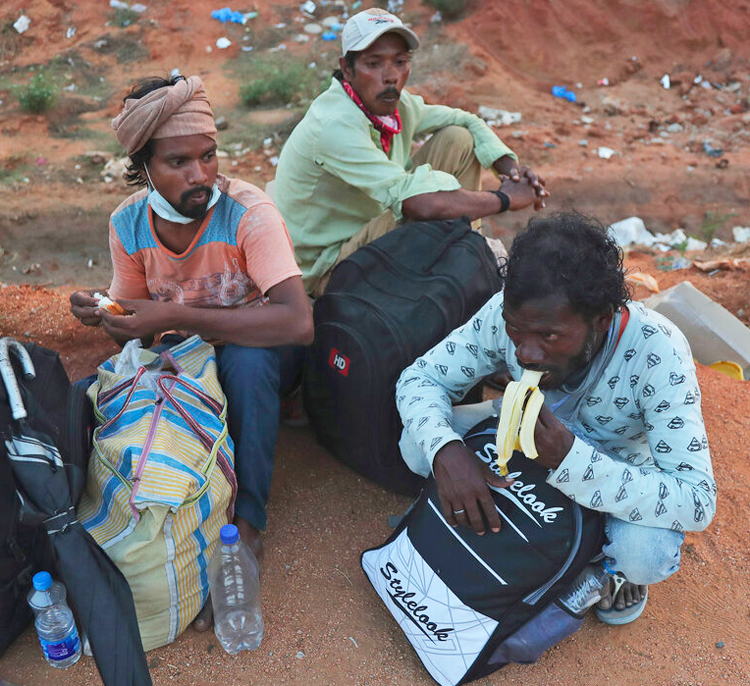 ---
---
Finance minister Nirmala Sitharaman on Thursday unveiled the second tranche of the Narendra Modi government's stimulus package, which again showed the Centre could be big and bountiful with numbers but a scrooge with cash transfers.
Migrant workers, day labourers, street vendors and farmers — near-destitute after the prolonged lockdown —had been pinning their hopes on a cash dole to bail them out of the economic crisis wrought by a raging pandemic.
Instead of forking out money into their Jan Dhan accounts, the Modi government promised them free grain for two months, a pan-India ration card, and subsidised loans that they may not have an appetite for as they struggle to bring their lives back on track.
The Rs 3.16-lakh-crore fresh package of measures showed just how out of touch with reality the Modi government had become.
The measures included a first-of-its-kind affordable rental housing for urban migrants and a credit-linked subsidy to buy homes that the finance minister said she was extending to the "lowest rung" of India's middle class — people earning between Rs 6 lakh and Rs 18 lakh a year. The subsidy scheme, introduced in May 2017, has now been extended by another year.
Street vendors who lost their livelihoods during the lockdown have been offered an initial working capital of Rs 10,000 within a month through a special Rs 5,000-crore credit facility. They have been promised monetary rewards if they make digital payments and greater credit if they display "good repayment behaviour".
Sitharaman said 50 lakh street vendors would benefit from the scheme. But it wasn't clear from where the government had sourced this figure, which looked like an underestimate.
Farmers were advised they would be able to access crop loans through an emergency working capital fund of Rs 30,000 crore that was being extended to the National Bank for Agriculture and Rural Development (Nabard).
"These are medium-term solutions…. What we need to do is put money in the pockets of people in the immediate term," said N.R. Bhanumurthy of the National Institute of Public Finance and Policy.
Sitharaman said 67 crore ration cardholders, or 83 per cent of those covered under the Public Distribution System, across 23 states would be covered by the national portability (one nation, one ration card) scheme within three months or by August. The government hopes to achieve 100 per cent national portability by March 2021.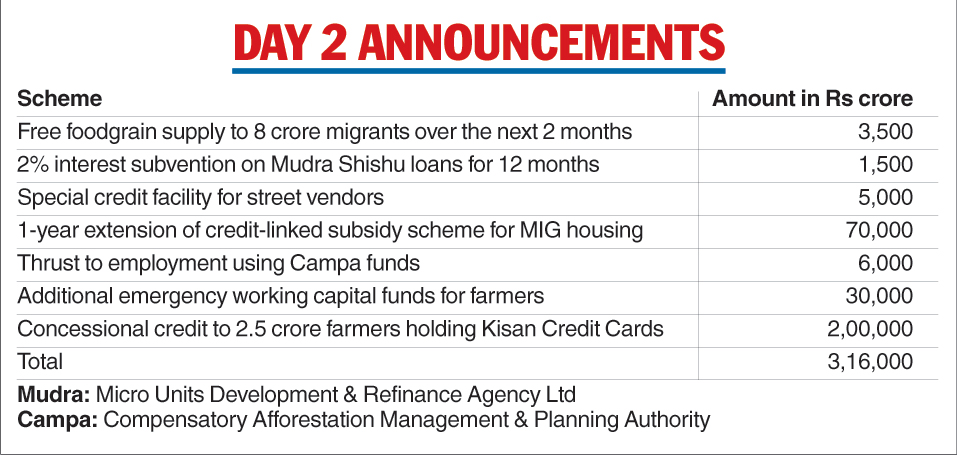 Congress leader Manish Tiwari said that instead of dealing with the humanitarian crisis playing out across the country with migrants trudging hundreds of kilometres home, the government was holding out the promise of free food if they somehow managed to reach their villages.
"And what is being offered? Five kg of rice or wheat and 1kg of chana…. The cost of this largesse is Rs 3,500 crore. This is a cruel joke that the government is playing with the migrant workers. It has even underestimated their number at just 8 crore. The 2011 census had estimated the number of migrant workers in the country at 11 crore. More than half of them are inter-state migrants," Tiwari added.
Eminent economist Pronab Sen said: "The intent seems to be right but I wonder whether they have thought about the administrative mechanism and how to implement these schemes. One India, one ration card will create problems as grains are supplied on the basis of the number of ration card holders tied to that shop. There will be practical problems if a whole lot of migrant workers land up at that shop without ration cards. An interest subvention on existing loans is fine; but who is going to take on a new loan when the economy is in such a bad state and unemployment is growing?"
Bengal finance minister Amit Mitra said: "What I find dangerous in the last two press conferences of the Union finance minister is that it gives an impression that there is no state in the country. There is only the Government of India. Whereas (the truth is that) all the action on the ground is taking place in the states, whether it is fighting Covid, providing livelihood, or bringing back the economy… all that is being done by the states."
The Centre has also decided to launch a scheme under the Pradhan Mantri Awas Yojana to provide affordable homes on rent to migrant workers and the urban poor. The government-funded housing programme will be undertaken under the private-public partnership mode.
Private-sector manufacturing units, institutions and associations will be incentivised to develop these facilities. The government has earmarked Rs 70,000 crore for the scheme – and a part of the funds will come from the Centre.
The package also provides for a Rs 6,000-crore scheme to create jobs under the little known Compensatory Afforestation Management and Planning Authority (Campa). Under this scheme, funds will be provided to state governments to create jobs for tribal people and Adivasis.
The biggest component of Thursday's package was the plan to provide Rs 2 lakh crore worth of loans to farmers holding the Kisan Credit Cards. The government said 2.5 crore farmers would benefit from the flow of cheap credit.
D.K. Srivastava, chief policy adviser, EY India, said: "This second tranche focused on the poorer segments of society, including migrant labour, small and marginal farmers and urban poor. The emphasis is largely on the supply side of the economy. To invigorate the economy, more direct support to demand stimulation may now be needed."