Robust immune memory responses seen
Covaxin protects recipients from severe Covid-19, say researchers
The new study is the first to directly measure memory T and B cell responses specifically directed against SARS-CoV-2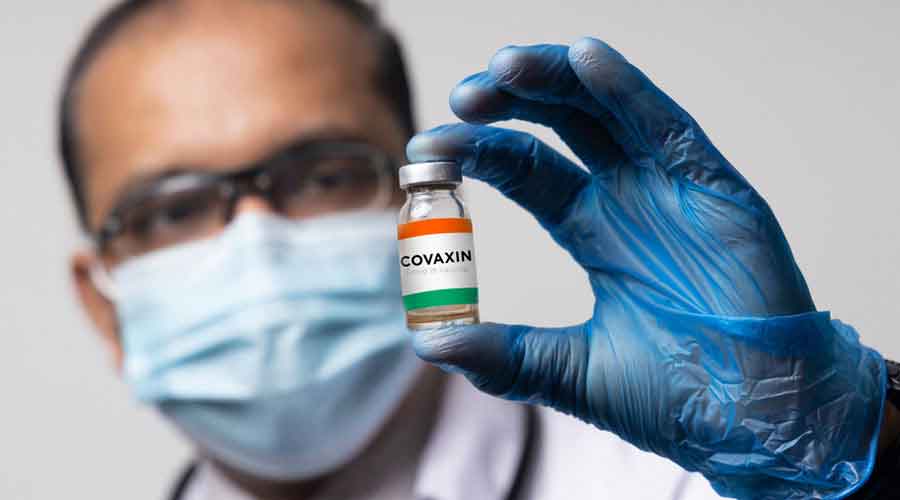 The new study has also observed strong T cell responses specific to different coronavirus variants.
Shutterstock
---
New Delhi
|
Published 22.11.21, 02:10 AM
|
---
Covaxin, India's homegrown Covid-19 vaccine, activates key memory components of the human immune system that can continue to protect recipients from severe Covid-19 even after the vaccine-generated anti-viral antibodies have waned, researchers have said.
A collaborative study by researchers in India and the US has found that Covaxin activates arms of the immune system called memory T and B cells to levels comparable to those observed after natural Covid-19 infection. Both sets of cells help in different ways to protect people from severe disease.
Although animal studies and clinical trials with Covaxin had thrown hints of memory responses, the new study is the first to directly measure memory T and B cell responses specifically directed against SARS-CoV-2, the virus that causes Covid-19.
"We see amazingly robust immune memory responses very similar to those caused by the natural infection," said Nimesh Gupta, a scientist at the National Institute of Immunology (NII), New Delhi, who led the study.
The study is yet to be peer-reviewed but the scientists have posted it on medRxiv, an online archive of preprints.
"These memory responses will outlast and confer protection even the concentrations of the initial antibodies deplete over months," Gupta said. Similar immune memory responses have also been observed earlier with other Covid-19 vaccines such as the m-RNA vaccines.
While responses to vaccines are easiest measured through counts of neutralising antibodies — the concentrations of virus-specific proteins that obstruct SARS-CoV-2 — circulating in the bloodstream, scientists have known for months that antibodies deplete over weeks to months.
The depletion of antibodies has prompted health experts to recommend booster shots.
Gupta and his colleagues compared memory T and B cells in 71 people vaccinated with Covaxin and 73 people who had recovered from Covid-19 between October and December last year before the vaccines had been introduced.
Memory T cells have the capacity to detect and kill SARS-CoV-2 infected cells in the body even after neutralising antibodies have waned. T cells also serve as helper cells to B cells, prompting the B cells to churn out fresh loads of neutralising antibodies.
"Immune memory is the key to long-term protection — this is how all childhood vaccines work," said a senior scientist who is not associated with the study and who requested not to be named. "The memory helps bring back microbe-specific antibodies only when they are needed."
The new study has also observed strong T cell responses specific to different coronavirus variants.
The study team included researchers at the All India Institute of Medical Sciences, New Delhi, the Translational Health Science and Technology Institute, Faridabad, and the University of California, San Diego, and doctors from hospitals in Delhi and Faridabad.