Coronavirus updates: No new cases from 216 districts in 24 hours
Total infections 56,342, death toll 1,886; Kolkata mosque offers space to govt for quarantine facility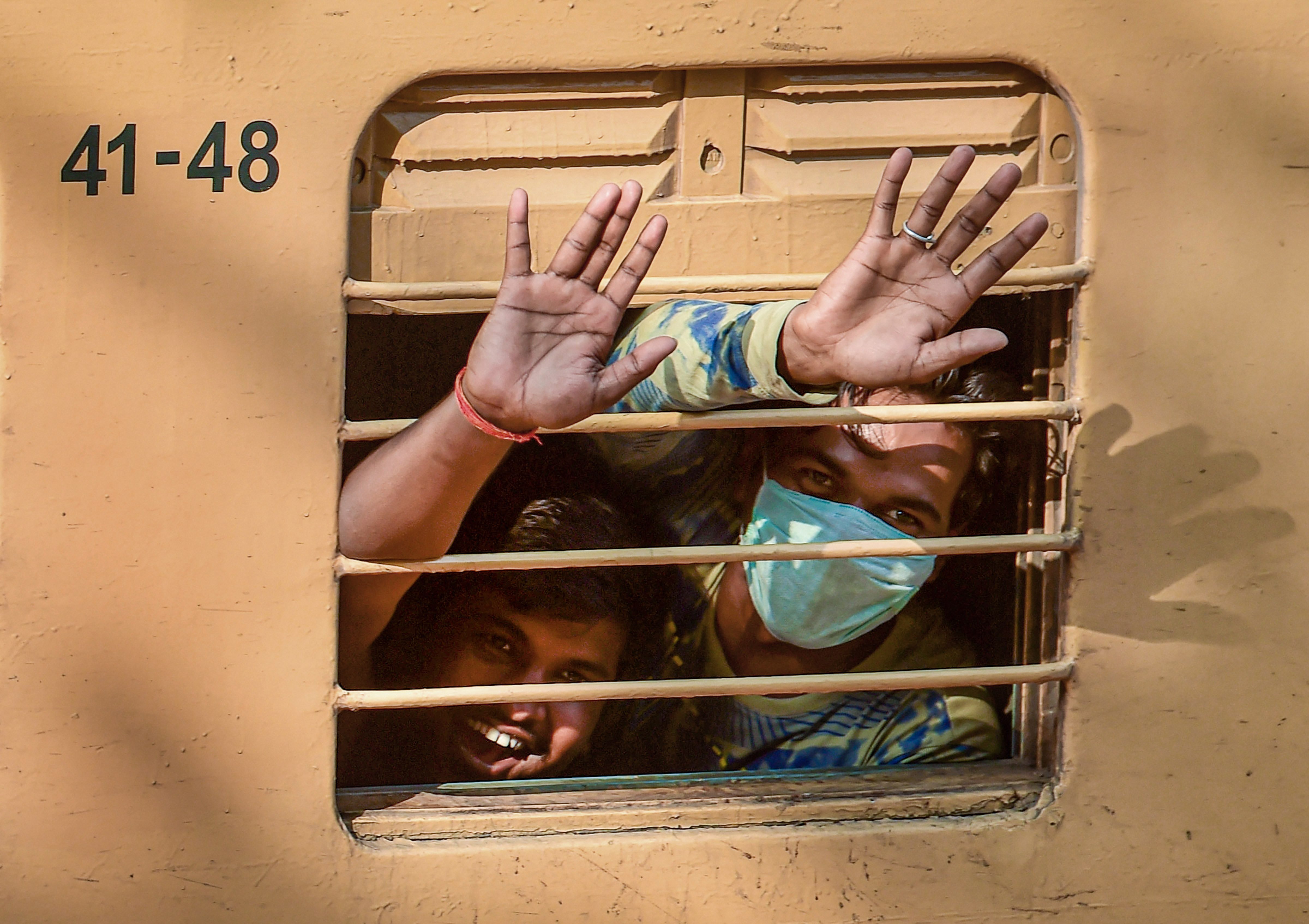 Migrant people wave as they prepare to travel in a special train the Chikkabanavara railway station for their native places in Uttar Pradesh, amid ongoing Covid-19 lockdown, in Bengaluru, Friday, May 8, 2020.
PTI
---
New Delhi
|
Published 08.05.20, 06:23 AM
|
---
5 labourers jump off train, quarantined  
Five labourers jumped from a slow-moving Shramik Special train bound for Gonda on Friday following which they were detained and sent to a quarantine centre, police said.
The Shramik Special train was ferrying migrant labourers from Amritsar to Gonda.
The train was moving at a slow speed towards Sitapur around 5 am when the five labourers hailing from Shahjahanpur jumped from it, SHO, Government Railway Police (GRP), Ajit Kumar Singh, told PTI.
As the train was moving at a slow speed none of them suffered injuries. All of them were detained and later sent to a quarantine centre, Singh said.

Number of Delhi virus testing facilities expanded to 13
The number of testing facilities for coronavirus at private labs in Delhi has been expanded from eight to 13, officials said on Thursday.
Further, an order has been issued regarding testing of Covid-19 samples collected by the district health facilities, designated Covid-19 hospitals, Covid-19 testing centres, etc. at private laboratories approved by the Indian Council of Medical Research (ICMR) in case the total number of samples collected are more than the combined capacity of the government labs.

As many as 216 districts in the country have not reported any Covid-19 cases till now, 42 districts have not registered any infections in the last 28 days and 29 districts have not recorded any case in the last 21 days, the Union health ministry said on Friday.
The ministry asserted that if dos and don'ts are followed, the peak in number of Covid-19 cases can be avoided.
Addressing a press conference, joint secretary in the health ministry Lav Agarwal said India's recovery rate stands at 29.36 per cent with 16,540 Covid-19 patients cured till now, including 1,273 who recovered in the last 24 hours.
A total of 3,390 Covid-19 cases and 103 deaths have been reported in the last 24 hours till Friday 8 am, taking the total number of cases to 56,342 and death toll to 1,886, according to the ministry.
Giving a district-wise situation, Agarwal said there are 216 districts in which no Covid-19 case has been reported till date. Forty-two districts have had no fresh cases in the last 28 days, there are 29 districts with no fresh cases in the last 21 days, 36 districts with no fresh cases in the last 14 days and 46 districts with no fresh cases in the last seven days, he said.
Asked about AIIMS Delhi Director, Dr Randeep Guleria's remarks citing data that the peak of the disease in India may be reached in June or July, Agarwal said, If we follow dos and don'ts, we may not reach the peak in number of Covid-19 cases and our curve may remain flat.
Agarwal also said that that the ICMR will conduct clinical trial to assess the safety and efficacy of convalescent plasma therapy in 21 hospitals.
The hospitals where the trials will be conducted comprise five from Maharashtra, four from Gujarat, two each from Rajasthan, Tamil Nadu, Madhya Pradesh, UP and one each from Karnataka, Chandigarh, Punjab, Telangana.
He said 3.2 per cent of total active Covid-19 cases are on oxygen support, 4.2 per cent in ICU and 1.1 per cent on ventilator:
During the briefing, Agarwal also said the railways has converted 5,231 coaches into Covid-19 Care Centres which will be placed at 215 identified railway stations and will be used for treatment of very mild and mild Covid-19 patients.
As migrant workers return to their home states, it is essential that all guidelines and precautions regarding infection prevention and management are to be followed, we request workers to understand that this is for their own benefit, their people, village and city, Agarwal said.
He was referring to the accident in Auranganbad in Maharashtra in which 16 migrant workers were crushed to death by a goods train when they were sleeping on the tracks.
Andaman & Nicobar 33
Andhra Pradesh 1887
Arunachal Pradesh 1
Assam 56
Bihar 563
Chandigarh 146
Chhattisgarh 59
Delhi 5980
Goa 7
Gujarat 7013
Haryana 633
Himachal Pradesh 48
Jammu & Kashmir 823
Jharkhand 132
Karnataka 753
Kerala 503
Ladakh 45
Madhya Pradesh 3252
Maharashtra 17974
Manipur 2
Meghalaya 12
Mizoram 1
Odisha 246
Puducherry 11
Punjab 1731
Rajasthan 3491
Tamil Nadu 5409
Telangana 1122
Tripura 88
Uttarakhand 62
Uttar Pradesh 3145
West Bengal 1548 SBI LHO office closed down in Calcutta
State Bank of India has closed down a section of the Local Head Office (LHO) in Calcutta after an employee tested positive for Covid-19, a senior official said on Friday.
The employee is associated with the Liability Centralised Processing Centre located at the 'E' wing of the LHO.
The SBI official said the employee was not attending office for the last 8-10 days and was later found to have contracted the deadly virus.
'Since then, we have sanitised the entire building and the section has been closed till May 11,' he said, adding, other departments are functional.
The employee is being treated at a private hospital.

30 BSF personnel test positive
Thirty more Border Security Force personnel, including two posted at its headquarters in Delhi, have tested positive for Covid-19, taking the overall infections in the force to 223, officials said on Friday.
The border guarding force has the maximum confirmed cases of the disease among the Central Armed Police Forces (CAPFs), also known as paramilitary forces.
The CAPFs have over 500 active Covid-19 cases at present.
'Thirty new cases of Covid-19 (six from Delhi and 24 from Tripura) have been reported from different establishments. All of them are under the best available medical care at AIIMS-Jhajjar and G.B. Pant Hospital, Agartala,' BSF spokesperson Shubhendu Bhardwaj said in a statement.

Kolkata mosque offers part of premises to govt for setting up quarantine centre

A mosque in the city's Garden Reach area has offered a part of its premises to the state government to set up a quarantine centre, bringing some relief to the Kolkata Municipal Corporation which had been scouting for places to build isolation units for COVID-19 suspects.
Maulana Qari Md Muslim Razwi, the imam of Bangali Bazar Masjid, said on Friday that the mosque committee, in keeping with the spirit of Ramadan, has decided to open the third floor of the building, spanning 6,000 square feet, for those placed under quarantine.
Parts of Garden reach area figure in the list of containment zones prepared by the state.
'We all know that the government had been scouting for spaces to set up a quarantine centre in the area, amid the rise in coronavirus cases in the city. We thought why not offer the entire third floor for the purpose. The floor has been cleaned and made suitable for setting up the isolation centre,' the imam said.
Locals haven't been visiting the mosque of late, as they have been told to pray at home, he said.
Razwi also said that the mosque committee made the offer after taking to the locals, and 'almost everyone readily agreed'.
A KMC official said the civic body was 'grateful to the mosque for the offer'.
'We need to have a quarantine centre in every belt that has containment zones. We will take the final call about setting up the facility after inspecting the space offered.'
Hailing the mosque's decision, an official of West Bengal Imams' Association said every religion calls for service to humanity.
'We had urged the members of the community to support the government in whatever way possible to fight coronavirus.
We are happy that a mosque has come up with such proposal,' the official added. ICMR allows Jodhpur hospital to conduct plasma therapy trials

The Indian Council of Medical Research has allowed Government Medical College, Jodhpur, to try treating Covid-19 infected patients with plasma therapy, Rajasthan Health Minister Raghu Sharma said on Friday.
With the ICMR approval for GMC Jodhpur, treatment can now be done through plasma therapy in two government and one private medical institute in the state, the minister said.
Sharma said Kota, Bikaner, Ajmer and Udaipur Medical Colleges have also been instructed to seek permission from ICMR for plasma therapy trials.
He said plasma therapy will help in reducing novel coronavirus-induced mortality in the state.
The death rate due to coronavirus in the state is 2.79 per cent