Coronavirus updates: Record spike of 8,380 cases in 24 hours, tally now 1,82,143
Death toll climbs to 5,164; Uttarakhand minister's wife tests positive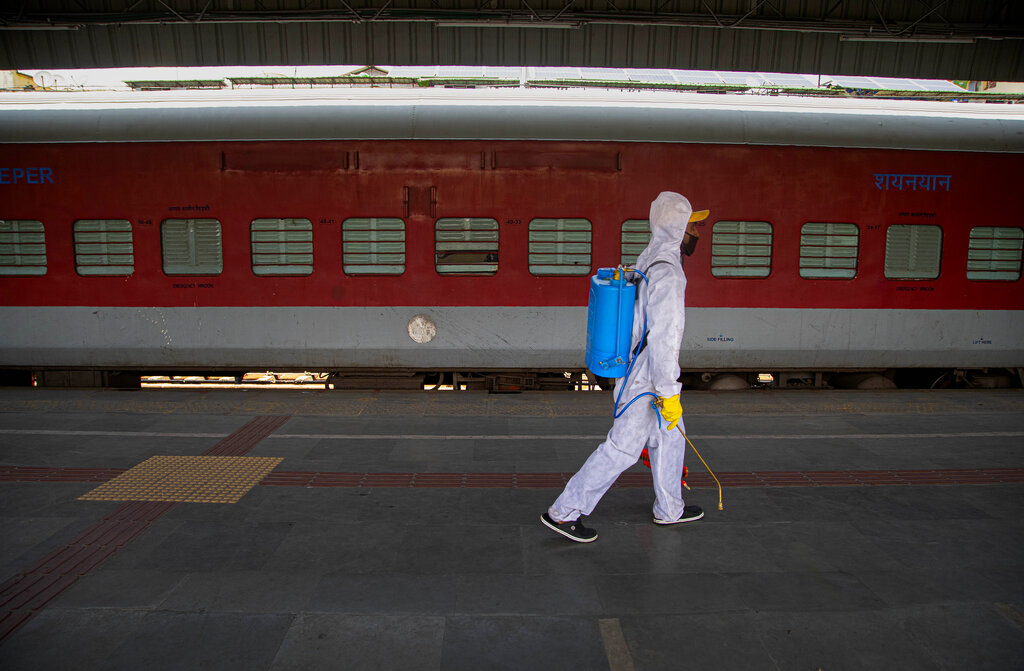 ---
---
Uttarakhand minister's wife tests positive

Uttarakhand tourism minister Satpal Maharaj's wife and former minister Amrita Rawat has tested positive for Covid-19.
Her swab sample report confirming that she has contracted the virus came on Saturday evening, the minister's OSD Abhishek Sharma said.
She is being hospitalised, he said.
Amrita Rawat was a minister in the Harish Rawat government. The minister and the rest of the family have been home quarantined at their residence in the city, he said.
On Friday, Maharaj had attended a meeting of the state cabinet.
The number of Covid-19 cases in Uttarakhand has risen to 749, with 33 more testing positive.
Politicians urge not to harass medical staff
In the wake of incidents of medical professionals in Maharashtra's Jalna facing discrimination and exclusion for the fear of spreading Covid- 19, some political leaders have appealed to the people to respect and appreciate their work and stop harassing them.
The appeal came after the functioning of four private hospitals in Jalna city was largely affected as some people prevented the medical staff there from performing their duty.
Some people even accused the health professionals of being responsible for spreading Covid-19.
According to officials, 18 health personnel have tested coronavirus positive in the district and several of their colleagues have been quarantined.
'Four private hospitals in the city were almost shut since the last week as people were not allowing the medical staff to carry out their duty. They say these health professionals themselves were carriers of the infection,' an official said.

India registered its highest single-day spike of Covid-19 cases on Sunday with 8,380 new infections reported in the last 24 hours, taking the country's tally to 1,82,143, while the death toll rose to 5,164, according to the Union health ministry.
India is the ninth worst-hit nation by the Covid-19 pandemic.
The number of active Covid-19 cases stood to 89,995, while 86,983 people have recovered and one patient has migrated, it said.
'Thus, around 47.75 per cent patients have recovered so far,' a senior health ministry official said.
The total confirmed cases includes foreigners.
The death toll has gone up by 193 since Saturday morning, of which 99 deaths were reported from Maharashtra, 27 from Gujarat, 18 from Delhi, nine each from Madhya Pradesh and Rajasthan, seven from West Bengal, six each from Tamil Nadu and Telangana, five from Bihar, three from Uttar Pradesh, two from Punjab, and one each from Haryana and Kerala.
Of the total 5,164 fatalities, Maharashtra tops the tally with 2,197 deaths, followed by Gujarat (1,007), Delhi (416), Madhya Pradesh (343), West Bengal (309), Uttar Pradesh (201), Rajasthan (193), Tamil Nadu (160), Telangana (77) and Andhra Pradesh (60).
The death toll reached 48 in Karnataka, 44 in Punjab, 28 in Jammu and Kashmir, 20 in Haryana, 20 in Bihar, nine in Kerala, and seven in Odisha.
Himachal Pradesh, Jharkhand and Uttarakhand have each registered five Covid-19 fatalities, Chandigarh and Assam have recorded four deaths each, while Meghalaya and Chhattisgarh have reported one Covid-19 fatality each so far.
More than 70 per cent of the deaths are due to co-morbidities, the ministry said.
According to the health ministry data updated in the morning, the highest number of confirmed cases in the country are from Maharashtra at 65,168, followed by Tamil Nadu at 21,184, Delhi at 18,549, Gujarat at 16,343, Rajasthan at 8,617, Madhya Pradesh at 7,891 and Uttar Pradesh at 7,445.
The number of Covid-19 cases has gone up to 5,130 in West Bengal, 3,636 in Bihar, 3,569 in Andhra Pradesh, 2,922 in Karnataka, 2,499 in Telangana, 2,341 in Jammu and Kashmir, 2,233 in Punjab and 1,923 in Haryana.
Odisha has reported 1,819 coronavirus cases, Kerala has 1,208 cases, Assam has 1,185, Uttarakhand has 749, Jharkhand has 563, Chhattisgarh has 447, Himachal Pradesh has 313, Chandigarh has 289, Tripura has 268, Ladakh has 74 and Goa has 70.
Manipur has reported 62 Covid-19 cases, Puducherry has 51 cases of infection, Nagaland has recorded 36 cases, while Andaman and Nicobar Islands has registered 33 infections.
Meghalaya has registered 27 cases, Arunachal Pradesh has reported four cases, Dadar and Nagar Haveli has two cases, while Mizoram and Sikkim have reported a case each till how.
'5,491 cases are being reassigned to states,' the ministry said on its website, adding that, 'Our figures are being reconciled with the ICMR.'
State-wise distribution is subject to further verification and reconciliation, it said.
Bodies to be sent to mortuaries within 2 hrs

The Delhi government's health department has announced additional guidelines for disposal of bodies of those who die of Covid-19 or suspected to have died of it at hospitals, directing that such bodies be sent to mortuaries within two hours.
The directions were issued on Saturday.
If the family or relatives of the deceased themselves contact mortuary authorities within 12 hours of death, the hospital shall schedule cremation or burial within 24 hours in consultation with the family and the area's municipal corporation, the order said.
If the family or relatives do not contact within 12 hours, an intimation be sent out to them informing about the place and time of the cremation or burial, authorities said.
In case of unidentified or abandoned bodies of persons who died of Covid-19 or suspected to have died of it, the Delhi police shall complete all legal formalities within 72 hours of death and dispose the body in next 24 hours as per the protocol, it said.
If the address of the deceased happened to be outside Delhi, medical director of hospitals must send a notice to resident commissioner of the respective state or Union territory, seeking communication from the other side in 48 hours, according to the order.
If no response is received, the body is to be cremated by the hospital in the next 24 hours, it said.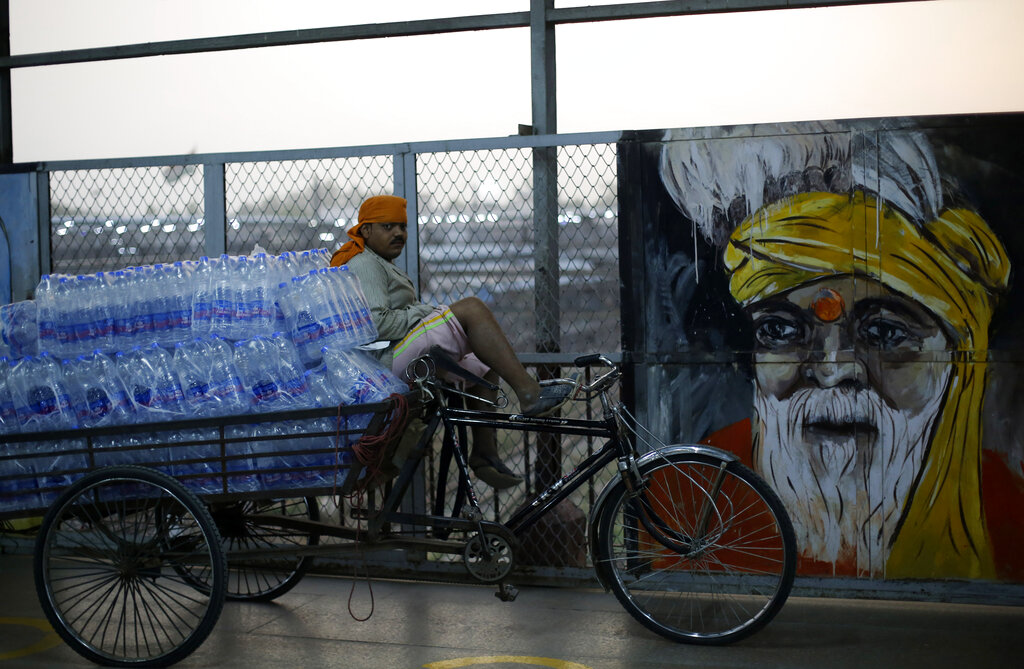 Senior IAS officer tests positive
A senior Indian Administrative Service (IAS) officer has tested positive for Covid-19 in Jammu and Kashmir following which several bureaucrats and doctors, who attended a meeting with him on Saturday, have gone into self-quarantine, officials said.
The officer, who is posted as the principal secretary to the government, was tested for coronavirus infection at Jammu airport on his return from Srinagar and his report came positive on Saturday night, the officials said.
He became the first IAS officer to test positive for Covid-19 in Jammu and Kashmir, officials said.
The IAS officer, who is also assisting the health and medical education department in Covid-19 management in addition to his own duties, had attended a high-level meeting after his return from Srinagar on Saturday, the officials said.

They said several top bureaucrats and doctors attended the meeting, prompting them to go into self-quarantine. They will undergo tests later in the day.

17 returnees to Nagaland test positive
Seven returnees from Chennai tested positive for Covid-19 in Nagaland on Sunday, taking the total number of cases in the state to 43, health and family welfare minister S. Pangnyu Phom said.
Of the seven, four are from Kohima and three from Dimapur, he said.
'Samples of persons, all returnees from Chennai, have tested Covid-19 positive,' the minister said in a tweet.
All of them had returned to the Northeastern state on May 22 by a Shramik Special train.
The train brought back 1,328 residents of the state who were stranded in different parts of Tamil Nadu due to the nationwide lockdown.

Delhi Police loses 2 ASIs to virus within 24 hours
Two Delhi Police Assistant Sub-Inspectors have died due to COVID-19 since Saturday evening, taking the overall coronavirus casualty figure in the force to three, officials said on Sunday.
While a 52-year-old ASI died around 11.30 am Sunday during treatment at the Army Base Hospital here, another officer of the rank passed away at the same facility Saturday evening, they said.
Officials said that the ASI who died Sunday morning was posted in the Sultanpuri Police Station of Outer District and was on highway patrol duty in the area since May 1.
He was declared negative for the virus in two tests -- conducted on May 11 and May 22, they said.