NPR, first phase of Census 2021 postponed; 90 fresh cases reported
Avoid-panic buying, says Kejriwal; Chidambaram backs Modi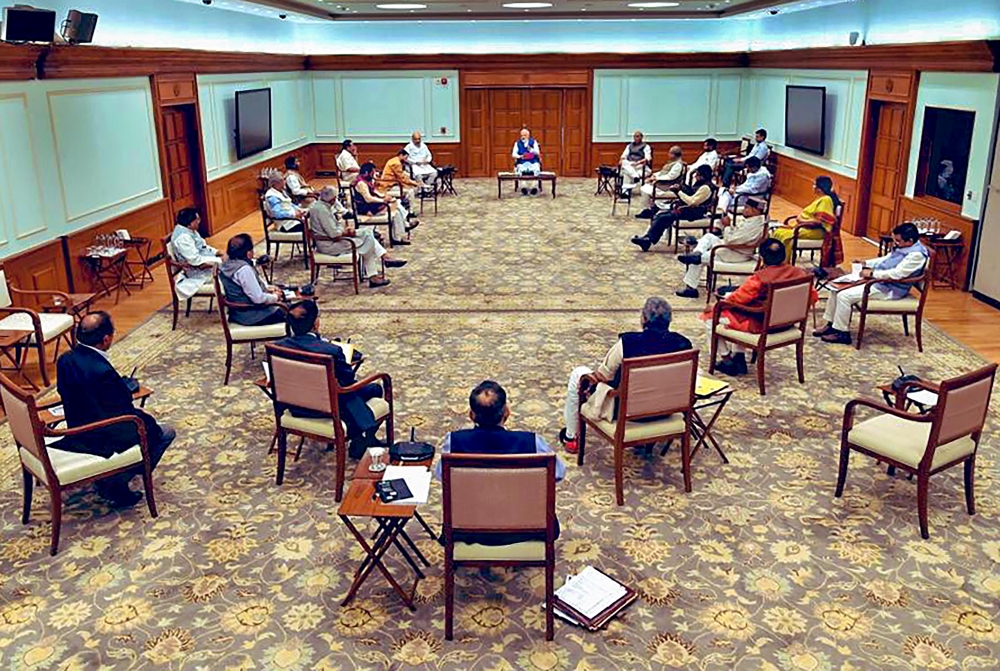 Prime Minister Narendra Modi chairs a cabinet meeting as ministers maintain social distancing in the wake of coronavirus pandemic
PTI
---
New Delhi
|
Published 25.03.20, 04:52 AM
|
---
The updating of the National Population Register (NPR) and the first phase of the Census 2021 have been postponed due to the 21-day lockdown announced by Prime Minister Narendra Modi, officials said on Wednesday.
Both the exercises were supposed to be carried out from April 1 to September 30.
In a statement, the home ministry said Census 2021 was scheduled to be conducted in two phases -- house listing and housing census during April-September and population enumeration during February 9 to 28.
The updating of NPR was also proposed to be done along with the Phase I of Census 2021 in all the states and union territories, except Assam.
The home ministry said due to the outbreak of COVID-19 pandemic, high alert has been declared by the Centre as well as the states and union territories.
Keeping in view these issues, the first phase of Census 2021 and updating of NPR, which was to begin on various dates decided by the state and union territory governments beginning April 1 and various related field activities, are postponed until further orders, the statement said.
Officials said since the census and NPR exercise require the enumerators to visit every household and meet people, such exercise is not possible to carry out due to the prevailing lockdown situation.
Therefore, the decision to postpone it has been taken by the government, the officials said.
The home ministry had recently said the preparation for the Census 2021 and updating of the NPR were at its peak and will begin from April 1.
The states which have been opposing the NPR include Kerala, West Bengal, Punjab, Rajasthan, Chhattisgarh and Bihar.
However, most of them also said they will cooperate with the house listing phase of the Census.
The objective of the NPR is to create a comprehensive identity database of every usual resident in the country. Home ministry issues fresh guidelines on lockdown exemption
The home ministry on Wednesday issued fresh guidelines covering the people and services that will be exempted from the 21-day lockdown announced by Prime Minister Narendra Modi.
In the new guidelines, the ministry said the Reserve Bank of India and its regulated financial markets, pay and accounts officers and field officers of the CAG, petroleum products and supply chain and forest staff are exempted from the purview of the lockdown.
Those people handling cargo operations in airports and railway stations, coal-mining activities, officers and staff of resident commissioners based in Delhi and customs clearance at ports, airports and land borders are also exempted.
Forest offices staff and workers required to operate and maintain zoo, nurseries, wildlife, fire fighting in forests, watering plantations, patrolling and their necessary transport movement, social welfare department staff for operations of homes for children, disabled, senior citizens, destitute women, widows, observation homes and pensions service are also exempted, the guidelines said.
Gurgaon nurse tests positive in Panipat, Haryana's tally reaches 17
A 21-year-old nurse from Panipat, working for a private hospital in Gurgaon, has tested positive for coronavirus, taking the total number of infected persons in the state to 17, an officials said Wednesday.
The nurse had reached her hometown Panipat from Gurgaon over a week ago, a senior official of the health department in Panipat said.
She had used different modes of transports, including metro rail, auto rickshaw and a bus, to reach home in Panipat, the official told PTI over the phone.
He said at that time of reaching home, she was not sick but fell ill five days ago after which she immediately reported to the district health authorities in Panipat. Her samples were sent for tests, after which she was confirmed Covid-19 positive.
The nurse has been admitted to the Panipat civil hospital and kept in isolation. Her family members in Panipat have been quarantined and the hospital where she works too has been informed, he added.
With the detection of the new corona positive case, the total number of positive cases of coronavirus in Haryana has risen to 17.
The number of positive cases reported from Gurgaon stands at 10. Test reports for 111 samples were awaited, the health department said.
Haryana had gone into a lockdown a day  prior to prime minister Narendra Modi's lockdown order from the midnight of March 24-25.
Ugadi conducted in Andgra Pradesh without pomp
The usual pomp that marks Ugadi festival was clearly missing as people of Andhra Pradesh remained confined to their homes and quietly conducted the festivities on the occasion on Wednesday.
There was no official celebration of the Telugu New Year's Day this year as well because of the lockdown enforced due to the threat of the coronavirus.
The traditional reading of the almanac, the highlight of the Ugadi celebration every year, was conducted in a quiet manner in the Kanaka Durga temple atop the Indrakeeladri in Vijayawada.
State Endowments Minister Velampalli Srinivasa Rao and Brahmin Welfare Corporation Chairman Malladi Vishnu attended the event.
As temples remained closed for devotees in view of the coronavirus spread, people stayed away while the priests performed the rituals.
Cabinet nod to extra 2kg foodgrains in ration
To ensure sufficient supply during the lockdown, the government on Thursday decided to increase monthly quota of subsidized foodgrains by 2kg to 7kg per person through ration shops for 80 crore beneficiaries.
A decision in this regard was taken by the Cabinet Committee on Economic Affairs (CCEA) headed by Prime Minister Narendra Modi.
'The government has decided to provide 7 kg per person of foodgrains to 80 crore people under the Public Distribution System (PDS), which the world's largest food security system,' information and broadcasting minister Prakash Javadekar told media after the meeting.
The cost of wheat is Rs 27/kg, which will be provided at a subsidised rate of Rs 2 kg, while the cost of rice is about Rs 32/kg but will be supplied at Rs 3/kg through ration shops, he said.
All states have been asked to take foodgrains from the Centre in advance for distribution through the PDS, he added. Avoid-panic buying, no scarcity of essentials, says Kejriwal

Delhi chief minister Arvind Kejriwal on Wednesday said e-passes will be issued to those associated with essential services, such as vegetable-vendors, grocers and milk-sellers, to ensure smooth supply of items of daily use in the national capital during the lockdown.
Prime Minister Narendra Modi on Tuesday announced a nationwide lockdown of 21 days to check the spread of coronavirus.
In a joint press conference with lieutenant-governor Anil Baijal on Wednesday, Kejriwal said a helpline number would be issued for the e-passes.
He appealed to people to avoid panic-buying, assuring that the government would ensure that shops of daily use items like milk, vegetables, groceries and medicines remained open. The chief minister asserted that there was no scarcity of these essentials.
He urged people to stay at home during the lockdown period.
Baijal said the government would ensure strict implementation of the lockdown in Delhi.
The chief minister said the Delhi Police commissioner's office could be contacted on helpline number 011-23469536 in case of any problems.
Must extend support to Modi: Chidambaram
Former Union finance minister and Congress leader P. Chidambaram on Wednesday described the lockdown announced by Prime Minister Narendra Modi as a 'watershed moment' in the battle against COVID-19 and called him the commander and the people as 'foot soldiers'.
In a statement, Chidambaram also suggested a 10-point plan to put money in the bank accounts of the poor and the marginalised, including farmers and labourers, and demanded a cut in GST rates by 5 per cent on all wage goods, essential goods and services, and all goods of mass consumption from April 1 to June 30, 2020.
'The Prime Minister's announcement yesterday of a nationwide 21-day lockdown is a watershed moment in the battle against COVID-19. We should put behind us the debates that took place before March 24 and look upon the nationwide lockdown as the beginning of a new battle in which the people are the foot soldiers and the PM is the Commander.'
'We owe a duty to extend our total support to the Prime Minister and the central and state governments, he said.
Govt offices shut till April 14 in J&K
The Jammu and Kashmir administration has ordered the closure of all government offices, excluding those providing essential services, till April 14 in the union territory.
'#COVID19 #JammuAndKashmir #FightagainstCorona All government offices except those providing essential services closed till April 14. @diprjk @HealthMedicalE1,' government spokesperson Rohit Kansal said in a tweet on Wednesday.
#COVID19 #JammuAndKashmir #FightagainstCorona
All government offices except those providing essential services closed till April 14@diprjk@HealthMedicalE1

— Rohit Kansal (@kansalrohit69) March 25, 2020
Restrictions on movement imposed in Jammu and Kashmir to prevent the spread of the coronavirus were tightened on Wednesday and strict action was initiated against violators following Prime Minister Narendra Modi's announcement of a 21-day nationwide lockdown, officials said.
While the prime minister announced the countrywide lockdown on Tuesday evening, the union territory administration had on Sunday imposed similar restrictions till March 31 as part of its efforts to combat the coronavirus threat.
Essential services have been exempted from the purview of the restrictions.
Subdued Gudi Padwa in Maharastra
Maharashtra on Wednesday witnessed a subdued celebration of Gudi Padwa, which marks the beginning of New Year in the state, as people stayed indoors in view of the national lockdown due to the coronavirus outbreak.
Prime Minister Narendra Modi posted a tweet in Marathi to greet people of Maharashtra for the festival.
'People of Maharashtra are celebrating Gudhi Padwa. I wish them success, happiness and good health. May all their wishes be fulfilled this year,' he tweeted.
Gudi Padwa is the first day of the month of Chaitra and marks the beginning of the New Year as per the Hindu calendar.
People hoisted the traditional gudi - made of a bright cloth adorned with brocade (zari) tied to the tip of a long bamboo stick and a silver or copper pot placed in the inverted position over it - in their balconies and windows.
But, they could not garland the gudi with flowers, mango and neem leaves as flower shops were shut and markets wore a deserted look.
People were also not able to put up the traditional toran, a garland of marigold flowers, on their house doors.
They also gave a miss to the other traditional ritual of tasting sour neem chutney, as markets were closed.
The Gudi Padwa processions were also cancelled.
Social distancing at Union cabinet meeting
The large oval table was gone and Prime Minister Narendra Modi and his ministerial colleagues sat in chairs kept at a distance from each other as they practised 'social distancing' to combat coronavirus during a Cabinet meeting in New Delhi on Wednesday.
Pictures showed that the ministers were facing the Prime Minister and small side tables were provided next to their chairs to allow them to keep their documents.
Usually, the cabinet members sit around an oval table during meeting.
The cabinet meeting was held at the Prime Minister's official residence at 7, Lok Kalyan Marg.
Modi has been pitching for 'social distancing' to check the spread of coronavirus. GoAir employees to take pay cut
As the coronavirus pandemic has drastically impacted revenues of the aviation sector, GoAir CEO Vinay Dube stated on Wednesday that all employees will be taking a pay cut in March.
During the last few weeks, GoAir has already taken some cost cutting measures -- it has laid off its expat pilots, asked its employees to go on leave without pay on a rotational basis, and announced that its top leadership would be taking a pay cut of up to 50 per cent.
Dube told employees in an official communication, 'Under the current conditions we find ourselves in we are left with no choice but to extend salary cuts for all of us for the month of March. We will ensure that the lowest pay grades suffer the least.'
India has banned international commercial passenger flights for a period of one week from Sunday. Moreover, domestic flights have also been suspended from Tuesday midnight.
Last week, IndiGo CEO Ronojoy Dutta stated that the senior employees of the low-cost carrier will have a pay cut of up to 25 per cent. Air India also announced that the pandemic has caused 'insurmountable dip' in revenues and therefore, it is reducing the allowances of all employees - except cabin crew - by 10 per cent for the next three months.
Indians evacuated from Iran
A batch of 277 people evacuated from the coronavirus-hit Iran arrived at the Jodhpur airport in Rajasthan on Wednesday early morning, a defence spokesperson said.
He said preliminary screening of the evacuees, mostly pilgrims, was conducted at the airport upon arrival and thereafter they were taken to the Army Wellness Facility set up at the Jodhpur Military Station.
They were flown in from Iran, which has been severely affected by the deadly infection. The Army, in coordination with the Rajasthan state medical authorities and civil administration, has made adequate medical and administrative arrangements to ensure a comfortable stay for the evacuees and provide prophylactic medical support, he said.
Additional chief secretary (health) Rohit Kumar Singh said that 273 of the evacuees are pilgrims.
He said that among the people were 149 women and girls.
The defence spokesperson said that the facility has a dedicated team of Army doctors, who will be constantly monitoring the health parameters of the evacuees for the duration of their stay.
Cases climb to 606
Nearly 90 more coronavirus cases were reported in India, taking the total number of cases to 606 on Wednesday, according to health ministry data. The number of deaths due to the disease stood at 10.
The number of active Covid-19 cases stood at 553, while 43 people have been cured, discharged or migrated. The 606 cases include 43 foreign nationals, the ministry said.
On Tuesday, the number of cases was 519.
The death toll due to the virus increased to 10 with another death being reported from Maharashtra, according to the data. In the updated figures at 6.45pm on Wednesday, the ministry stated that Maharashtra has reported three deaths and one death each was reported from Bihar, Karnataka, Gujarat, Punjab, Delhi, Bengal and Himachal Pradesh.
The ministry said Maharashtra had reported the highest number of Covid-19 cases so far at 128, including three foreign nationals, followed by Kerala which has recorded 109 cases, including eight foreign nationals.
Karnataka has reported 41 cases of coronavirus patients, while cases in Gujarat rose to 38, including one foreigner.
Cases in Uttar Pradesh rose to 37, including a foreigner. The number of cases in Rajasthan increased to 36, including two foreigners, while the positive cases in Telangana stood at 35, including 10 foreigners.
Cases in Delhi rose to 31, including one foreigner. Punjab reported 29 cases while in Haryana, there are 28 cases, including 14 foreigners.
Madhya Pradesh recorded 14 cases, Ladakh has 13, while Tamil Nadu has reported 18 cases, including two foreigners.
Bengal and Andhra Pradesh have nine patients each. Chandigarh as well as Jammu and Kashmir have reported seven cases each so far. Uttarakhand has four cases, including one foreigner. Bihar also has four cases.
There are three cases in Himachal Pradesh while there are two cases in Odisha. Puducherry, Mizoram, Manipur and Chhattisgarh have reported a case each.
Flipkart suspends operations
Walmart-owned Flipkart on Wednesday said it was suspending its operations temporarily as India entered into a 21-day lockdown to contain the spread of Covid-19 pandemic.
'Consequent to the order issued on March 24 by the Ministry of Home Affairs announcing a 21-day lockdown across India to contain the spread of the novel coronavirus causing Covid-19, we are temporarily suspending our services,' Flipkart said in a blogpost.
The blog further said 'we will be back to serve you as soon as possible'.
Amazon India had on Tuesday said it has temporarily stopped taking orders and disabled shipment of low-priority products as it focuses on delivery of essential items like household staples, hygiene and other high-priority products.
E-commerce players, including Amazon India and Milkbasket, have been facing disruption in delivery of even essential products to their customers.
The government, however, in its notification has allowed delivery of all essential goods including food, pharmaceuticals and medical equipment through e-commerce.
Measures at Bengal ration shops
The Bengal government has asked ration shop owners to draw circles every 1m at counters for customers amid reports of people crowding to buy essentials. The customers will advance one by one, food and civil supplies minister Jyotipriyo Mallick said on Wednesday.
"There is no need for panic buying of essential food items as all ration shops will remain open daily," he said. Some privately owned shops in the city took similar initiatives.
However, vegetable and fish markets on Wednesday continued to see people jostling with each other for essential goods over the lockdown announced by Prime Minister Narendra Modi a day earlier.
Paying little heed to repeated announcements that shops selling food, medicine and other essential items will remain open during the lockdown period, people stood in serpentine queues for hours to buy items.
Calcutta police personnel made rounds of the city's streets making announcements asking people not to hoard goods.
Delhi police crackdown
More than 180 cases were registered and 5,103 people detained on Wednesday for violating government orders during the coronavirus lockdown, police said.
According to the data shared by the Delhi police, 183 cases were registered under Section 188 (for disobedience to order duly promulgated by public servant) of the Indian Penal Code till 5pm. A total of 5,103 people have been detained under Section 65 (persons bound to comply with reasonable directions of police officers) and 956 vehicles have been impounded under Section 66 of the Delhi Police Act, they stated.
Ration delivery to Srinagar homes
Around 1.60 lakh families in Srinagar will get ration delivered to their homes from Saturday as part of measures by the administration to contain the spread of coronavirus in the summer capital of Jammu and Kashmir amid the lockdown announced by the government.
"Home-delivery of PDS (public distribution system) ration to 1.60 lakh families in #Srinagar will start from 28th March under strict safety-protocol. Depts (departments) of Food, Agri (agriculture), police along with magistrates, SRTC (State Road Transport Corporation), SMC (Srinagar Municipal Corporation) and volunteers included. Pl #StayAtHome and #BreakTheChain. Spread the word," district development commissioner, Srinagar, Shahid Choudhary, wrote on Twitter.
In another tweet, Choudhary said the district disaster management authority, Srinagar and Srinagar Smart City, had launched a social protection plan to help women, children, poor and destitute, specially abled and the elderly in need of food or medicines or emergency services. "DDMA & Srinagar Smart City launched social protection plan from today - women, children, poor/destitute, specially-abled, aged, & others in need - food packets, medicines, emergent help/services," he posted. 
Calcutta police on offensive
As many as 871 people have been arrested in Calcutta in a span of 24 hours since Tuesday 5pm for defying the lockdown imposed by the government in its attempt to contain the spread of Covid-19, a senior police officer said.
The arrests were made by the Calcutta police during naka checking and patrolling across the length and breadth of the city, he said.
The arrested will be prosecuted under sections of the IPC dealing with disobedience of order, the officer added.
Earlier in the day, a woman allegedly tried to assault a policeman and bite him in Salt Lake when her car was stopped for defying the lockdown.