Women's Covid shield missing
India goes against global trend, says age-specific study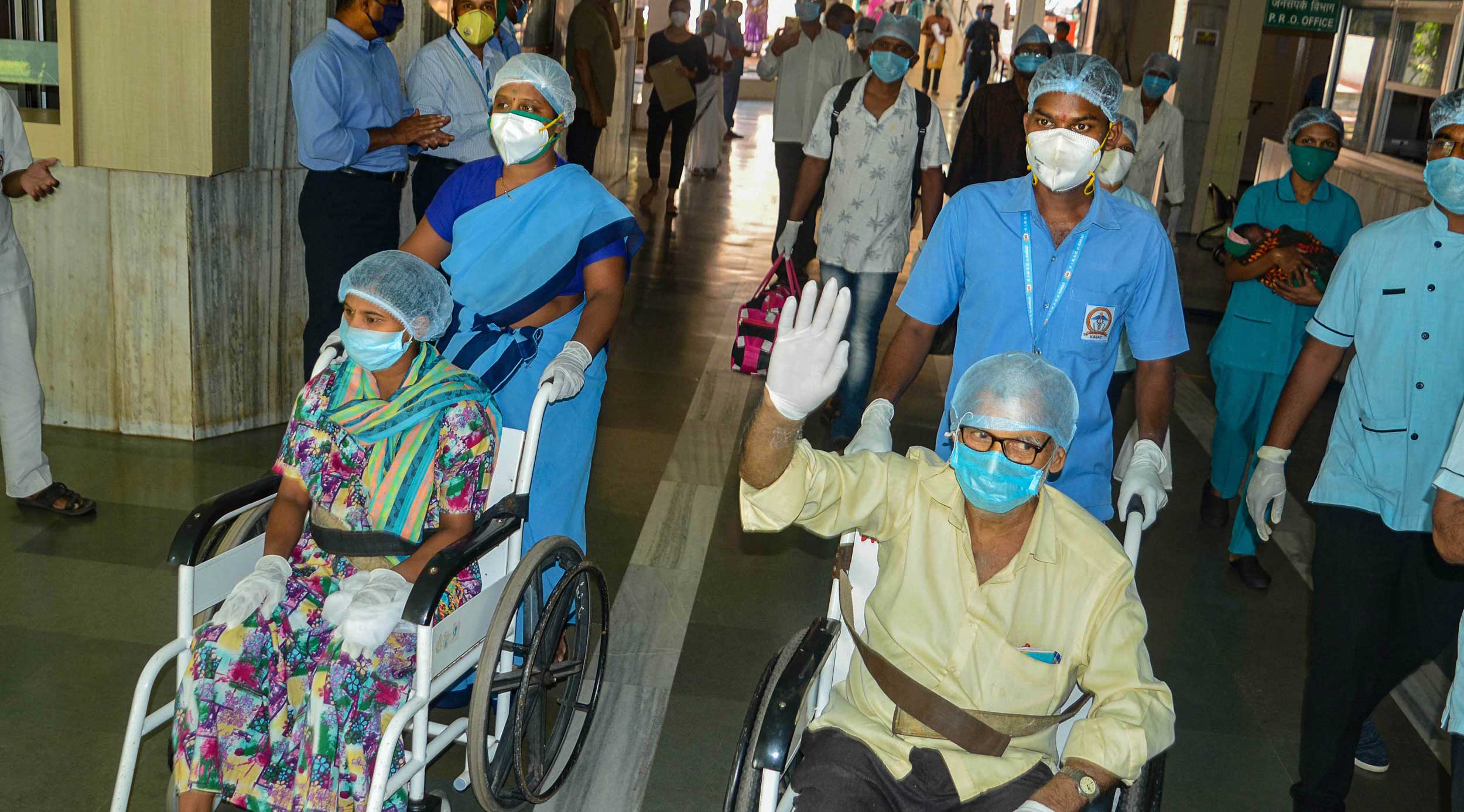 Medics and hospital staff applaud as patients who recovered from Covid-19 prepare to leave a hospital in Karad on Wednesday.
(PTI)
---
New Delhi
|
Published 10.06.20, 08:14 PM
|
---
The biological advantage that women have over men in surviving coronavirus infections observed in multiple countries appears missing in India, researchers have said in the country's first study of age and sex-specific coronavirus disease mortality patterns.
Social factors might be offsetting the extra biological protection, the researchers said.
Their study found that age-specific mortality rates among infected girls and women were higher than among boys and men in certain age groups and the average case fatality rate among women was 3.3 per cent compared with 2.9 per cent among men.
While validating earlier observations made by the Union health ministry that males account for the vast proportion of infections in the country, the study has however suggested that females have a higher relative risk of Covid-19 mortality in India.
The researchers at the Institute of Economic Growth, New Delhi, the Harvard TC Chan School of Public Health in the US and other collaborating institutions analysed the age and sex-specific distribution of 3,433 deaths among 112,027 Covid-19 patients in India up to May 20.
Around two-thirds of infections and deaths were among men. But among 38,373 infected girls or women, 1,268 (3.3 per cent) died compared with 2,165 (2.9 per cent) deaths among 73,654 infected boys or men.
The most prominent difference — and deviation from trends observed in other countries — emerged in the 40 to 49 years age group where the case fatality rates were 2.1 per cent in men and 3.2 per cent in women.
Differences observed in other age groups were not statistically significant, the researchers said.
The study, published in the peer-reviewed Journal of Global Health Sciences, also found a case fatality rate of 0.6 per cent among girls between 5 and 19 but no fatalities among boys in this age group.
"These are early findings but they suggest the biological survival advantage of women isn't seen in India," William Joe, assistant professor at the Institute of Economic Growth, told The Telegraph.
Independent studies have observed higher Covid-19 case fatality rates among men in many countries. In China, for instance, one study found case fatality rates of 2.8 per cent among men and 1.7 per cent among women.
Scientists believe women have a stronger immune response than men and are less susceptible to infections. "The immunological advantage women have over men is well-documented," said Marlo Moller, associate professor for biomedical sciences at the Stellenbosch University in South Africa.
"Sex hormones such as estrogen or progesterone may improve female immune responses. Another explanation is that females have two X chromosomes per cell, while men have one," she told this newspaper. "The X chromosome has many genes involved in the immune system."
The India-US researchers believe social factors might be offsetting the biological advantage.
One possible explanation, Joe said, could be a gender bias in health-seeking behaviour skewed towards males documented for decades in India's healthcare settings. Multiple earlier studies have shown that Indians discriminate against girls and women in health care and well-being.
"We're distinguishing the probability or the risk of death in a particular group and the burden or the share of deaths across different groups," said S.V. Subramanian, professor at the Harvard Centre for Population and Development Studies who led the research.
Subramanian and his colleagues have pointed out that undernutrition could also adversely impact the immune system and the capacity to fight viral infections. They point out that a significant proportion of women in India in the age group of 15 to 49 years are undernourished.
The proportion of undernourishment in this age group is 23 per cent among women and 20 per cent among men. This higher level of undernourishment in women compared with men could also make them vulnerable to severe disease.
The researchers have cautioned that their study was based on crowdsourced datasets relying on diverse sources of information, including state and central government numbers.
"We had to rely on crowdsourced data because we don't yet have updated datasets with age-specific distribution of cases or mortality from the government," Joe said.
But an independent researcher argued that the data gaps would make the interpretations suspect.
"The assumptions are too strong to justify the interpretations," said Nandita Saikia, a health researcher at Jawaharlal Nehru University, New Delhi. She said age-sex distribution information on the crowdsourced database was available up to May 20 only for 28,000 people.
Imposing the age-sex distribution of 28,000 people on 112,000 involves too strong an assumption, Saikia said. "It is possible that the age-sex distribution of the other people was entirely different."