Quarantined afresh on Tablighi suspicion
The 23-year-old BA Part-I student of the Centre of Russian Studies at JNU says neither has he any link with the Jamaat nor had he attended the March 13-15 religious congregation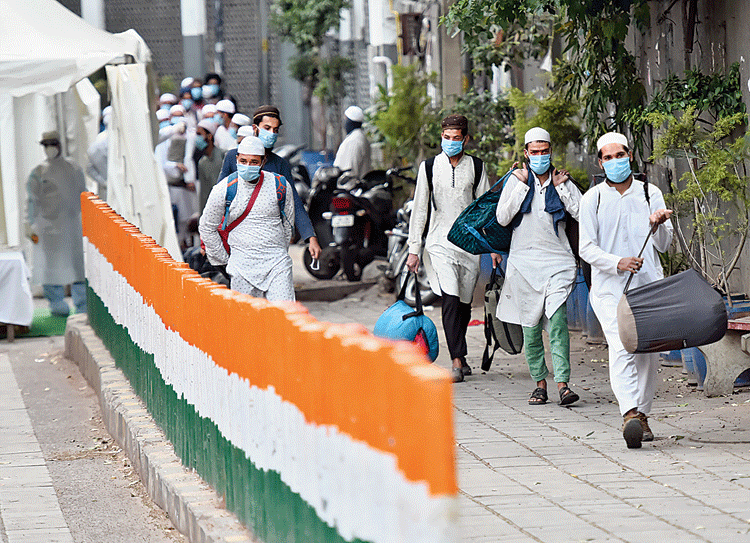 ---
|
Patna
|
Published 07.04.20, 09:39 PM
---
A polio-stricken JNU student who had returned to his native Gaya last month was forced out of home on Tuesday morning by police and health officials and quarantined — 18 days after he had come back, 14 of them in self-isolation.
The suspicion was Hasan Imam was a member of the Tablighi Jamaat and had attended the event at Delhi's Nizamuddin that has now become the centre of a controversy related to the spread of the Covid-19 pandemic.
The 23-year-old BA Part-I student of the Centre of Russian Studies at JNU says neither has he any link with the Jamaat nor had he attended the March 13-15 religious congregation.
Hasan, crippled from the waist down since childhood, cannot walk.
The student's forced quarantine came amid contradictory statements from two Bihar government officials over the isolation procedure.
Gaya civil surgeon Brajesh Kumar Singh said it was the health department's responsibility to "identify coronavirus suspects and take them to quarantine centres".
The surgeon said: "We will take their samples for tests and keep enquiring about their well-being for 14 days."
Gaya district magistrate Abhishek Singh, however, said: "We had received a list from the NDMA (National Disaster Management Authority) of people who had come to the state after March 18. They were to be quarantined for 14 days. Those who could not be quarantined at that time are now being kept under observation for one or two days. Further decisions will be taken if they are to be kept quarantined or allowed to go home."
Hasan said he boarded a train from Delhi on March 19 — six days after JNU suspended classes in the wake of the pandemic — and reached Gaya the next day.
"JNU closed in the wake of the coronavirus pandemic and I took a train from Delhi to Gaya on March 19. I reached home the next day (March 20). Since then I had confined myself to my house, keeping a distance even from my family members for 14 days," Hasan told The Telegraph over the phone from the quarantine centre.
The first inkling that things might not be smooth came on April 2, the 14th day of his self-isolation.
"On the 14th day, a phone call came out of the blue. The person on the other side said he was from the health department and my number had been provided as a Tablighi Jamaat member suspected to have attended the Markaz at Nizamuddin. I refuted it, but he said that I would have to be quarantined for two weeks and tested for coronavirus," Hasan said.
Days passed. But just when Hasan was about to forget the phone call as a bad dream, the police and the health officials knocked on his house on Tuesday morning.
Hasan told the health officials he had had a check-up at the JNU health centre, was medically screened at New Delhi railway station and also at Gaya railway station and there was no trace of any symptoms.
But the officials, he said, threatened to file a case against all of us. "My father is a labourer, with no work in the lockdown, but has tried hard to provide education to a physically challenged son like me who has to crawl at times to move around. When the officials threatened they would register a case against all of us, I had no option but to obey them," Hasan said.
He quietly accompanied the officials to a government middle school — Prakash Vidya Mandir — that has been converted into a quarantine centre for migrant workers who have walked down from Delhi and other states during the lockdown and people linked to the Tablighi Jamaat and the Nizamuddin meet.
Several deaths across the country have been linked to the gathering at the southeast Delhi locality, triggering a nationwide search for those who attended the meet and those who came into contact with them.
Hasan said the quarantine centre where he has been admitted had smelly, dirty mattresses on the floor with no arrangement for food and water. He is sharing a classroom with two others.
"I was put up here in the morning. Since then no breakfast or lunch has been provided. I had bought a bottle of water before being pushed inside and have been sipping from it through the day. My family brought some food for me around 4pm."
Civil surgeon Singh said accommodation, food and drinking water arrangements were the responsibility of the district administration.
Singh cut the call midway and did not respond to further calls.