UGC: Universities to offer up to 80 per cent of any non-technical academic programme online
Move dismayes academics who say this would hurt the quality of education and entangle poor and rural students in problems of connectivity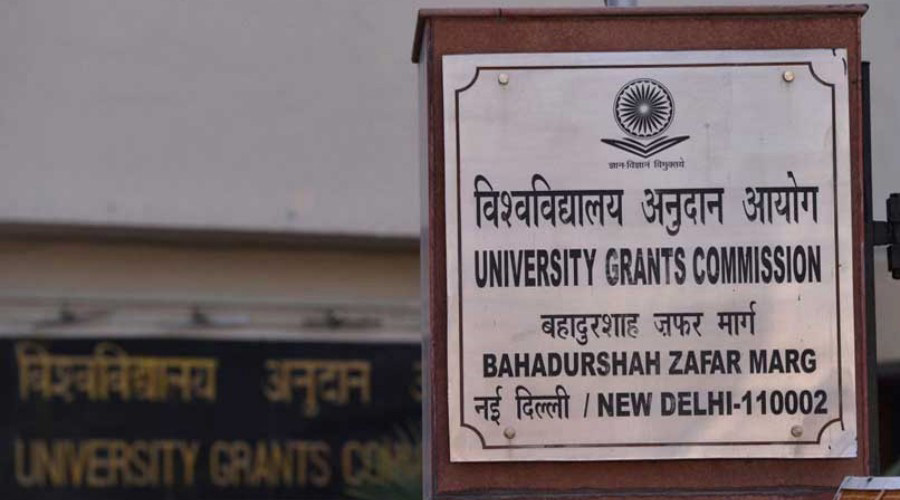 ---
New Delhi
|
Published 25.05.21, 01:17 AM
|
---
The University Grants Commission has proposed allowing universities to offer up to 80 per cent of any non-technical academic programme online, dismaying academics who say this would hurt the quality of education and entangle poor and rural students in problems of connectivity.
The higher education regulator had last year allowed universities to offer up to 40 per cent of any non-technical course online, up from the 20 per cent mandated in 2017. About 100 universities have begun offering a few courses online under the 40 per cent mode.
Last week, the commission uploaded the latest proposal and sought feedback  by June 6.
Under the current system, the 40 per cent online education is conducted only through readymade material, such as pre-recorded classes and Massive Open and Online Courses or MOOCs, which are e-content prepared by subject experts. The varsities are not allowed to conduct real-time virtual classes. The exams are held online too.
But under the new proposal, the additional 40 per cent of online education can include virtual classes, and the exams are held offline.
Teachers say the proposal reflects the government's desire to reduce expenditure on higher education and, if implemented, would make online education the mainstay at public universities, causing their standards to suffer. They fear that the private universities would continue teaching face-to-face, thus attracting the best students.
"It's accepted the world over that online education cannot replace offline (face-to-face) teaching," said Rajesh Jha, former member of Delhi University's executive council. "The leading universities use it (online education) to supplement offline teaching."
He added: "There are enough studies that show a decline in the quality of learning and research among students participating in some of the online programmes. Ultimately, the public universities in India will adopt these disastrous measures under pressure from the UGC and the government. Standards will suffer, and the private universities will prosper."
In a media statement, the Delhi University teachers' association president, Rajib Ray, opposed the proposal on the ground that many students "from underprivileged families or rural areas" lack computers or high-speed Internet, key to accessing online education.
Ray expressed concern about a reduction in teaching jobs since the e-content of online education can be shared among students of most institutions. "A clear objective behind these policies is to reduce the need to hire teachers. This notification hence puts in immediate jeopardy the future of over 4,500 ad-hoc teachers working in DU and will have disastrous consequences for the classroom experience for students," the statement said.
R.P. Tiwari, UGC member and vice-chancellor of Punjab Central University, said that even if the proposal got accepted, it would be the academic and executive councils of each university that would decide whether to allow online education and to what extent.
UGC secretary Rajnish Jain said the proposal sought to give the universities and students more flexibility.