Spike alert for Mumbai, Delhi
Both cities could witness peaks between July and September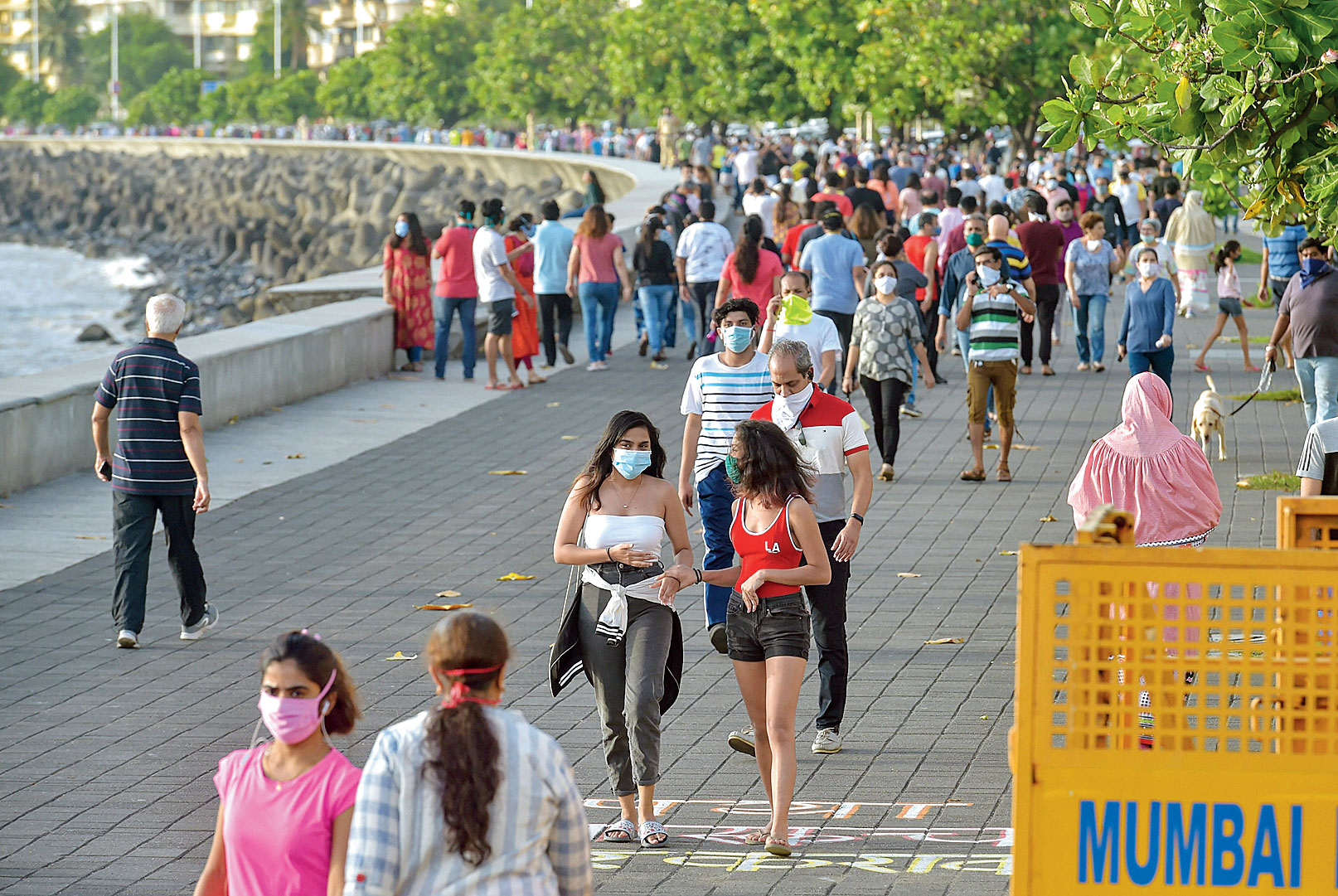 People walk along the promenade at Marine Drive in Mumbai on Sunday.
(PTI)
---
New Delhi
|
Published 07.06.20, 11:03 PM
|
---
India on Sunday recorded 9,971 new coronavirus infections, but the country's hardest-hit cities, Mumbai and Delhi, could by themselves see much higher daily new counts during their peaks of the epidemic, researchers have predicted.
The researchers at the International Centre for Theoretical Sciences, Bangalore, a unit of the Tata Institute of Fundamental Research, have also predicted that both cities could witness peaks between July and September relying on observed growth trends and certain assumptions.
The "complete suppression" of the infection takes more than six months after the peak, the ICTS researchers said in their study based on a modelling exercise and posted on an archive of research papers but not peer-reviewed yet.
The study has suggested that the peak daily cases could range from around 8,000 to 24,000 in Mumbai and 12,000 to 35,000 in Delhi, depending on the epidemic's growth, proportions of asymptomatic patients and periods of infectivity, among other factors.
These peak daily cases are comparable or much higher than the 9,000-plus daily nationwide increase over the past three days. The model has also predicted cumulative deaths ranging from 9,000 to 28,000 in Delhi to 6,000 and 19,000 in Mumbai.
"The range of numbers we see reflect opportunities to minimise infections and deaths — people need to seriously follow prescriptions for physical distancing, wearing face masks, maintaining hand hygiene," said Abhishek Dhar, a senior ICTS researcher studying complex physical systems.
The lower counts correspond with smaller values of R-effective, a factor that represents the speed at which the virus can spread in the community that is determined not just by the features of the virus itself but also through precautions people take.
"Our calculations show that even a small change in the value of R makes a big difference in the numbers of infections or cases," Dhar told The Telegraph. "For a low value of R, people need to adopt in the best way possible precautions to minimise opportunities for the virus to spread."
The ICTS researchers have also applied their modelling exercise to the whole country but cautioned that those national predictions would come with very high uncertainty given the varying features of the epidemic in different parts of the country.
India's 9,971 new cases on Sunday raised its total number of confirmed cases to 246,628, of whom 120,406 patients are under medical supervision, 119,293 have recovered and 6,929 have died.
An independent research group of epidemiologists and economists at the University of Michigan and the University of Massachusetts in the US had pointed out last week that national epidemic trends likely mask state-specific trends, urging the need for state-specific analyses.