Findings underscore need for continual redesign
Novel coronavirus gains 'strategic' mutations capable of dodging jabs and immune responses
A study reveals that metamorphosis, which represent subtle changes in a viral protein structure, has coincided with sharp surges in infections in 12 nations, including India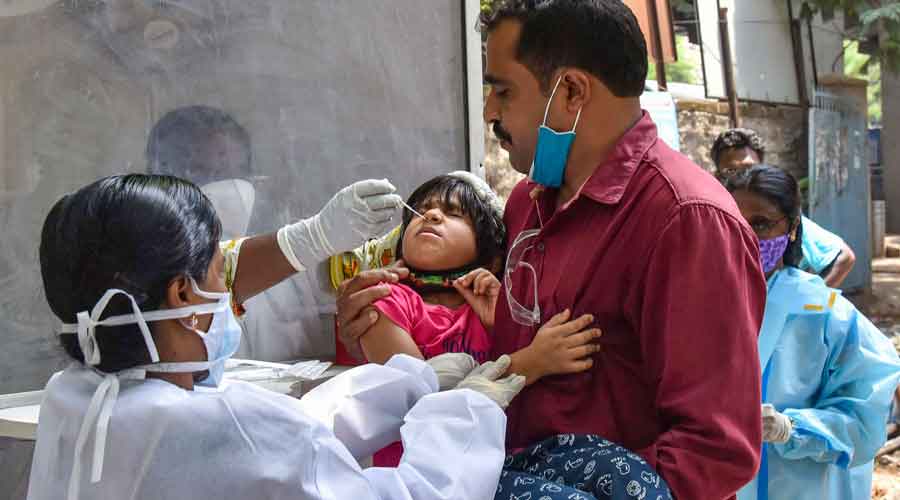 ---
New Delhi
|
Published 05.06.21, 02:08 AM
|
---
The novel coronavirus has gained "strategic" mutations that may allow it to escape immune responses and vaccines, researchers in India and the US have said in a study that they say underscores the need for continual vaccine redesign.
Their study has found that the emergence of these mutations, which represent subtle changes in a viral protein structure that some scientists view as the virus's Achilles heel, has coincided with sharp surges in infections in 12 countries, including India.
The prevalence of one such mutation among coronavirus samples from Covid-19 patients in India increased 13-fold — from 1.1 per cent in February this year to 15 per cent in April — coinciding with a 15-fold surge in daily infections during the country's second wave.
Similar surge-associated mutations have been detected in at least 11 other countries, rising 38-fold in Chile, 82-fold in the UK and 114-fold in France over two or three
months during which those countries too experienced surges. (See chart below)
While mutations are expected to occur over time and drive biological evolution,
the study suggests the virus is also accumulating strategic mutations that alter a key protein structure called the "antigenic supersite". This is the virus's Achilles heel and is a common target for multiple antibodies that neutralise the virus.
"This evolutionary trait appears strongly with infection surges, suggesting some immune-evasive mechanisms in play that aid rampant human-to-human transmission," Venky Soundararajan, the scientist who led the study, told The Telegraph.
Soundararajan and his colleagues at nference, a biomedical data science company with offices in Cambridge, Massachusetts and Bangalore, working with doctors at the Mayo Clinic in Rochester, Minnesota, analysed over 1.3 million coronavirus genomes from 178 countries and looked for patterns between mutations and epidemic surges.
Their study, not yet peer-reviewed but posted on medRxiv, an online preprint server, is the first to connect the epidemic's features — measured through the test positivity rate (the proportion of positive results among those tested) in specific geographic regions — with virus mutations.
Their findings suggest that SARS-CoV-2, the virus that causes Covid-19, may be relying on mutations that accumulate on the antigenic supersite as a novel escape strategy to evade immune responses resulting from natural infections or mass vaccination campaigns.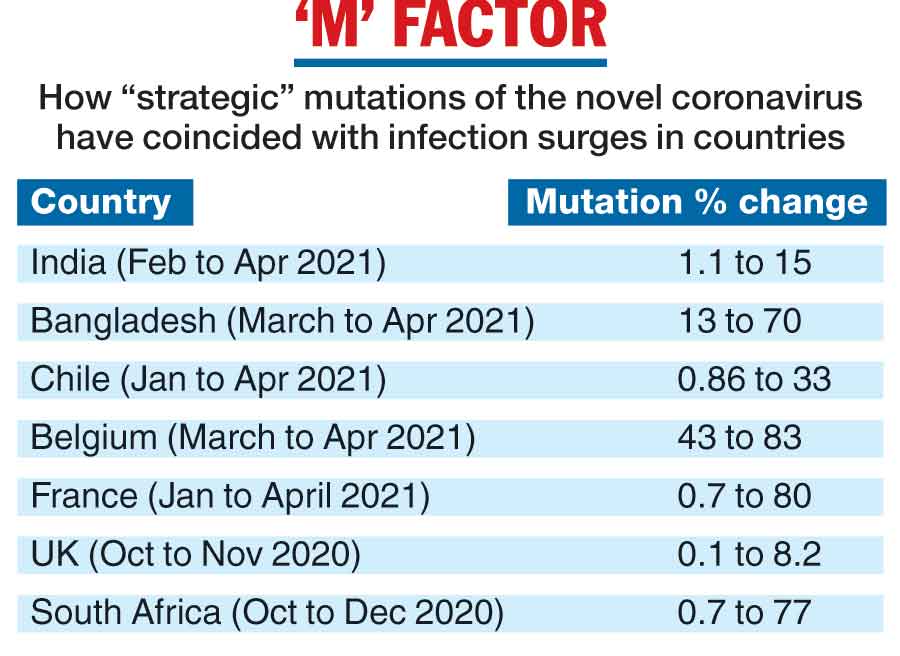 Clinical trials and real-world studies have established that multiple Covid-19 vaccines are effective in protecting people from the infection and disease, but people already inoculated have been infected too in what are being termed "breakthrough infections".
The nference-Mayo researchers sequenced 53 coronavirus specimens from patients who had become re-infected or had breakthrough infections and, in samples from three patients, detected mutations in the same viral protein structure where surge-associated mutations have been seen.
"There is an urgent need to identify the immuno-evasive features of SARS-CoV-2 to develop effective countermeasures," said Soundararajan. "Our study provides a foundational platform for designing new vaccines and biological therapies to counter the immune-evasive strategies of SARS-Cov-2."
The study also underlines the need for a massive scale-up of the coronavirus genome-sequencing efforts in low and middle-income countries, and for efforts to link sequence data with health records of patients and vaccinated people worldwide.
Over 50 per cent of the 1.3 million SARS-CoV-2 genomes available for scientific analysis are from the US, the European Union or the UK. India has sequenced over 25,000 SARS-CoV-2 genomes so far and is just starting out to establish connections between the sequences and the countrywide vaccination status.
Satyajit Rath, a senior medical immunologist at the Indian Institute of Science Education and Research, Pune, said: "Their call for what needs to be done is absolutely correct. There is a need to broaden and deepen surveillance and to diversify the vaccine design strategies."
However, while the study has used computational methods to identify previously undetected patterns that suggest a link between mutations and infection surges, Rath said, there is no real evidence yet that the surges have occurred mostly because of re-infections or breakthrough infections.
Besides, immunologists have underlined that the antigenic supersite is also the region the virus uses to infect cells, and it is possible that the mutations are driven by natural-selection pressure created worldwide through physical distancing.
"What is emerging then might be variants that bind better to human cells and are therefore more efficiently transmitted from person to person," Rath said.
"The immune-evasive correlation might then be incidental and dependent on the fact that vaccines are directed at generating antibodies that stop the virus sticking to cells."