India's death rate among coronavirus disease patients is among the lowest in the world, the health ministry said on Tuesday, attributing it to early detection and clinical management, but health researchers cautioned that reasons remain unclear.
The health ministry, releasing comparative figures, said the country's case fatality rate — the number of deaths divided by the number of cases — is 2.8 per cent, compared to the global average of 6.4 per cent, or 19 per cent in France, 14 per cent in the UK, or 6 per cent in the US.
The figures also suggest that amid India's rising coronavirus counts, the country's deaths-per-million population has remained relatively flat at around 3.08 compared with 800 in Belgium, 541 in the UK, 294 in the US or 24 in Russia.
Health authorities on Tuesday detected 6,535 fresh cases, raising the number of confirmed cases to 145,380 of whom 60,491 have recovered, 80,722 patients are under medical supervision, 4,167 have died.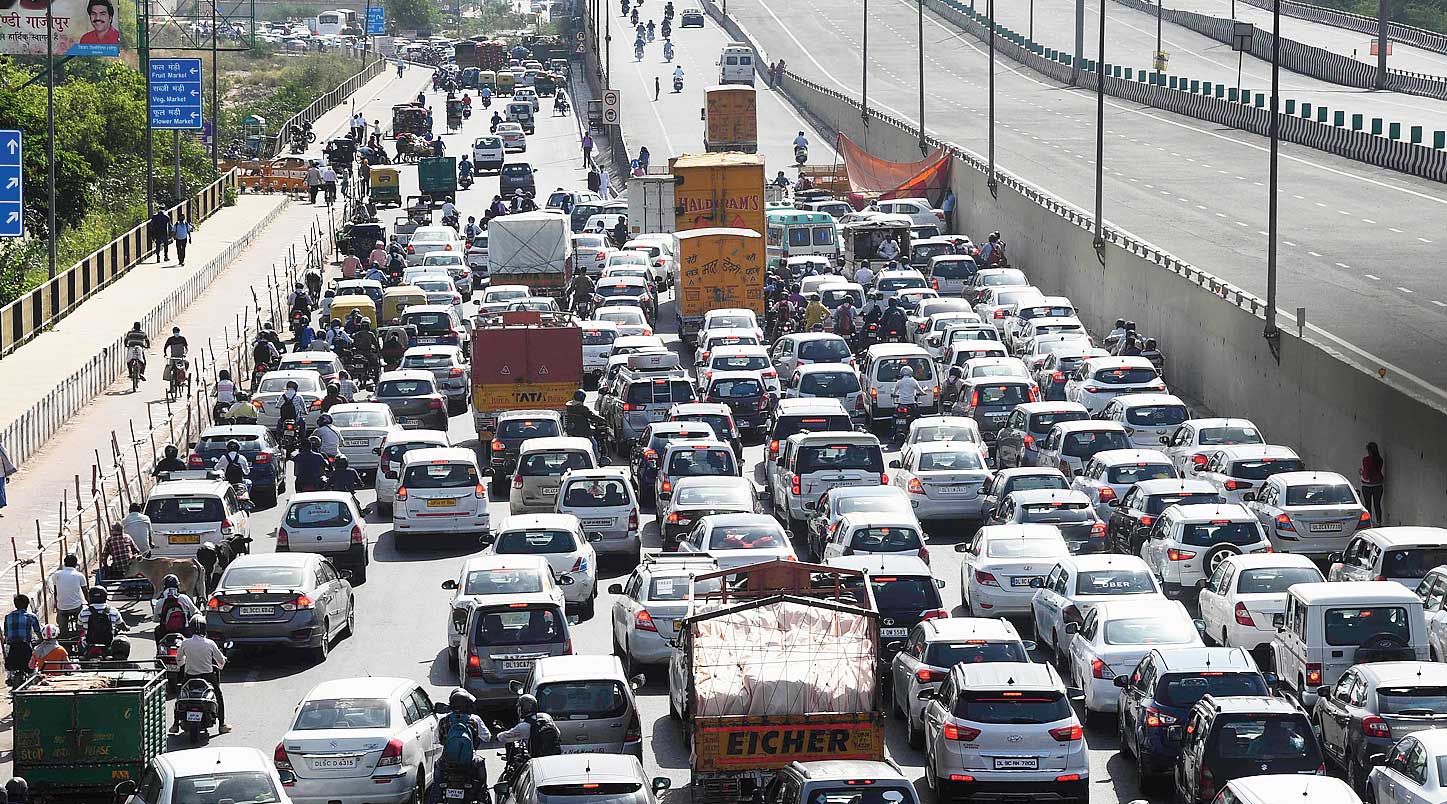 Traffic jam at the Delhi-Ghaziabad border on Tuesday, a day after the authorities sealed it amid rising cases of the coronavirus. Picture by Prem Singh
"We have surprisingly found a low fatality rate in India — which is good because we are interested in patients surviving," said Balram Bhargava, director general of the Indian Council of Medical Research (ICMR), the ministry's health research agency.
Some research groups have suggested over the past two months that countries like India where populations exposed to the anti-tuberculosis BCG vaccine appear to be at lower risk of Covid-19 infections or deaths, but this remains unproven.
"There are several hypotheses — bad hygiene, higher immunity, or the anti-tuberculosis BCG vaccine. These are all hypotheses. We cannot say anything clearly about any of these," Bhargava said.
But a senior health official said the low case fatality rates could be linked to early identification and clinical management of cases.
"While there might be hypotheses, we focused on early identification which has helped us," said Lav Agarwal, a joint secretary in the health ministry.
As the numbers of patients began to increase, Agarwal said, the health ministry created a mechanism through which clinical experts at the All India Institute of Medical Sciences, New Delhi, could provide technical guidance to state nodal officers.
While there might be other reasons, one major factor is the early identification and follow-up through clinical protocols, Agarwal said.
But health experts cautioned that differences in case fatality rates between countries do not mean anything without taking into account other factors such as age distribution of the cases or underlying health disorders that can influence severe disease and deaths.
Covid-19 infection patterns worldwide suggest that older people and those with underlying health conditions such as high blood pressure, diabetes or kidney disease are at higher risk of severe disease.
"Comparing case fatality rates over different countries without taking into account the age of the cases has no meaning," said Manfred Green, an epidemiologist at the school of public health at the University of Haifa, Israel.
Green has shown through a study how differences in case fatality rates between different countries shrink when the age distribution of patients is factored into calculations. The study found that the ratio of the highest to lowest case fatality rates dropped from 7.4 to 2.3 when adjusted for age distribution.
"Differences in the overall case fatality rates are markedly reduced after adjusting for differences in the age distribution of cases and may be just a function of the circumstances of exposure," Green told The Telegraph in an email.
Health researchers also point out that underlying health disorders could influence infection outcomes and any comparison of case fatality rates should ideally take into account distribution of such disorders among the cases.
"A 40-year-old with diabetes is likely to have a different risk profile than a 60-year old with diabetes," said Oommen John, a public health specialist at The George Institute for Global Health, New Delhi. "The more the underlying health disorders, the greater the risk of severe disease."
Across multiple countries, the study by Green suggested that any differences between the age-specific case fatality rates are "quite small."
"The important lesson is that much of the differences we see in case fatality rates is not related to healthcare but is essentially an artefact produced by not adjusting for the age-distribution of cases," Green said.