Covid: Immune escape, with severity leash
Vaccines after inoculation help develop antibodies by stimulating the host's immune system which doesn't recognize mutant variants of the virus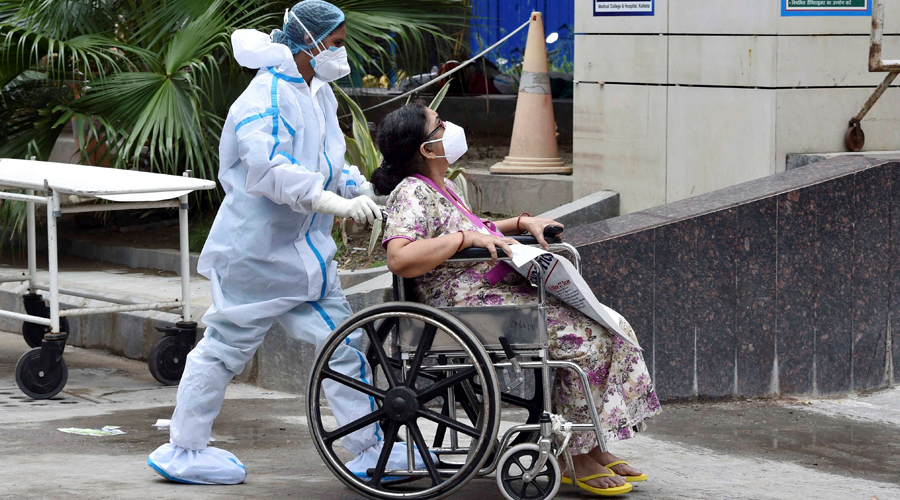 ---
---
"Immune escape" is a theory about Covid-19 infection in people who have been vaccinated or were infected with Covid-19 earlier.
Immune escape or evasion is a mechanism used by pathogenic, or disease-causing, organisms like the SARS-CoV-2 virus (which causes Covid-19) to evade the host's immune responses and maximise their probability of being transmitted to a fresh host and continuing to replicate and spread.
Pathogenic organisms undergo mutations over time. A mutation means some protein or a combination of sugar and proteins called glycoproteins on the surface of the organism changes. In the case of the coronavirus, the spike protein "S" changes its character. This has been found in the UK variant (B.1.1.7), Brazilian variant (P.1), South African variant (B.1.351) and the Indian variant (B.1.617). These mutant variants may be more infectious than the original Covid-19 virus and may rapidly spread through a community.
The UK variant has a transmission rate about 40 times higher than those of the earlier circulating SARS-CoV-2 variants, according to research papers in medical and science journals. However, the severity of the infection caused by the UK variant did not show any significant difference compared to the non-mutant variant.
But one study by the University of Bristol and Exeter has suggested a higher chance of hospitalisation and death compared with the original strain, concluding that the UK strain could be 64 per cent more deadly. It may be a matter of conjecture whether the human immune system is being jeopardised by this mutation. It is an idea without any conclusive proof.
As of today, there is no consolidated data to establish the transmission rate or severity of the variant B.1.617, first detected in India. A paper published from the Cambridge Institute of Immunology and Infectious Diseases in collaboration with India's Institute of Genomics and Integrative Biology speculates, on the basis of observations among healthcare professionals in a single tertiary care hospital, that the Indian variant may have a relatively higher rate of transmission.
The virulence of this variant and others circulating in India has not yet been properly studied. There is a double mutant Indian variant of Covid-19 which appears to have a relatively higher transmissibility although with unknown severity of virulence. Again, immune escape could be a possible explanation for this.
Vaccines after inoculation inside the human body help develop antibodies by stimulating the host's immune system. Mutant variants of the Covid-19 virus may escape these antibodies. The body's immune system may fail to recognise them. Thus, inside human cells, infection by the virus may continue to grow and cause symptoms and at times complications. That is why people, even after full vaccination and even after previous Covid-19 infection, may get another attack. In some of them the disease becomes so complicated that the patients die.
It might appear frustrating that while vaccines are developed to protect people from the coronavirus, these vaccines may often be unable to protect against a variety of Covid-19 strains because of what is known as "vaccine escape".
Effective vaccination certainly has a protective role against the Covid-19 virus and its variants. One small study conducted in South Africa showed people vaccinated with Covishield still contracting the coronavirus. This is often termed "vaccine escape". In patients below 31 years of age, the protection from the Oxford Covishield vaccine was found to be low (10 per cent). Nevertheless, the severity of the infection was low and even the rate of hospitalisation was not too high. So, clearly, the vaccine offers protection against severe infection. Vaccine escape was not observed with other variants.
However, although Covid vaccination may not offer 100 per cent protection, the severity of the infection and the complications are much less in vaccinated people unless the load of exposure to the new variant is high or the patient has significant co-morbidities like lung disease, diabetes, heart disease, cancer or kidney disease.
For the Indian community, as of now, vaccination is extremely important. The protection varies from 76 per cent to 94 per cent. Vaccination certainly protects against critical complications.
After the first wave of Covid-19, we are facing the second wave. There is a fear that the third wave will be on its way within the next six months. This is not surprising. To save lives from Covid-19 and its deadly variants we must upgrade the technology of vaccine production. The efficacy of the vaccines must cover a wide variety of Covid-19 strains.
In India we are now facing the B.1.617 mutant strain, a double mutant strain. Another Indian variant, B.1.618, has already started creeping in.
The Covid-19 virus is an RNA virus. Covishield is a "viral vectored vaccine". This means Covishield uses the chimpanzee adenovirus with a fragment of SARS-CoV-2 RNA inserted inside the adenovirus by reverse transcription technology so that it becomes non-replicable in the human host but is stable enough to generate immunity against SARS-CoV-2.
On the other hand, Covaxin has been made from a dead RNA virus. So, theoretically, Covaxin may appear superior although it is too early to draw such a conclusion. But further improvement of the vaccines, and possibly an interim vaccine boost, would be required to save human lives from this deadly microbe.
Simultaneously, epidemiological understanding of the behaviour of the various mutant strains of the coronavirus and research on the precise mechanisms of immune escape by the Covid-19 virus will be mandatory. Till then we must get ourselves fully vaccinated and follow standard protocols like mask-wearing, sanitisation and social distancing.
Dr Rabin Chakraborty is senior vice-chairman of Medica Superspeciality Hospital, Calcutta, associate editor of the Journal of Indian Medical Association and the author of Covid Tale: A Patient and a Doctor